HP 20" WiFi All-in-One Windows 8, 4GB RAM, 500GB HD & Softwar
In Stock
Sold Out
We're sorry. This item is not available at this time.
Pre Order Possible .
Low Stock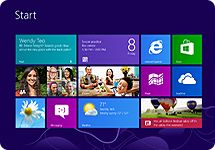 Meet Microsoft Windows 8
Check out all of the fast & fluid features of this completely customizable version.
Description
Lots of power packed into a slim, sleek design. The Pavilion 20-b010 all-in-one PC offers a lightning-fast processor, ample graphics and sound, and instant connectivity, all concealed neatly behind its 20" diagonal HD display for the perfect space-saving computing solution.
What makes the Pavilion 20-b010 all-in-one special? Whether you want to safely store and share your family photos and home movies or pull up a high-speed, edge-of-your-seat video game, the 500GB hard drive has the space you need.
What else can it do for me? Thanks to its 1.4GHz AMD E1-1200 accelerated processor, it can help you knock out your to-do list while listening to music with the built-in speakers, chatting with friends via the TrueVision 720p HD webcam, or surfing the Web via the built-in Wi-Fi--all with less lag time.
Welcome to Windows 8, where your whole world awaits. Windows 8 Live Tiles provide real-time updates from your social media and email accounts, right on the Start screen. Instantly access your apps--and even try out thousands before you buy at the Windows Store. Create and share instantly by storing your media files in the cloud with SkyDrive, and then share it all by integrating sites like Facebook with your PC; with SkyDrive, you can also access your content from any Windows 8 device. And with unique multiple user IDs, everyone in your home can share the same device, with access to their own personalized apps.
What's in the box? Pavilion 20-b010 all-in-one PC, power adapter, user's guide, and PC Treasures software bundle.
From HP.
For helpful terms and definitions, please refer to the Computer Glossary tab above.
Wireless capability may require a network connection, additional accessories, and/or a service connection fee.
Access to and use of the Internet may require payment of a separate fee to an Internet Service Provider.
Not all DVD-R/-RW and DVD+R/+RW discs are compatible with all DVD-R/-RW and DVD+R/+RW players. Contact the manufacturer for further information.
Includes Pavilion 20-b010 all-in-one PC, power adapter, user guide, and PC Treasures software bundle
1.4GHz AMD E1-1200 accelerated processor with 1MB L2 cache
AMD A68 FCH chipset
20" diagonal widescreen HD LED-backlit display with 1600x900 resolution
4GB PC3-8500 DDR3-1066 SDRAM
500GB 7200 RPM SATA hard drive
Slim-tray SuperMulti DVD burner
802.11b/g/n Wi-Fi with single-band 2.4GHz 1x1 technology
AMD Radeon HD 7310 graphics with up to 2GB graphics memory, up to 1961MB total available memory
Integrated speakers
HP TrueVision 720p HD webcam with built-in microphones
USB keyboard with volume control
Optical mouse
10/100 Base-T network
6-in-1 memory card reader: SD, SDHC, SDXC, MMC, MS, MS Pro, xD
Two USB 3.0 ports
Four USB 2.0 ports
Headphone/microphone/line-out jacks
Windows 8
60 days of Norton Internet Security
1-year HP MyRoom Premium subscription
HP Total Care support
Measures approximately 20"L x 4"W x 15-3/4"D
UL listed adapter; 1-year Limited Manufacturer's Warranty
Made in China
Important Details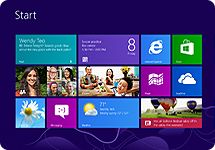 Meet Microsoft Windows 8
Check out all of the fast & fluid features of this completely customizable version.
Reviews & Community QA
HP 20" WiFi All-in-One Windows 8, 4GB RAM, 500GB HD & Softwar
12
12
Nice Computer, But Beware
I have had this computer for a month now, and like the computer itself. Not knowing anything about Windows 8 has left me with a lot to learn. Unfortunately, every time I contact HP there is a charge, as much as $200. Needless to say I will have to learn about the computer myself or have my grandchildren teach me. I bought this computer on easy pay because the price was so good, but, if you have to be charged every time you want to know something the good price no longer exists, and I could have shopped at one of the big box stores and paid more and have been shown what I needed to know.
10-18-13
not a good product
I bought this computer, and the server kept freezing up, so I returned it , for a replacement an its still doing the same thing ,this is not a good product ,would not recommend it to any one.
09-12-13
Really good product
Bought this pc bc I really needed a simply computer for the whole family. This was the perfect one. Extremely satisfied. Highly recommend.
08-24-13
not good
Havent had a chance to use system do to defective computer.had to send back.hoping for new one today.dont let one bad apple ruin it all. hp still has great pcs
07-24-13
Very Happy with Computer
I absolutely love this computer. It was very easy to set up. I had no problems whatsoever with the WiFi working right away. The screen is large and the speakers and sound quality is great too. I also like that you get a desk top but with WiFi. Would highly recommend it.
06-21-13
Awesome PC, with easy pay thanks to QVC.
A really nice all in one pc, takes a little time to getting used to Windows 8 vs using Windows 7 & XP but not to to bad. I say if your a pretty quick leaner then it shouldn't take to long to figure out how to use Windows 8. Also you can download the windows 7 as far a start and turning on & off your computer goes, because I couldn't figure that out until I download another app that acted as if I had Windows 7 start menu which made it a heck of a lot easier as far as turning on & off the computer goes and not just that but finding programs and apps on the computer. The screen size is much bigger then I am use to, it's take a few days or so for my eyes to adjust to the size of this 20" screen but now that I am fairly use to it, it has made it easier viewing different programs at times. Nice HD webcam. All in all.. anybody looking for a afforabled all in computer or any type of desktop computer I would recommend this computer, because it not only is a space saver but it's an HP computer a brand that is trusted by many.
06-10-13
Okie Dokie
I have had no problems the short time I have had my computer!! I love Windows 8 and the tilt of the screen can be adjusted . The unit more than serve my purpose. Stay tuned for further review , if I have any trouble.
05-07-13
Good choice
Well, once again QVC and HP have teamed up to create an excellent product at a very reasonable price, that is also easy to set up and start using. I just received this HP 20" a little more than an hour ago and 10 or 15 minutes after opening the box, I was already trodding through the various options both on and offline. There is a lot to learn here, and I plan on taking the time to familiarize myself with all that this HP has to offer. I have not gotten very far into the various apps and programs, so I cannot address that yet, but if the rest of this product is anything like the on-screen guide was for startup and setup, then there should really be problems at all. Thank you HP and QVC for another quality product with a very affordable price
02-20-13
Worst Purchase Ever
I have owned many HP Computers and I have always been extremely satisfied. However, I recommend you stay away from this particular model. Within a month the computer started hanging up multiple times a day, then it moved on to a complete crash, as the Windows 8 Operating System was corrupt, along with a failing Hard Drive. This occurred days after my ability to return the product to QVC The quality, or lack of in this case, is beneath the usual high standards associated with QVC, nor did I do my "homework".
02-14-13
Love It!
Great size, doesn't take up much real estate on my husbands desk. I love the fact that it doesn't come loaded up with a bunch of programs that I would never use. Its just the basics here. If your looking for something simple, basic, easy to use, great screen size and all around good looking this is the computer for you!
02-12-13
Least favorite computer
Received this computer yesterday, and returned it today. Very disappointed. It has an easel back, which for me, tilts too much. I prefer a bottom base.Also, I thought the keyboard and mouse were wireless, not so. The software pkge is useless for me as I don't want any of it. In fact, anyone can log on to these companies and they will give you the same trial basis. Overall, QVC and Techs should be more informative on everything outside as well as what is inside and I don't mean just Windows 7,8 or whatever. Also, the included manuals are terrible today. The manufacturers have cut back in supplying decent material. I need a computer now, but I am not going to settle for just anything. I will be on the lookout for future computers. Again, why can't QVC include a manufacturing date on computers?
01-26-13
Disappointed by Software
The computer is very eye appealing. I personally like Windows new look and the option to use your old desktop and features. However, to purchase a computer without any software not even starter software makes the computer useless for many of us. Be aware of that. The cost of Microsoft office especially the professional version is upwards $400.
01-23-13