HP 17.3" Laptop AMD Quad Core 8GBRAM,750GBDHD with BeatsAudio &4-YrAnti-Virus
In Stock
Sold Out
We're sorry. This item is not available at this time.
Pre Order Possible .
Low Stock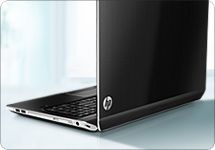 Love It Now. Love It Later!
Learn more about this present-perfect, future-ready notebook.
Description
With its sleek design and incredible performance, the HP Pavilion dv7-7115nr is the ideal replacement for outdated desktops--a PC you'll love now and in the future!
What makes it special? It's loaded with features! The AMD Quad-Core A8-4500M accelerated processor with 8GB DDR3 RAM gives you awesome speed, while the 750GB hard drive provides major storage for documents, photos, music--you name it. MyRoom Premium allows 4-way video chatting and instant messaging--see the MyRoom FAQ tab for details about this 12-month membership--and the Blu-ray player with SuperMulti DVD burner lets you watch Blu-ray movies, record videos to DVD, and more.
How does it look--and sound? Incredible! Experience the ultimate in HD clarity on the 17.3" diagonal BrightView LED backlit display, powered by AMD Radeon HD 7640G graphics. And Beats Audio with quad speakers and a subwoofer delivers rich audio to match.
Is it easy to use? Absolutely. With Windows 7 and HP Premier Experience, everyday computing is fast and reliable. Even better, this computer qualifies for a Windows 8 upgrade upon release. (See FAQs tab above for details.) Plus, cool new features make computing easier than ever. CoolSense automatically air-conditions your notebook for comfort on your lap, and SimplePass lets you access online accounts with just a swipe of your finger--awesome!
What's in the box? The PC, battery, and AC adapter. You also get a PC Treasures software suite, featuring a 4-year subscription to McAfee Antivirus Plus, Adobe Photoshop Elements 10, and more! From HP.
For more about the version of Microsoft Office included and other terms, refer to the Computer Glossary tab.
Internet access may require a separate fee paid to an Internet Service Provider.
Wireless capability and use of public hotspots may require network connection, accessories, and a service fee.
An adult signature is required upon delivery. If an adult is not home, an alternative ship-to address or an authorized adult to sign at the carrier location is required.
Includes Pavilion dv7-7115nr, 6-cell lithium-ion battery, AC adapter, and PC Treasures software suite (ships separately)
1.9-2.8GHz AMD Quad-Core A8-4500M Accelerated Processor
17.3" diag HD BrightView LED back-lit display; 1600x900 resolution
8GB DDR3 SDRAM
750GB 5400 RPM hard drive; HP ProtectSmart hard drive protection
802.11b/g/n WiFi
Blu-ray player; SuperMulti DVD burner
AMD Radeon HD 7640G Discrete-Class graphics; up to 4084MB total memory
Beats Audio: 4 speakers & TripleBass Reflex Subwoofer
TrueVision HD webcam, digital mic
SimplePass with fingerprint reader
CoolSense air conditioning
10/100/1000 gigabit ethernet
SD, MMC memory card reader
3 USB 3.0, 1 USB 2.0 ports
HDMI, VGA, RJ-45 ports
2 headphone jacks/mic jack
MyRoom Premium package
Genuine Windows 7 Home Premium, 64-bit; qualifies for Windows 8 upgrade upon release; see FAQs tab for details
Microsoft Office 2010 Starter
Approx 16-3/8"L x 10-3/4"W x 1-1/4"H-1-1/2"H; weighs 6.94 lbs
UL listed adapter; 1-year LMW
Made in China
Reviews & Community QA
E222971 - HP 17.3" Laptop w/ AMD A8 Quad Core 8GB RAM 750GB HD
51
51
Power, Speed, --Perfection
This computer is absolutely amazing. The speed that it has makes surfing the web so much fun. The screen is bright and clear. The fingerprint recognition is fantastic. No more typing in password after password, just swipe you finger over the sensor and you are signed in to the site. My husband and I saw the presentation and jumped on buying this computer. While in the "processing" phase (before shipping occurs) we went to several electronic stores and compared computers and pricing. NO one came close to the price offered at QVC. We both feel we made a great decison buying this computer.
07-21-12
Great purchase
I have had my hp for 6 mos. now and I love it!!!! I really enjoy the speed of the notebook when surfing the web as much as I do. I always have so many different pages up at once and it very seldom slows down. The dvd/cd rom is awesome as well. I have burned a few cd's and dvd's to perfection. The picture quality of the blueray player is superb. The beats audio is an excellent addition to quality listening experience. The only problem that I've had with it crashing is when using internet explorer 9. The problem was IE not the computer. runs with mozilla firefox just fine. I wouldn't trade my notebook for anything.
12-12-12
Terrible Purchase
The HP I purchased last year was a dual core and is faster than this quad core. Dual core had a better designed key board which conformed to your fingers. With the new quad core I have to tap several times before an application opens. Space Bar does not function properly.
10-14-12
Poor Performance
I have worked on and used computers for years, and in the past love HP computers. I have had this computer for about a month and this particular model leaves a lot to be desired. The screen freezes and the Simple Pass continually crashes. It is also very slow. I am not happy at all with this computer . I do not recommend anyone purchasing it and I am sending it back .
10-05-12
Awesome Laptop
I have had my hp dv7-7115nr for two weeks now and it is great. I have a year and half old Gateway w/4 gb memory and a dual core, this hp flies compared to it. like it runs on Nitro methane, finger print reader works well, very nice looking and love all the new cool hp features, yes the Beats Audio is not as good as external speakers, but people it is a laptop not a Home system it works 100 times better than any laptop i have owned or heard. Just wish i would have waited a couple weeks because i just saw it on TV for 70 bucks less than i paid, which was still 100 bucks cheaper than it is now.
09-28-12
not worth the money
Nice keyboard, but very slow and touch pad freezes up so mouse does not move. Does not have any useful software for the price.
09-23-12
WORST Customer Service/Warranty EVER!!!!!
DO NOT buy an HP product. They have the absolute WORST customer service and warranty possible. My kids each got computers as Xmas gifts last year. One got a Dell, the other got an HP. The Dell was sent for service and was very quickly repaired and sent back at no charge to me. The HP was sent for service and I was contacted (after they had it for TWO WEEKS!!!) that the problem was from a drop and/or spill and isn't covered under warranty. That is just plain....can't say here. They wanted nearly $400 to repair it. Well, quite frankly, I can get it repaired locally for probably much cheaper. Plus, everyone that you email and talk to at HP can barely speak english - if you can understand their accent. It's ridiculous!!! Before this, I would have recommended HP over Dell because I liked that computer better....NO MORE. I will NEVER buy another HP product again!!!!!!!!!!!!!!!!!!!!!!
09-21-12
HP is the best - Products and Customer Service
Really great PC - would expect nothing less from HP. Easy to set up. I was up and running in no time. With the exception of one really bad decision to buy another brand, I have purchased HP products exclusively for at least the last 20 years for both personal and business use. As a department head, purchased hundreds of desktops, laptops and commercial grade printers for staff. Never disappointed and if a problem or issue arises, HP always stands behind their products - their customer service and quick resolution can't be beat. As noted on the Q website, this laptop, along with other HP products, is eligible for Windows 8 upgrade at a reduced price and HP is currently running a promotion that will refund you the cost of this upgrade. In the end, the upgrade will cost you nothing. Thanks Q and HP!
09-14-12
Good Laptop
I was a little cautious about getting this laptop. It arrived at my home yesterday evening. The setup was easy. I thought that the sd card reader was not on the laptop, but the reader is actually in the front on the left side. I like the fact that I can upgrade the memory to 16GB and also upgrade the processor as well, which I will do in a couple of weeks. Blu-Ray player was a definite must for me. A lot of bloatware that I removed to free up the harddrive and memory. The price of this HP laptop was very affordable, and fit my budget. The black finish was a plus very stylish. Have not recieved the additional software yet, should arrive today, but looking forward installing the McAfee antivirus software. 4 years of security is excellent and saves me money in the long run. Definitely would recommend this laptop.
09-12-12
Disappointed
Very disappointed with this laptop. Thought I was getting a great deal on what seemed to be a high quality computer. The keyboard is horrible. I had a Dell laptop before this, and this keyboard seems cheap and I have to press really hard on all the keys to get them to work, especially the space bar. The fingerprint password feature seemed cool at first but stopped working about 2 weeks into having the computer. I'm returning this and trying another Dell.
09-10-12
Big Disappointment
Here goes: 1) Back panel of the laptop has come off twice, just lifted it up off the counter and it fell of. I am NOT hard on my laptops at all, in fact I usually treat them very gingerly. 2) Had the blue screen already, windows crashed had to restart... in the middle of a work project no less. 3) Screen has gone black and then started flashing. This lasted for about 20 seconds before the screen came back on and everything looked normal. 4) It freezes constantly!! You cannot have more than a couple of programs open at one time, or you get the freeze. 5) I swear it feels like I'm back on dial-up sometimes when trying to connect to the internet. I have another HP powerhouse laptop and it is screaming fast. I bought this one to replace a work laptop, and I'm extremely disappointed. Unfortunately, this is going back to QVC. This will be my first return EVER in the 12+ years I've been ordering from QVC. Sorry!
09-01-12
****LOVE IT****
I love this laptop had it for a months. Works great, sounds great..It's nice and big.. Was excited to get it .. I think this a the good Hp laptop.. Recommend to people who is looking for something new. Love the finger print to assces the laptop with out putting a password...
08-31-12