HP 15.6" Laptop AMD Quad Core 8GBRAM,750GBHD with BeatsAudio & 4-YrAntivirus
In Stock
Sold Out
We're sorry. This item is not available at this time.
Pre Order Possible .
Low Stock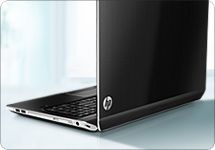 Love It Now. Love It Later!
Learn more about this present-perfect, future-ready notebook.
Description
With its sleek design and incredible performance, the HP Pavilion dv6-7115nr is the ideal replacement for outdated desktops--a PC you'll love now and in the future!
What makes it special? It's loaded with features! The AMD Quad-Core A8-4500M accelerated processor with 8GB DDR3 RAM gives you awesome speed, while the 750GB hard drive provides major storage for documents, photos, music--you name it. MyRoom Premium allows 4-way video chatting and instant messaging--see the MyRoom FAQ tab for details about this 12-month membership--and the Blu-ray player with SuperMulti DVD burner lets you watch Blu-ray movies, record videos to DVD, and more.
How does it look--and sound? Incredible! Experience the ultimate in HD clarity on the 15.6" diagonal BrightView LED backlit display, powered by AMD Radeon HD 7640G graphics. And Beats Audio with quad speakers and a subwoofer delivers rich audio to match.
Is it easy to use? Absolutely. With Windows 7 and HP Premier Experience, everyday computing is fast and reliable. Even better, this computer qualifies for a Windows 8 upgrade upon release. (See FAQs tab above for details.) Plus, cool new features make computing easier than ever. CoolSense automatically air-conditions your notebook for comfort on your lap, and SimplePass lets you access online accounts with just a swipe of your finger--awesome!
What's in the box? The PC, battery, and AC adapter. You also get a PC Treasures software suite, featuring a 4-year subscription to McAfee Antivirus Plus, Adobe Photoshop Elements 10, and more! From HP.
For more about the version of Microsoft Office included and other terms, refer to the Computer Glossary tab.
Internet access may require a separate fee paid to an Internet Service Provider.
Wireless capability and use of public hotspots may require network connection, accessories, and a service fee.
An adult signature is required upon delivery. If an adult is not home, an alternative ship-to address or an authorized adult to sign at the carrier location is required.
Includes Pavilion dv6-7115nr, 6-cell lithium-ion battery, AC adapter, and PC Treasures software suite (ships separately)
1.9-2.8GHz AMD Quad-Core A8-4500M Accelerated Processor
15.6" diag HD BrightView LED back-lit display; 1366x768 resolution
8GB DDR3 SDRAM
750GB 5400 RPM hard drive; HP ProtectSmart hard drive protection
802.11b/g/n WiFi
Blu-ray player; SuperMulti DVD burner
AMD Radeon HD 7640G Discrete-Class graphics; up to 4084MB total memory
Beats Audio: 4 speakers & TripleBass Reflex Subwoofer
TrueVision HD webcam, digital mic
SimplePass with fingerprint reader
CoolSense air conditioning
10/100/1000 gigabit ethernet
SD, MMC memory card reader
3 USB 3.0, 1 USB 2.0 ports
HDMI, VGA, RJ-45 ports
2 headphone jacks/mic jack
MyRoom Premium package
Genuine Windows 7 Home Premium, 64-bit; qualifies for Windows 8 upgrade upon release; see FAQs tab for details
Microsoft Office 2010 Starter
Approx. 14-7/8"L x 9-3/4"W x 1-1/4"H-1-1/2"H; weighs 5.66 lbs
UL listed adapter; 1-year LMW
Made in China
Reviews & Community QA
E222966 - HP 15.6" Laptop w/ AMD A8 Quad Core 8GB RAM 750GB HD
40
40
Not Worth It
I bought this laptop 6 months ago, and now I regret it. I'm currently trying to sell it for whatever I can get to buy a totally different laptop. I do not understand why this package is priced so high. Not worth the money. I have problems with the volume and screen brightness staying at the level I want. Example: When in a class, I often dim the screen as low as it will go to be less distracting. However, the screen will randomly brighten- without me changing it myself! The volume is the same way. The CoolSense also tends to kick in during the worst times in lecture. The fan is loud and distracting. Already having problems with the screen freezing. The general speed of how any function works has noticeably slowed. In only 6 months! I thought this would be the perfect purchase- a fast, reliable machine. However, I am totally disappointed.
12-19-12
1st time buying HP & having nothing but headaches
I purchased this laptop late July, at first was great. But then when video chat with daughter computer would should down after several times this situation, called tech support and gues what the video card was not working. Had to send back & since I needed it quickly I ended up paying approx $15 for return express shipping. Since then, I have been having different types of issues. The tech guys (here in USA) when you can get them, because every time I called I would get someone in the Phillipines. Now when I finally thought everything was gooing great, guess what I have to send back due to the "P" key according to them is stuck and does not allow to do anything. I request to speak with a manager, which they aid would call me today, we shall see. I'm about to request they replace this one with a new one. So much problems & this computer is not cheap. After this experience, I DOUBT I WILL EVER BUY AN HP AGAIN, SHOULD HAVE GONE WITH MY INSTINCT AND PURCHASE A DELL.
12-10-12
Bad News
I purchased this PC because I needed something dependable to work from home, big mistake! From the get go it kept freezing up and the cursor would just disappear from a line, I had to restart over and over again to get through an hours worth of work, so frustrating! The CD/DVD drive stopped working after one use. After being a satisfied HP customer for several years, I am so disappointed! The one I got was a lemon...
12-04-12
I love my computer
I'm not sure of why this computer got so many negative reviews. I've had my computer for over a month and I absolutely love it! I upgraded it to Windows 8 a few weeks ago and now I love it even more. I watch Netflix all the time on it and haven't experienced what everyone else has experienced (yet). I'll do another review in a few months if anything changes.
11-30-12
Died after five months - even with TLC! :(
Nothinbg special happened. I went to my machine and it would not start up. I tried to go back to a restore point, and nothing happened. Since no factory discs came with the machine, I could not f11 or f8 during restart to get into factory reset... I ran all of the HP diagnostics that I could, and they just kept recycling, with no issues found. I am about to call the Help line, as all drivers, etc. were missing, once I ran an upgrade disk of MS 7 Professional. BUMMER!!! I need this for work.
11-27-12
Died after 5 months
Bought when special value. Crashed numerous times and lost memory. Turned it on yesterday and all I got was a screen that said to set up normally or set up in repair mode. Tried both ways and got nothing but a light blue screen - let it sit for a while in case it was repairing itself nothing!!!! This should be top quality for the price but is absolutely worthless.
11-21-12
Hp
I really like this laptop. The screen is the right size, light weight, color is very good, sound is great!
10-29-12
Should have known better....
I usually only buy HP ( for my kids) for its quality and value. Never had a problem before now. This laptop came today and its being returned today. The wireless doesn't work... It was supposed to be a gift for my son. Glad i tried it before Christmas Day, that would have been awful. QVC... you know this laptop has had major issues... why not pull it already ?
10-23-12
returned twice
buy only intel procesor i returned twice it crashes too much
10-20-12
Piece of garbage
I bought this PC after having previous good experience with their computers and other products. They are defnately supporting the rumor that they are exiting the personal pc market. I have a new anchor and I don't even own a boat. I gave it 1 star the choice of no star was not available.
10-18-12
Didnt get to use it not even once
So i purchased my computer 2 days ago and received it yesterday after noon. When i opened it everything was fine, so i decided to bring it to school today. Now, this computer wont even turn on and all it says its that the hard disk isnt installed and that there has been a disk reading accident (something like that)...This computer is very expensive and I thought I would have received something nice, but it was a total fail. Now I have to return it and see what i am going to do.
10-17-12
Big Huge Disappointment
All the hype about HP and all their success is hard to believe. It's almost been one year since I've owned a very similar model to this one. I've experienced a slow-operating response. The webcam lost connection while attempting to Skype. It was working fine several months ago. Tried to find the drivers on the HP website after a tutorial directed me there. Nope...not there. Called tech support. They tried to sell me an extended warranty. After 10 minutes of a few questions and putting me on hold, the tech suggested I send it in for repair and my computer turnaround would be 1 1/2 weeks. Yikes!!! I have a business and can't be without my computer! I had a bad experience with an HP years ago, but thought I'd take a leap of faith since it sounded like a great deal. The build of this computer is weak, compared to a Toshiba I last owned. I'm going back to Toshiba. Much sturdier and tech support is extremely helpful.
10-15-12