HALO 3000 mAh Portable Power Cube with Built-In Auto & Wall Charger
In Stock
Sold Out
We're sorry. This item is not available at this time.
Pre Order Possible .
Low Stock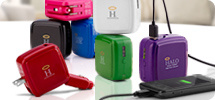 What a difference!
The Manufacturer's Suggested Retail Price on this item is $99,* but QVC is bringing it to you at the Featured Price of $49.96.
* The Manufacturer's Suggested Retail Price is based upon the supplier's representation of value. No sales may have been made at this price.
Description
Power trip. You're connected to your favorite small electronics--your cell phone, MP3 player, GPS unit, and more--around the clock. So no matter where the day takes you, be ready to provide them with an instant jolt of power with this HALO Power Cube. Its internal battery can be charged from virtually anywhere, and provides devices with much-needed power to keep them running smoothly for longer.
What makes the HALO Power Cube special? It's the best of both worlds. It combines the on-the-go appeal of the original HALO portable charger, with a versatile design that can be recharged just about anywhere, and anytime. Simply charge your power cube in a wall outlet or car charging port, and it's ready to provide power on the go to your small electronics.
What kinds of devices can it charge? A USB plug allows you to quickly and easily connect the Power Cube to most small electronic devices. No more worrying about being stranded without power! An iPhone 5 adaptor tip is not included, however, this portable charger can be powered using the iPhone5 USB connection cable.
How can the HALO help me? It provides everyday peace of mind. No matter where you are, with the Power Cube, you can rest easy knowing your electronic essentials will be charged and ready to last the day.
What's in the box? HALO 3000 mAh Power Cube, USB to micro-USB cable for Android & Blackberry devices, 30-pin tip for iPhone 3, 4, and 4S, and carrying pouch.
From HALO.
Please consult the manufacturer's documentation regarding the safe and proper use, handling, storage, charging, and disposal of products containing lithium-ion batteries.
Includes Power Cube, USB-to micro-USB cable, 30-pin tip, and carrying pouch
3000 mAh capacity
Charges most small 5V electronics that accept a micro USB tip or 30-pin tip connection
Charge indicator fuel tank
Devices that use Apple lightning cable (iPhone 5, iPad mini, 4th-generation iPad) require lightning cable for charging, not included
Measures 2-3/4"L x 2-3/4"W x 1-1/2"Deep; weighs 6 oz
UL listed; 1-year Limited Manufacturer's Warranty
Made in China
Reviews & Community QA
HALO 3000 mAh Portable Power Cube with Built-In Auto & Wall Charger
196
196
The Amazing Cube
Had this power cube with me several days ago when a friend's phone needed charging, wish you could have seen the expression in faces when I pulled it out. For about 5 seconds it was quite as a mouse because they were looking to see what it was and how it worked. At the moment it was hooked up to the phone for charging without being plugged into a lighter or outlet the amazement was followed with "that's neat". This is the only HALO power charger with both auto and wall charging capabilities which after finding that out the second response was where did you get that, we want one. So I hope it comes back in stock soon!
04-21-14
Great for vacation/Travel
I purchased this for a 10 day trip to Buenos Aires. From previous experience, I knew a converter would not work to recharge my cell phone and camera. The Halo had enough energy to recharge each once. After that, the Halo was out of power. Therefore, I am buying a second. I wish there was a battery source that was able to store more energy.
03-28-14
So easy to use, no computer needed.
I had seen the other types but this one is great as you don't need a computer to recharge it only a wall outlet. I have a hybrid car so I can also plug it in there. No car phone charger needed so one less thing to own and carry. I like the size of it, not so small to get lost. I plug it in to my phone while in my purse, very easy and useful. Would make a great gift especially for those who use there phones a lot.
03-27-14
Friends always jealous
My teenager, my girlfriends, my family all fight over this. Im getting to the point where I need to lie about having it in my possession. SUPER bonus that it can charge in the car. I would by one or every single friend of mine if I could afford it. Ive amazed many people with this and made new friends over lending a charge.
03-20-14
Not as advertised
I was hoping to use this while traveling, so put it to the test as soon as I received it. I charged it to its full strength, the plugged my cell phone in to recharge. My phone only charged half way before the HALO ran out of juice. Back it went to QVC.
03-09-14
one of the best items I have purchased on QVC!
By far, one of the best things I have purchased on QVC. I use this every day - at home and in my car. Never have to worry about having my cell phone charged!
03-07-14
A LIFE SAVER
Being a person that uses her phone to bank ,shop , talk, text, social media ,and watch movies whew !!!! This is a life saver this is my second one. =)
03-05-14
not the whole story
I got these for Christmas gifts and hopefully they are working .........haven't heard from them otherwise..........but the one I kept for myself doesn't work with my Virgin fliptop.....the adapter is too big........I was very disappointed.....because I really needed something to carry in my car for use with my phone when I need a charge.....they did not mention this in the presentation that it didn't work with all phones which should have been said............I didn't try mine until much later after 30 days so unable to return it.........the only thing is I used it in the wall plug and plugged my ipad into it and it worked that one time so I will have to see what it does the next time.........so all was not lost..........If giving as a gift have them try right away to make sure it works with their phone...........
03-01-14
Need more phone adapters
I bought alot of these for Christmas gifts. It has only two adapters that fit. My husband has a flip phone and I have the iPhone 4s and it works for us but it does not work with the iphone 5 or other phones. I keep one in my car and has always worked well. Just wish all phones were universal.
02-25-14
boooo :(
i got this for my husband so he could take to work with him to charge his phone. but as soon as the phone get's hooked to it, it drops down to 1/2 charged. goes dead before the phone is even fully charged!!!!! so disappointed!!!! how can this device charge anything if it can't even keep itself charged??? will be going back and won't be getting another. QVC ...... you need to do better!!!!!
02-18-14
Perfect Item for on the go
Purchased this HALO for a backup charger for our cross country trip to use for the cell phones and found that it also came in handy for the GPS. We used it in our RV so it was excellent to use in the auto charger as we were driving, but found out how convenient it was to use to charge 2 phones at night using the wall charger. This is an excellent product and would recommend it to ANYONE!
02-14-14
Handy Product
I have really enjoyed using my blue Halo to juice up my IPhone when I'm away from a normal charging area. This is a great product!
02-12-14