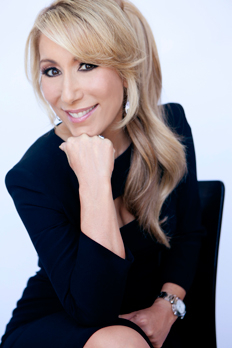 Lori Greiner started with one idea and turned it into a multi-million dollar international brand.
She's now regarded as one of the most prolific inventors of retail products. She has created over 400 products and holds 120 U.S. and international patents. She is a star shark on the hit entrepreneurial business show, ABC's Shark Tank, where she invests in companies and helps turn dreams into a reality.
Lori also has had her own show on QVC, for the past 16 years, called Clever & Unique Creations by Lori Greiner. Lori says she can tell instantly if a product is a "hero or a zero," and this is clearly shown through her many thriving investments and a 90% success rate on the items she has helped launch. Several of her investments are the highest success stories on Shark Tank to date.
Lori entered the literary world with her first book: Invent It, Sell It, Bank It! which is a national bestseller. The book is a hands-on, step-by-step guide on how to turn your idea into a million dollar reality.
Greiner's cleverly designed products cover a large range, including her well-known Silver Safekeeper®, one of the most popular jewelry and cosmetic organizers of her time. She's constantly adding new items. From kitchen tools, travel bags, and unique accessories—to must-have organizers for all around the home, her products are enjoyed by men and women alike. Her inspiration comes from a passion to bring happiness to people by making their everyday lives easier. Her products are sold on QVC and in retailers across the U.S. and Europe.
Greiner's accomplishments can be attributed to her sharp instincts and strong business sense. An expert on patenting and a guest speaker for the United States Patent & Trademark Office, Greiner is hands-on in all facets of taking a product from concept, creation, and to market. She has helped many budding entrepreneurs turn their ideas into hit products. At the heart of her own success lie talent, hard work, and perseverance, as well as a sincere and energetic on-air appeal.
Greiner's collection of over 400 products is regularly featured in top magazines like Town & Country, O, The Oprah Magazine, Woman's Day, Family Circle, and InStyle. She has also been profiled in Financial Times, Success, and has been seen on TV shows like The View, CBS This Morning, and Good Morning America. Her Silver Safekeeper was chosen as one of Oprah's favorite things.
A great believer in the idea that if you're successful, you have a responsibility to give back, Greiner's most gratifying moments have come when she's helping budding entrepreneurs achieve the same success she has enjoyed. She also believes that what matters most in life is who a person is, and what's in their soul. She and her company donate a substantial amount of their profits to a variety of charities every year.
Greiner's all-American success story is a refreshing tale in today's challenging economy. Her inventions address the everyday needs of a wide range of people, and her affordable pricing makes her products accessible and allows her to spread her enthusiasm for problem solving to millions of consumers.
Information provided by Lori Greiner.