George Foreman Evolve Grill w/ 6 Removable Non-stick Plates
In Stock
Sold Out
We're sorry. This item is not available at this time.
Pre Order Possible .
Low Stock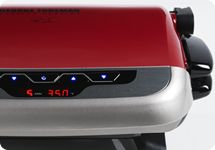 A Taste Evolution

Learn more about the George Foreman Evolve Grill.
Description
It's the time-tested classic you know and love--evolved for a new generation of culinary ease! With six interchangeable nonstick plates, the Evolve is an incredibly versatile George Foreman grill that makes cooking and baking your favorite foods easier than ever before.
Big possibilities--small space. While compact enough to use and store right on your counter, this kitchen essential has six removable plates--it's like six appliances in one! Grill grease-free burgers, fish, chicken, and way more with the two grill plates. Use the waffle plates to make scrumptious Sunday breakfasts. Feeling creative? Make muffins--no oven required--with the muffin cup plate, and experiment with the bake pan plate for deep dish pizzas, brownies--whatever you're craving. Boasting even heat distribution and timer and temperature controls, this grill makes preparing a variety of dishes so simple.
Healthy cooking. Like all George Foreman grills, the Evolve is designed with deep channels that drain the fat away from your food. If you're trying to start or maintain a lighter diet, this machine is the perfect complement to your health-conscious lifestyle.
No-hassle cleanup. The removable plates are all nonstick. That means there's no tedious scraping and scrubbing after meals. For ultra-easy cleaning, just place the plates right in your dishwasher.
More than a grill, it's your go-to cooking station. From George Foreman.
Includes grill, six interchangeable plates, two drip trays, two spatulas, and instructions with nine recipes
Plates include two grill plates, two waffle plates, one muffin pan plate, and one deep-dish/bake pan plate
Design channels fat and grease away from foods
One-touch, wipe-clean LCD digital control built into lid
Variable temperature control from 300F to 425F in 25-degree increments
Variable cooking time control from 1 to 20 minutes in 1-minute increments
Locking grill plate tabs for easy on/off
Even heat distribution
Power/ready light
All plates are nonstick, heavy-cast aluminum
All plates are dishwasher safe
Measures approximately 13"L x 15"W x 6"H; opens to 15"H; cord 2'L
UL listed; 3-year Limited Manufacturer's Warranty
Made in China
Reviews & Community QA
George Foreman Evolve Grill w/ 6 Removable Non-stick Plates
615
615
Deep dish pizza
I love, love, love this grill. Made the pizza tonight, and added my own spin. Don't know how to add a picture of how my pizza turned out. Cooked on my Evolve grill...looks great. My husband said it tastes great. Along with the orig recipe, I added a thinly sliced mushroom (should have added more) Mancini fried onions, peppers, fresh red onion and red pepper, and some of Mike's olive dip from Easter. Never have pepperoni in the house, but used the low sodium salami I had. Sprinkled some garlic powder, a little italian seasoning. Used a whole wheat crust dough and did add many extra minutes - next time would use the regular crust. Did not get as crisp as I would like but was good for the husband. Next time will crank the heat up for the extra minutes, and leave the top grill up to dry it up a bit because mine was very wet. All in all, it was very tasty. Sorry QVC doesn't carry it anymore.
05-23-13
what a waste of money
I have an original George Foreman grill that was starting to lose its non-stick coating so I decided to upgrade to the Evolve grill to replace it. What a waste of money. The very first time I used it, it stopped working halfway through cooking my burgers, giving an error code NO AC. The "manual" has no error code list so I have no idea why it stopped working. I thought it would be nice to have something that would let me cook waffles as well as grill meats, but that was a mistake. And since I bought nit months ago and didn't use it right away, I am out the money it cost me.
04-28-13
BRING THIS BACK!!!
I own this grill and my son loves it too but it isn't available on QVC anymore! Please bring this great George Foreman Evolve Grill back so I can order my son one!! Love ya QVC!!
02-26-13
Great at home grill
I live in NYC, where a grill in the middle of winter in an apartment is not an option. This grill truly is nonstick, heats up quickly, and gives my food a good flavor. I hate outdoor grills because of the smoked flavor the food gets, but with the Foreman Evolve Grill I don't need to worry about that. I have also been using it almost every day for about a month and it works like new every time. Highly recommend.
01-27-13
Sent it packing
This was bulky and hard to store. The slider plate was missing. The cooking area is small and not as big as it appears on tv, so you had to either cook or eat in shirts.
01-26-13
Never worked out of the box
UPS brought the grill to us last friday afternoon. We took it out of the box, read the manual and attempted to cook some hamburgers. The time and temperature setting feature would not work at all. The power would come on, but you couldn't set it. Called the George Foreman Customer Service Department for help. They had us try a few things and nothing worked. They told us to send it back. Thought the thermostat was bad. Immediately packed it up and carried it back to the UPS Store and sent it back. Told QVC to just cancel the order. A piece of junk.
01-23-13
Big disappointment
Bought this product as a gift for my daughter to take to college. She was so excited when it arrived. Luckily, we tried it out at home before she left. Prepared our waffle recipe and plugged in the unit and immediately got an error code. Unplugged and tried again several times with same result. Called customer service, but they really couldn't help as this was a manufacturing defect. SO dissappointed as this was going to be her primary food prep tool. Unfortunately, this seems to be a fairly common problem with this unit after reading other reviews. Boxed up and returned.
01-23-13
Where are the recipes? sub par manual
Love the grill itself, but the manual leaves much to be desired. No recipes in my manual and limited instructions. For the money paid, I think a small recipe selection, at the very least, should have been included. If this was as it should have been, I would have given this product 5 stars.
01-21-13
Defective Product
This unit worked the first time I used it. The second time I turned it on, the unit heated -then shut off and the temperature went down to 200 degrees. The temperature indicator constantly flashed and it took 20 minutes to cook a hamburger. As other reviews have indicated, this product has a defective thermostat and needs to be redesigned.
01-21-13
QVC - Please bring back the Evolve grill!!
Clearly, the GF 360 grill is not getting favorable reviews. The Evolve is a better deal with more functionality along with not being circular.
01-13-13
Thank You George!! Love It! A
Had it 2 days and used it twice. Chicken breasts moist and juicy and cooked fast and evenly. Made Grecian party squares in the baking pan. Crust was crispy and evenly golden. Topping cooked perfectly. Can't wait to make waffles or muffins!!!!
01-12-13
Great grill - terrible manual
We received our George Foreman Evolve Grill last week. It's our first GF and we have used it to grill hamburgers, NY Strip Steaks, and waffles, and all have been excellent. The choice of grill plates makes the grill very versatile. I'm anxious to try other recipes, i.e. muffins, pizza, etc., as shown on the QVC presentation but the instruction manual included with the grill does not include any recipes even though it says it does. I called QVC and they gave me the number of George Foreman (which is really Black & Decker Co), explained the problem and was sent a manual. It was printed with every other page upside down. The instructions / manual could and should be MUCH more user friendly. I see that you can now download the manual from QVC so this must have been a problem for others as well. Happy with the grill - not the manual, thus 4 stars.
01-12-13