George Foreman 360 Grill w/ 2 Removable Grill Plates, Bake Pan & Cookbook
In Stock
Sold Out
We're sorry. This item is not available at this time.
Pre Order Possible .
Low Stock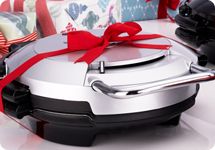 Quick, Easy Cooking Comes Full Circle
Description
Fit for a champ. You--or your favorite foodie--can enjoy healthier, great-tasting meals in a matter of minutes with George Foreman's Lean Mean Grilling Machine 360. With 106 square inches of round cooking surface, this large, versatile grill serves as a pizza baker, omelet maker, and pancake griddle in one. And, just like the George Foreman grill you know and love, it also makes mouthwatering steaks, chops, seafood, and burgers--all while leaving the fat behind!
More flavor, less fat. Grill burgers, chicken, fish, and more with two removable grill plates, and experiment with the bake pan plate for deep dish pizzas, brownies--whatever you're craving. Even heat distribution plus simple temperature controls make preparing a variety of dishes quick and easy. And, because the plates are finished with nonstick coating, you won't have to use butter or oil to keep food from sticking to the surface--that means less cleanup time, and more time spent with family and friends.
Health conscious. There's never been a better time to combine a passion for cooking flavorful foods with promoting a healthier lifestyle. And if you're looking for even more delicious ideas to please the palate, we've got you covered with 60 recipes in the included George Foreman Grilling Playbook.
It couldn't be easier to knock out quicker, healthier meals for the whole family to enjoy. Plus, the George Foreman 360 grill is an ideal gift for all the cooks on your list!
From George Foreman 360 Grill.
Includes grill, two removable grill plates, one removable bake pan plate, drip tray, and cookbook
Design channels fat and grease away from foods, up to 42% of fat reduced after cooking from 1/4 lb of 80/20 ground meat
106 square inches of cooking surface holds up to seven servings; fits up to approximately seven burgers at 3"Diam to 3-1/2"Diam
Variable temperature control, min-max settings (350F to 425F)
Even heat distribution
Ready indicator light
Extended metal handle
Floating top adjusts to thickness of food to maintain an even cooking level
Adjustable angle grill bar
Nonstick coating
Metal/plastic construction
Removable plates are dishwasher-safe; discoloration/oxidation on underside of grill plate may occur
Measures approximately 16-1/2"L x 14-1/2"W x 5-1/2"H; Cooking surface 10-3/4"W x 11"L
UL listed; 3-year Limited Manufacturer's Warranty
Made in China
Reviews & Community QA
George Foreman 360 Grill w/ 2 Removable Grill Plates, Bake Pan & Cookbook
214
214
so nice but so pooly designed!!!!
I SHOULD HAVE READ THE COMMENTS BEFORE ORDERING----THE TOP PLATE WILL NOT STAY ATTACHED----STILL HAVEN'T FINISHED PAYING FOR IT AND IT'S ALMOST IMPOSSIBLE TO USE!!!!!!! FOLKS, THINK TWICE BEFORE ORDERING!!!!!
10-12-13
what were they thinking
I have purchased other George foreman grills and have been very satisfied but this one does not heat right does not do grill marks and to cook food thru u have to turn the food. Was not one of their hits with me. Brought one as a gift. Was kind of embarrassed.
10-10-13
Dissappointed
Well cooks fine if you can get the top grill plate to stay on but it won't. We have tried everything and when it is hot and falls off you could get burned badly. I had to jump out of the way. Disappointed had one before and it did fine, would not recommend this design. It needs to be redesigned.
09-30-13
Versatile, Easy Clean, Stores Easily
This grill is quite versatile. I even use it as a panini maker at times! Clean up is so very easy. It stores nicely in a cabinet without taking up too much space, but I leave it out most days because we use it so often. Cooks quickly which is great for someone like me with long work days. Don't be afraid because of negative reviews! I can say with confidence, any negative reviews you read are the result of a single-user experience. As long as you don't burn food to the surface constantly, make sure you wipe the plates down while they're still hot/warm and clean it properly and gently (grills/pots/non-stick should never be scrubbed!), this grill will last you a very long time. Two things you should know: 1) The surface space does not allow for large families - I'd say less 3 or 4 people depending on your portion size. 2) The temperature control does not allow for accuracy. Its ranges is low, medium, high. Take the chance! It's a great grill if you're comfortable with your cooking skill.
09-28-13
Love the grill!
Great grill - highly recommend purchasing it. Very easy to use and very easy to clean.
09-25-13
Not usable
The top grill plate will not stay on. Waste of money. poorly made.
09-15-13
Pretty good...
We use this grill nearly every day in my house...the non-stick coating is already starting to come off, but it still works pretty well.
09-06-13
top grill falls off
This was great for cooking for 2 people, but the top grill kept falling off. Wasn't worth fighting with it. Sent it back.
08-25-13
Can't Keep Your Lid On!--For Real
This product hasn't worked since it came out of the box-the griddle plates for the top of the unit won't stay attached--very poor workmanship--got so aggrevated with it I tossed it in the garbage. I will never buy another George Foreman Grill--I think giving this product 1star was too much praise for something Fred Sanford would reject in his junk yard.
07-30-13
Love it
I was afraid to buy this grill because of the bad reviews, but I really wanted it with the removable grill plates and the bake pan. When it was delivered, I took off the plates and put them back on several (lots) times. It worked perfectly. Next I set a timer for the 8 minutes it was supposed to take for the grill to heat..It was ready in about 6 minutes.It cooked and browned things nicely, except when the pieces weren't the same size I had to turn some over ( not a big deal)..I made a note to use a slicer for uniform sizes of veggies.I am a veggie lover and I love the way the grill makes them taste. I cooked steaks for my honey and they were so fast I was surprised.(5 min.) I have grilled slices of onion, zuchinni, and potatoes in small cubes. I cooked 2 large chicken breast, bone in (because that was what I had in the bake pan..I was pleasantly surprised when they were done and moist in 20 minutes. I wonder if they reformulated this grill and made it better? I enjoy using it so much I just hope it keeps working as well as it has so far. I have never had a George foreman grill before.The larger size of this grill with the removable plates and the bake pan were the reason I wanted this grill. Without all that I wouldn't have purchased it
07-30-13
Love This!
I bought this knowing that if I didn't like it I could return it. I totally LOVE this item. I have used it for pizza, steaks, chicken and many other things. My 12 year old son used it to make BROWNIES! Yes he was able to make brownies. I am very satisfied with my purchase and would suggest every family to have this handy! The thing I love best about it is being able to put frozen meat on it with out having it burn!
07-23-13
1st Review
I must say that this is the worst product ever. It only works half the time. Every time I have tried to cook with it it will get hot long enough to put the food on but then it stops heating until i jiggle the temp control. It makes cooking something as simple as a grilled sandwich extremely difficult and time consuming! Would not recommend at all. I wish my old grill hadn't smoked and died!
07-18-13