Genius 9 Cup 8-Piece Slicer Shredder Food Prep System
In Stock
Sold Out
We're sorry. This item is not available at this time.
Pre Order Possible .
Low Stock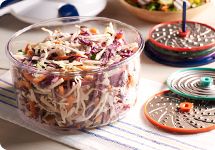 Fast, Simple & Safe
Learn more about the Genius Food Prep System:
Description
Fresh in a flash. The Genius nine-cup, eight-piece food prep system is truly a cut above the rest. Five different blades deliver perfect cutting results every time. Quick and simple, this clever kitchen aid requires absolutely no electricity--now you can grind and slice just about anywhere.
Crank it up! Slicing and shredding has never been easier. Just trim your ingredients to fit, place them in the lid and crank the handle. You'll be eating perfectly portioned fresh fruits and veggies in no time.
Flip the lid. As the core piece of this Genius system, the multifunctional lid lets you slice, grate, shred, or grind--with or without the nine-cup bowl. For those times when you want to work quickly without using the bowl, you can slice, shred, grate, or grind directly onto a clean work surface.
Season's eatings. Now is the perfect time of year to make those fresh fruit and veggie dishes for barbecues, picnics, graduation parties, and more. Make the most of the home-grown fruits and vegetables from your garden! Any way you slice it, this food prep system is a must-have for your kitchen.
From Genius.
Includes:
Nine-cup clear bowl with fresh-keeping lid
Multifunctional lid with crank handle
Dark green slicer blade
Purple large grater blade
Red medium grater blade
Orange super fine grater blade
Teal wavy blade
Blade holder
Suction cups on bottom of multifunction lid legs
Rubber pads on bottom of bowl
BPA-free plastic construction; stainless steel blades
Ingredients must be prepped before use; cut to fit the unit
Dishwasher safe, except blades
Bowl measures 4"H x 8"Diam with lid
1-year Limited Manufacturer's Warranty
Made in China
Reviews & Community QA
Genius 9 Cup 8-Piece Slicer Shredder Food Prep System
419
419
wrong cuts
Cuts good but does not have the blade that you would use the most like the little squars cuts you use for potatoes salad that is the cut I use the most.
04-19-15
Decent for the price...
I would recommend this for people who don't want to spend a lot on something for basic use. I use it all the time for medium grating my dogs meat rolls as well as light food prep. I would not recommend it for anyone with arthritis or motor function problems as it can be tricky to hold down and turn the handle which can be stubborn on harder items you may be trying to chop or grind. It's a decent system and it's a nice feature to be able to put my salad in it and lid it to go.
03-25-15
very helpful in the kitchen
I bought this for our camper and now want one for our house. It does everything and it's super fast and easy to clean. The only down side is the opening could be bigger. Have to cut cheeses and potatoes in half (if they are large). But the cutting disk are the perfect thickness and everything comes out perfect.
03-11-15
Terrible Product
I purchased this product thinking it would be a great slicer,shredder. It is aweful there is no room to put any vegetables unless you cut them up first. After all the work it took for me to shred it was not worth it my hand was sore. Not a good product at all, a total waste of my money.
03-03-15
Not Recommended
I purchased this as a gift for my husband for Christmas. I purchased it because it stated on the actual show that slice thickness was adjustable. When my husband opened it and read the instructions there was no information at all on how to make a slice thicker or thinner. On top of that, the show made it look very easy to use, but in actuality you have to be a contortionist to use it. You have to hold the hopper cover and push down on it while doing something else. He said send it back. He said the mandolin that we already have is much easier to use.
01-23-15
Does not work as demonstrated
This is probably the worst product I have ever purchased on QVC. It does not work as demonstrated and I was so frustrated trying to use it that I threw the entire thing in the garbage. Don't waste your money on this product. If I hadn't thrown the original packaging away I would have returned it.
12-26-14
Happy with this purchase
Truly enjoy using my slicer/shredder. It's easy to operate, is compact and a wonderful convenience to have in the kitchen.
12-10-14
terrific for your family
i brought this product for me but especially for my sister that has carpal tunnel and she love's to cook when i saw her chopping w/ a knife she never could cut thing's up without asking for help but when she used this slicer she's just smiling and slicing away without anyone helping her so thank you for making this
11-27-14
Save your money
This product is so inferior in so many ways. I am returning it. Too bad I have to pay for shipping just for trying it. It is flimsy, the blade doesn't fit well and will not turn the entire way around.
10-21-14
poor product
Did not work as shown. Would not recommend anyone buy it.
10-21-14
Preview Your Review
couldn't wait to get this machine. Was very disappointing after using it. The legs under the lid drop down and it jams in the blade. Tried several times and thought I was doing something wrong. Would not recommend. it. I sent it back.
10-20-14
Would Not Work
I am too old to try to get this piece of kitchen equipment to work. It was HARD to turn. I was so afraid the piece you push down on would break. One must cut everything very small to get it to fit into this. The opening is a strange shape to begin with so I had a really hard time with a potato. I suppose it needs softer foods to work well.
10-19-14