FoodSaver Vertical 2 Speed VacuumSealer w/ Accessory Hose
In Stock
Sold Out
We're sorry. This item is not available at this time.
Pre Order Possible .
Low Stock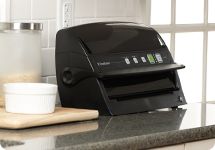 The Seal Deal
Click the links below to learn more about this FoodSaver Vacuum Sealer.
Description
Help food stay fresher, longer! This vertical vacuum sealer from FoodSaver helps you seal food and store it while helping to prevent spoilage--which could help your family save hundreds of dollars in groceries a year. With its space-saving design and convenient storage accessories included, this money-saving value is one you can't miss.
Do you shy away from bulk buying because you're concerned about spoilage? With this sealing system, you can stock up and save, then stow your groceries away to use as needed. Once given a proper airtight seal, produce, meat, and even fish will stay fresh in the refrigerator or freezer for way longer than they could otherwise. The CrushFree seal control won't crush soft fruits and veggies, and it's perfect for sealing in the freshness of cereals, breads, and other baked goods. You can store leftovers, too--when you're ready to reheat, the vacuum-sealed bags can go right from the freezer or fridge into boiling water or the microwave for quick, no-hassle preparation.
It's so easy to use! The built-in roll holder and cutter creates custom-sized bags to divide food into individual servings. With easy button operation, the SmartSeal technology grasps the bag, removes air, adjusts for any moisture in food, and produces a reliable airtight seal. Thanks to the double-wide sealing strip, you can even seal liquids to marinade your food. Handy canisters that hook up to the unit via the accessory hose simplify snack and sandwich storage, while quart- and gallon-sized bags are convenient options when you have a sizeable amount to store. And with the included manufacturer's mail-in rebate offer, you can get two additional 11" x 16' portion pouch rolls, making this already great value even better.
Save money--and space! With its innovative vertical design, the unit won't take up a lot of counter space in your kitchen. Keep it out all the time! This handy helper will certainly be used daily--and it will definitely help take a bite out of your grocery bill. From FoodSaver.
Includes vacuum sealer; one 11" x 10' roll; one 8" x 10' roll; three quart-size bags; two gallon-size bags; two 25-oz snack & sandwich containers; accessory hose; and manufacturer's mail-in rebate offer for two free 11" x 16' portion pouch rolls
Built-in roll storage
Built-in bag cutter
Double wide sealing strip for high-liquid content
Two sealing levels
Dry or Moist food settings
CrushFree seal control protects delicate food
Progress light indicator
Suction feet keep unit in place
Measures 16-1/2"L x 7"D x 8-1/2"H
UL listed; 1-year Limited Manufacturer's Warranty
Made in China
Reviews & Community QA
FoodSaver Vertical 2 Speed VacuumSealer w/ Accessory Hose
303
303
Briefly Happy
This w a s a great purchase.I use it every week .This is the second one I ''ve purchased and the motor seems to burn out.I Don 't think I would purchase another one of this brand.
12-21-13
Awesome Product
This is our first Food Saver and I have to tell you....I love it. We purchased meat on Tuesday, our Food Saver arrived on Wednesday. The meat from the Tue night had already started showing signs of freezer ice....We used the machine on other meat and on the next day it was perfect.
11-15-13
Loved It
This is my second food saver and I LOVE IT ! I have used food saver systems for years and they paled in comparison to this model. It's so quiet too.
11-07-13
Love it
I always had owned a vacuum sealer,I seen this,and had to try it,I've had it for about a week,and I love it,it's so easy.and it has a cancel button on it,so if it's not sealing,or something isn't rite you can stop it rite away.makes life easier.
10-18-13
Food Saver
I purchased my food saver a few weeks ago and absolutely love it! I had been waiting to purchase one, and when this one was aired, I knew it was time to buy. I haven't been disappointed. As one shopper mentioned in the reviews, the coupon for additional bags had expired, but when I called the 800 number, the nice associate arranged to send me the coupon special. Waiting to see if they arrive:) Purchase this item: You won't be disappointed.
10-09-13
Good purchase I thought
Purchased this food saver love food saver but I remembered today I had a free bag rebate Found the rebate order form and it was expired on 3-31-2013. Why tell about the rebate on tv if it was expired. David please read the rebate form before airing the product. I did read someone else's review and nothing was done about the bag rebate. Qvc could you try to help your customers
10-08-13
great product
my wife loved it. saved us a lot on our grocery trips. definitely a must buy especially if you have a small family and loves to shop wholesale.
10-03-13
Why did I wait so long to get one of these?
I love this machine and use it regularly . . . almost daily . . and I am wondering how I have lived this long without a FoodSaver!!! I keep it on the counter and it blends in nicely with the kitchen decor. It truly has saved $$. Won't live without one of these anymore.
10-02-13
Best of the Best
Love, love, love my new FoodSaver! It was time to replace my original --- which I had definitely gotten my money's worth out of. I like being able to buy in bulk and break it down in portions. Every kitchen should have a Food Saver!
10-02-13
Bitter Sweet Purchase
I had waited on a good price for this item, and it sounded great on air; I have owned this product in past and knew what to expect, the product so far is okay, but very displeased with the advertising, first the price on flex pay on air was not in reality the price you will pay, and on this item it was to have enclosed rebate/extra bags $20 dollar savings, the coupon that was in my box expired March of this yr ; how helpful was that; I called QVC, the nice rep said she would put in a note to Food saver, I would have to follow up. How helpful is that? That was the sellilng feature on the purchase of this item. I never heard back from anyone. Live and learn.
09-29-13
LOVE this machine!!
I love using this valuable kitchen utensil. We are finishing the harvest of our garden and I have used this foodsaver sealer so much. To keep frozen vegetables longer, it's a dream. Lots of times I freeze the items on a cookie sheet and then use the vacuum sealer. I use it for all of the on-air suggestions and more. I have had more than one of the sealers and I have to say this is the best one that I have owned.
09-15-13
Great
Bought this one to replace an old outdated one , has more features than the other one . very pleased with mine . Thanks !!!!
09-12-13