Eviant 7" 8GB WiFi Tablet with Google Play & Tech Support
In Stock
Sold Out
We're sorry. This item is not available at this time.
Pre Order Possible .
Low Stock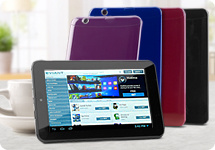 Description
Unlock the latest that Google Play has to offer with this Eviant 7" Wi-Fi tablet. Ideal for back-to-school, fun with the family, or on-the-go productivity, this handheld device gives you access to the apps you love, plus a portable media experience--all at an affordable price.
What makes this tablet special? It features a 1024x600 resolution 7" diagonal glass capacitive touchscreen for easy browsing. Plus, its agile Android 4.1 operating system offers smooth and speedy navigation for everyone in the family.
What can it do for me? This tablet gives you easy access to the apps you use most--Google, Facebook, YouTube--and an ideal 8GB of memory to store music, photos, and video. When it's time for the whole family to check something out together, put it up on a TV screen by connecting the tablet via the HDMI output and your own HDMI cable.
What can Google Play do for me? This exciting interface lets you store up to 20,000 songs online from your iTunes(R) library or music folders; instantly watch thousands of movies, including HD titles, new releases, and award-winning films; explore a large selection of eBooks including millions of free titles; and peruse the apps/games you love and have yet to discover--all without cables or syncing!
Can I control the content my children see? Yes, with the built-in Zoodles mode, parents control what their children can access through the tablet, ensuring fun for the kids and peace of mind for Mom and Dad.
What's in the box? Wi-Fi tablet, power adapter, USB cable, quick-start guide, and user guide.
From Eviant.
Wireless capability may require a network connection, additional accessories, and/or a service connection fee.
Access to and use of the Internet may require payment of a separate fee to an Internet Service Provider.
Includes family tablet with Wi-Fi connectivity, power adapter, USB cable, quick-start guide, and user guide
Android 4.1 operating system
7" diagonal edge-to-edge glass capacitive touchscreen display with 1024x600 resolution
8GB internal memory
1GB RAM
Built-in 802.11b/g/n Wi-Fi
Built-in 2MP rear-facing camera, 0.3MP front-facing camera
HDMI output
MicroSD card slot
Built-in speaker and microphone
Mini-USB 2.0 port
Preloaded with Google Play, Google Maps, Google Talk, Barnes & Noble NOOK(R) App, YouTube, Facebook, Zoodles children's content management, one-year trial of ViveDrive, a four-month trial of Manage Your Life which must be downloaded from the Eviant App Store, and one year of Premier Tablet Support
Measures approximately 7-3/4"L x 4-3/4"W x 1/2"H; weighs 11.5 oz
UL listed adapter; 1-year Limited Manufacturer's Warranty
Made in China
Reviews & Community QA
Eviant 7" 8GB WiFi Tablet with Google Play & Tech Support
297
297
Thank God I took out the warranty
Worst tablet ever. Nothing but problems. The Eviant company was a nightmare to deal with. Glad I purchased the extended warranty because that company was superior to any I've ever dealt with! Still waiting for a check from them but they were a pleasure to work with.
01-07-14
Not such a good buy
Bought this for my granddaughter. I have an Eviant 8 inch tablet that I have had no problems with, so I was expecting the same with this. Sadly, this was not to be. It lasted for maybe 3 weeks of use, froze and will not turn back on. I guess sometimes it pays to buy the bigger name brands. I will go with Samsung from now on.
01-06-14
Great little tablet
Bought two as Christmas gifts for my 14 and 16 year olds. I was hesitant when I ordered them since they are not a well known brand, because I wasn't sure if they would work well, or if the kids would be disappointed that they weren't the super expensive brand that all the kids want. But they work great and the kids love them, they rarely put them down. Touch screen is very responsive, it is fast, everything works great. I think the only thing to mention is that the battery life is not outstanding, but it is also not horrible. We will be gad they have these on our upcoming vacation to keep them busy in the airport and on the plane!
01-05-14
Perfect
Christmas of 2012 our grandson received an iPad and wouldn't put it down. His 4 year old sister with supervision was allowed to play games. It wasn't long before the idea of sharing wasn't such a good idea. :-\ We decided to purchase the 4.5 year old a tablet of her own. After searching we found this little gem on QVC and with easy pay. It was ordered and arrived quickly. It is just perfect for a child so we ordered two more for two other grands. I couldn't wait for Christmas to arrive to stop the bickering. Our 5 year old granddaughter is so happy (and so are we). With this tablet so many apps are available for free and purchase for young children. Netflix is available as well. I plan on getting one for myself ( its a lot lighter thanmy laptop). BUT right now QVC has sold out. I'll be keeping my eyes open so sshould they become available I'll be getting one.
12-30-13
support?
One reason I bought this tablet was because the show host boasted the superior quality of the support team. I did not find that to be accurate. I called inquiring as to how to import my contact list from my laptop. Waited for 25 minutes for someone to answer, when someone did answer, he said the were very busy and would have some call me. 6 hours later I was called back. Told the rep my problem regardind email contact list - he put me on hold for 10 minutes then came back and said he needed to set up a special email acct for me put me on hold again for15 minutes then disconnected. I did not receive a call back even tho he had all my information. This is far from the superior service the show host touted - extremely disappointed!
12-25-13
Disappointed
I ordered two of these tablets for my sons as early Christmas gifts. The touch screen stopped working after only 3 days of use on one tablet and the other froze after 8 days. Once the screen freezes, you cannot operate the tablet in any way. I am now waiting on my returns to process so that I can purchase a different brand. I definitely do not recommend this tablet.
12-20-13
Horrible
Read Reviews after I ordered (yuck) Bought this for my husband who is far from tech savvy. It overheat, locks up and is just a waste of money. I am risking returning it no matter what the discount on a return
12-16-13
Disapointed
I bought this tablet for my son. The tablet worked just fine for 3 weeks then suddenly froze up while I was browsing the web. It then turned off and would not come back on. I called tech support who had me try to reset to factory settings. After that ONE failed attempt to fix it, I was referred to the manufacturer. I returned it and a replacement. It did not work either after a few weeks. Not good.
12-16-13
Best purchase ever !!!!!!!!!!!!!!!
Bought this item for the SUNDAY SCHOOL, junior, and senior class they love it, and is still praising me for the gift. thank you QVC. you came thru once more.
12-03-13
Great Item
I own this tablet and the Ipad Mini and I can do almost the same things for a lot less money, Anyone who had a child and likes uses mom and dad ipad buy them this it's a lot cheaper....
12-02-13
OK Tablet For Some Maybe
Purchased this tablet when it was tsv-still working so far.Would have liked to see an HDMI cord included in the package. Bad thing about this tablet was the apps never worked through the maker-No body ever seemed to be "At Home" on the site.Doing all my apps through Google Play Store with no problems.
12-01-13
big fat fail
I bought one and my sister bought 2. One of hers was not working when she received it. My tablet worked just fine for 3 weeks then suddenly froze up while I was browsing the web. It then turned off and would not come back on. I called tech support who had me try to reset to factory settings. After that ONE failed attempt to fix it, I was referred to the manufacturer. No thanks. Sending it back. Qvc of course is great as always and I received this item FAST.
11-29-13