Emjoi Rechargeable Micro-Pedi Tornado & Accessories
In Stock
Sold Out
We're sorry. This item is not available at this time.
Pre Order Possible .
Low Stock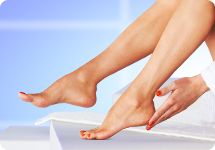 For Touchably Smooth Skin
Watch a video highlighting the new features of the Emjoi Tornado.
Discover why QVC host Kerstin Lindquist loves the Emjoi Rechargeable Micro-Pedi Tornado Callus Remover!
Have a question? See other customer questions the Emjoi team answered!
Description
What is it: Your sole mate! The Emjoi Micro-Pedi Tornado callus remover helps keep skin on your toes and elbows smooth. This powerful, rechargeable device is designed to help smooth rough, dry, and calloused skin. Made of microscopic minerals, the Tornado roller effectively removes dead skin and turns it into powder. Spinning 360-degrees at an amazing 30 revolutions per second, this unique device gently buffs away hard, calloused, jagged skin on your feet and beyond, all in the comfort of your own home.
Who is it for: Anyone who has dry, rough, or calloused skin on their feet or elbows.
Why is it different: With this fully featured, rechargeable Micro-Pedi Tornado, there's no need to worry about dying batteries. The Tornado has two speeds: High for heavy calluses and Low for sensitive areas. It includes two coarse rollers (blue) for removing dry, cracked, calloused skin on the feet and heels and a new delicate roller (purple) for dry skin on the elbows. The new Precision Kit with cone-shaped rollers allows you to remove calluses in hard-to-reach areas, like between and under the toes.
How do I use it: Gently hold the Tornado to calloused area for two to three seconds. Stop and check results. If needed, use for two to three more seconds until the desired level of smoothness is achieved. Do not apply pressure. For dry, cracked skin on the feet use the blue rollers. For calluses in between the toes use the Precision Kit. Remove the blue roller, insert the silver Precision Roller Holder and add the Precision Cone attachment to the end. Turn the unit on and apply to calloused area for two to three seconds. Stop and check results. If needed, use for two to three more seconds until the desired level of smoothness is achieved. Do not apply pressure. For rough elbows, insert the purple roller, hold the Tornado to area for two to three seconds. Stop and check results. If needed, use for two to three more seconds until the desired level of smoothness is achieved. Do not apply pressure.
From Emjoi.
Includes:
Rechargeable callus remover
AC adapter
Two coarse rollers
Delicate roller
Precision kit with three cone rollers
Cleaning brush
Travel pouch
Portable, easy-to-clean design
Plastic construction
Approximate measurements: 5-1/2"L x 2-1/2"W x 1"D; Cord 8'L; weighs 5.4 oz
UL listed; 1-year Limited Manufacturer's Warranty
Pouch made in China; all else made in People's Republic of China
Reviews & Community QA
Emjoi Rechargeable Micro-Pedi Tornado & Accessories
189
189
Wow!
I never thought my feet could be this soft. I expected them to be sore after using the Emjoi, but they are not! Great tool for keeping feet soft!
01-25-14
I Love This Product Wow Amazing
Wow! Dear QVC, this is a great product. I bough it for myself I'm very happy to tell you that I would be a spoke person for free. I have introduce this Micro Pedi to my nephew who is a diabetic and his doctor has recommended it to all his patients Thank you for having such a good product . I'm the proud owner of two. and I will be given them ad Christmas gift this year Thank again.
01-23-14
I WAS SO AMAZED I CRIED !
Hello Qvc & shoppers ... I bought this for myself because I have always been too embarrassed to go to get a pedicure! I had 4 Back surgeries to get my body back together after surviving domestic violence & during healing I wasn't able to bend over for a while so I have neglected my feet big time ! I saw this on Qvc & didn't believe what I was seeing & more so I didn't think it would work on my feet . ( I WAS WRONG ) So to the non believers I have to say that I think I took 10 years off my feet ! This Machine made me feel So good because It worked so awesomely well :) My feet are SO smooth & soft also I was able to file my Toe nails & shape them too :) I had the Best time knowing that for the 1st time in a long time I could walk around the house with out socks or embarrassment of what anyone will think ! Thank u SO Much to the creator of this product ! I need you to know what You have done for MY Self Esteem I think I smiled the whole day yesterday & I haven't done that in a long time ! I Cant wait to buy one for my mom for her Birthday & my daughters for theirs ! Worth the Money
01-22-14
Don't hesitate - Buy it now!
I don't understand the haters! I hesitated but decided to give it a try. I am so glad I did! It is easy to use and takes off all of the dead skin & calluses! I had dry cracked heels until using this product. Now they are pink and smooth. Even my granddaughter mentioned how nice my feet looked....they must have been bad if a 9 year noticed my dry, cracked heels! No more! Love, love, love!
01-19-14
Amazing results~
This is awesome! I am so glad that I purchased, I have ALWAYS had awful issues with my feet, being rough and patchy - with literally two uses that is a thing of the past - smooth as can be and no cracks or roughness! BUY ONE!
01-18-14
Wife is Happy !
Bought for my wife. She is very satisfied with the results she gets. With her foot bath, and the Emoji, she said she may never have a pedicure again...... That would be nice!
01-16-14
Miracle Worker!
Oh my gosh. I got my Tornado today and used it for the first time. It took so much dead skin off my feet that I couldn't believe it. It comes off as a fine powder and there is absolutely NO pain. In fact, if you press too hard, the unit shuts down. I didn't think my elbows were bad, but I tried the sensitive roller and lots came off of my elbows, too! My feet have never been this soft and smooth, even after a professional pedicure. I bought the battery-operated unit for my mom and sister and they absolutely love it, too!! Absolutely works with no pain.
01-11-14
Beautiful Feet!!!
This was a Christmas gift for my daughter. She absolutely loves it!!! She loves how well it works but never can get too deep where it would make the skin break and bleed like some of the other items she has used. I gave her a pedicure using this the day after Christmas. She loves all the different attachments and thrilled its not just for feet! Amazing product...Great Value!!! She has beautiful feet for when she moves from Indiana to Alabama!!!
01-11-14
embarrassing feet no more!
This works just as it claims! Amazing results, Be prepared for how much dry skin you watch come off. Totally addicting! Now only need the salon for the massage part of the pedicure!
01-10-14
Fabulous Purchase
Love it, daughter's best Xmas gift. We used right away ,FABULOUS.
01-08-14
A Dream Come True
What a brilliant product. Works exactly like the demo on TV. I have some seriously huge callouses and they were whisked away in about 30 seconds. Cleans easily. If you are thinking about getting one of these do it!!! Will pay for itself in no time because you can skip the pedicures!
01-07-14
loving my smooth feet!
My husband and I are playing footsy with our smooth feet! We could see and feel the difference from the first use.
01-05-14