Emjoi Purple Rechargeable Micro-Pedi Tornado Callus Remover
2013 Customer Choice Beauty Award Winner
In Stock
Sold Out
We're sorry. This item is not available at this time.
Pre Order Possible .
Low Stock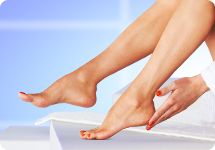 For Touchably Smooth Skin
Watch a video highlighting the new features of the Emjoi Tornado.
Discover why QVC host Kerstin Lindquist loves the Emjoi Rechargeable Micro-Pedi Tornado Callus Remover!
Have a question? See other customer questions the Emjoi team answered!
Description
What is it: Your sole mate! The Emjoi Micro-Pedi Tornado callus remover helps keep skin on your toes and elbows smooth. This powerful, rechargeable device is designed to help smooth rough, dry, and calloused skin. Made of microscopic minerals, the Tornado roller effectively removes dead skin and turns it into powder. Spinning 360-degrees at an amazing 30 revolutions per second, this unique device gently buffs away hard, calloused, jagged skin on your feet and beyond, all in the comfort of your own home.
Who is it for: Anyone who has dry, rough, or calloused skin on their feet or elbows.
Why is it different: With this fully featured, rechargeable Micro-Pedi Tornado, there's no need to worry about dying batteries. The Tornado has two speeds: High for heavy calluses and Low for sensitive areas. It includes two coarse rollers (blue) for removing dry, cracked, calloused skin on the feet and heels and a new delicate roller (purple) for dry skin on the elbows. The new Precision Kit with cone-shaped rollers allows you to remove calluses in hard-to-reach areas, like between and under the toes.
How do I use it: Gently hold the Tornado to calloused area for two to three seconds. Stop and check results. If needed, use for two to three more seconds until the desired level of smoothness is achieved. Do not apply pressure. For dry, cracked skin on the feet use the blue rollers. For calluses in between the toes use the Precision Kit. Remove the blue roller, insert the silver Precision Roller Holder and add the Precision Cone attachment to the end. Turn the unit on and apply to calloused area for two to three seconds. Stop and check results. If needed, use for two to three more seconds until the desired level of smoothness is achieved. Do not apply pressure. For rough elbows, insert the purple roller, hold the Tornado to area for two to three seconds. Stop and check results. If needed, use for two to three more seconds until the desired level of smoothness is achieved. Do not apply pressure.
From Emjoi.
Includes:
Rechargeable callus remover
AC adapter
Two coarse rollers
Delicate roller
Precision kit with three cone rollers
Cleaning brush
Travel pouch
Portable, easy-to-clean design
Plastic construction
Approximate measurements: 5-1/2"L x 2-1/2"W x 1"D; Cord 8'L; weighs 5.4 oz
UL listed; 1-year Limited Manufacturer's Warranty
Pouch made in China; all else made in People's Republic of China
Reviews & Community QA
Emjoi Purple Rechargeable Micro-Pedi Tornado Callus Remover
11
11
Works Great
I have both the battery and rechargeable model. They both work great. I realized how great when it worked on my Male Friends feet- they are (let me say he could tear the sheets with his feet). After the first use on his feet there was a noticeable difference, which amazed the both of us. I only give 4 stars because I do believe it could be just a bit more powerful (but then again it would probably open a door for injury). I have used several times and still have not changed the roller.
02-12-14
Better than manual removal but needs some work ...
Best for between professional pedicures. Not strong enough to substitute for professional pedicure. Granted I have terrible feet, as the podiatrist said, no fat pads so you're going to have calluses. Purchased this last year, my expectations were not high but liked the idea of rechargeable. The device is easy to use, changing the rollers is easy, easy to clean and recharge. I have two complaints and would love to see these addressed, would consider buying new and improved model. First, the regular rollers are toast after one use, sometimes even after one foot - and I get regular Pedi's. Second, the cone rollers are actually easier to use on my narrow feet but you can't purchase replacements. Have seen other reviews that this unit is not as powerful as battery, I can't compare that but power doesn't seem to be the issue, rather the quality of the rollers. I have just purchased the coarse rollers, we'll see if that helps. If you get regular Pedi's and your feet aren't too bad, this might be OK.
02-02-14
Disappointing
I wanted to love this. Unfortunately, my calluses were a bit to much for it. Also, when it isn't actually plugged in it barely works. I may try a model that needs constant power.
01-31-14
I've tried both Rechargeable & Battery operated
I purchased the battery operated Emjoi with all of these attachments plus the extension. Received it, tried it and loved it! A few days later I saw the Tornado and it was rechargeable. I was bummed thinking "Darn, wish I would have known a rechargeable was coming." I ordered the (Tornado) but kept the original so I could compare them. Charged the Tornado and tried them side by side today. Tornado has 2 speeds but the first one does nothing, it's of no use. Don't buy it thinking you're getting more power. The Tornado is louder but does not perform as well as my battery operated Emjoi. While I did test them side by side the battery operated Emjoi had been used about 3 times while the other was brand new and just completely charged. Hands down - Battery Operated is the ticket -it still beat out the Tornado! Tornado design requires cleaning more often. The battery unit is a little longer and feels more comfortable in my hand.The Tornado limited what the unit would do / reach at an angle etc. The old design works much better for me - and my batteries are lasting just fine. Thought I would like this one but -- back it goes. So glad I had not returned the Battery Operated one first. If you're on the fence -- BUY THE BATTERY OPERATED Version.
01-21-14
awsome
this product is better then the battery operator emjoi. i was impress with the result on the bottom of my feet feel real smooth THANKS FOR AWSOME PRODUCT
01-15-14
SUEZQ
SAVE YOUR MONEY!! THIS PRODUCT LEFT MY FEET IN WORSE SHAPE..THEY WERE FLAKING AND PEELING AFTER ITS USE. THIS MAY BE OK IF YOU GET REGULAR PEDICURES AND NEED IT JUST FOR A TOUCH UP. AND CHECK OUT THE PRICE FOR THE REFILLS..RIDICULOUS! SENT IT BACK.
01-11-14
Alot of Potential, Good but can be better
Okay so upon receiving my Micro-Pedi I used it right away. Now I am already familiar with items that are rechargeable so I know when I choose to use this product it will always be plugged in because the power of rechargeable items off of the adapter is very weak. Now I have to say I do love the micro rollers they are the BEST. My feet came out baby smooth better than any salon pedicure I have ever had. With salon pedicures they never addressed the deep lines of dry cracked skin (or should I say they couldn't) which I could with the precision rollers that came with the Micro-Pedi. Honestly the micro rollers do a better job of removing the callused/dry skin than a pumice stone. However using this did take some time to get both of my feet how I wanted them to be so in my opinion I suggest that the manufacturers make a more powerful device because the 3.4 V just doesn't cut it for me lol. Also they should make available smaller sized cones and a coarse version as well I don't have any corns so I had to make use of them and they worked for the dry skin around my toes and the deep lines of dry cracked skin around the heels of my feet. 1.INCREASE THE POWER PLEASE!! 6V......maybe 2.Smaller versions of cone 3. PRICE is not bad I have eliminated the need to get a salon pedicure three visits would cover the price of this so no problems there. 4. I have only had one session so I don't know how long the rollers will last me hopefully 2-3 more uses but my feet are like BUTTER so lol I don't see me touching up for a while. I Give 3 stars GOOD but can be BETTER
01-07-14
DIAPPOINTED
Not worth the price. Get better results/manually my self.
01-06-14
Best Purchase Ever
I just received my Emoji rechargeable unit today. It was the best day to get it in the mail of all days. I live in Michigan and today we had a snow storm up to 7 inches. I just came in from snow blowing the drive and sidewalks. I was so happy this was waiting for me. I came in the house and used my Emoji for the first time ever. It was awesome! My feet were rough and cracked and in much need of attention. I used the Emoji per instructed. My feet are as soft as a baby's bottom. Seriously! I applied my philosophy pure grace lotion afterwards and my feet feel wonderful. My two daughters even touched my heels and said "very soft!". So if you are on the fence don't hesitate and make the purchase. It is truly wonderful and super easy to use. I might even get one for my husband.
01-02-14
Worst Purchase Ever! Get The Battery Powered One!
Bottom line, I purchased the battery powered Emjoi, then later purchased the rechargeable version. The battery powered version works much better. The rechargeable version does not have enough power. It is a more elegant product, with attachments that make the price almost reasonable. It just doesn't work as well! I'm purchasing two additional battery powered versions for the rest of the family.
11-29-13
THIS IS "AMAZING", EXHILARATING TOO!!!!!!
I kick my shoes off with ease anywhere now...lol! I purchased the battery operated one first, that did have some effective results.. Got really tired about the batteries. This rechargeable Micro Pedi TORNADO CALLUS REMOVE does exactly what it's titled to do... I have developed real smooth, soft feet and relaxing too! Not to mention cost effective. I have saved so much time and money using this product. Having to take time out for salon appointments. waiting and waiting... I started using up to three times a week, I used to love bare-footing as a young girl and ice-skating put a callus on my Big toe. In a matter of weeks my feet are perfect, now i just use it once a week and make sure to use my Philosophy soul owner foot creme. Ladies...We All Know Keeping Our Feet Right, Is a Job!! This is the Perfect Tool for Major and Perfect Adjustment for our Feet. All Year long and In the Privacy of YOUR OWN HOME!! YEA!!! ;-) Just makes me feel so delicate and reassured and so much better and comfortable. no worries ever any more about trying on shoes no embarrassing moments. I LOVE IT!!! All it requires is a little daily treatment patience and little time as needed. THANKS Emjoi and QVC
11-18-13