Emjoi Pink Rechargeable Micro-Pedi Tornado Callus Remover
In Stock
Sold Out
We're sorry. This item is not available at this time.
Pre Order Possible .
Low Stock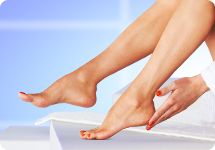 For Touchably Smooth Skin
Watch a video highlighting the new features of the Emjoi Tornado.
Discover why QVC host Kerstin Lindquist loves the Emjoi Rechargeable Micro-Pedi Tornado Callus Remover!
Have a question? See other customer questions the Emjoi team answered!
Description
What is it: Your sole mate! The Emjoi Micro-Pedi Tornado callus remover helps keep skin on your toes and elbows smooth. This powerful, rechargeable device is designed to help smooth rough, dry, and calloused skin. Made of microscopic minerals, the Tornado roller effectively removes dead skin and turns it into powder. Spinning 360-degrees at an amazing 30 revolutions per second, this unique device gently buffs away hard, calloused, jagged skin on your feet and beyond, all in the comfort of your own home.
Who is it for: Anyone who has dry, rough, or calloused skin on their feet or elbows.
Why is it different: With this fully featured, rechargeable Micro-Pedi Tornado, there's no need to worry about dying batteries. The Tornado has two speeds: High for heavy calluses and Low for sensitive areas. It includes two coarse rollers (blue) for removing dry, cracked, calloused skin on the feet and heels and a new delicate roller (purple) for dry skin on the elbows. The new Precision Kit with cone-shaped rollers allows you to remove calluses in hard-to-reach areas, like between and under the toes.
How do I use it: Gently hold the Tornado to calloused area for two to three seconds. Stop and check results. If needed, use for two to three more seconds until the desired level of smoothness is achieved. Do not apply pressure. For dry, cracked skin on the feet use the blue rollers. For calluses in between the toes use the Precision Kit. Remove the blue roller, insert the silver Precision Roller Holder and add the Precision Cone attachment to the end. Turn the unit on and apply to calloused area for two to three seconds. Stop and check results. If needed, use for two to three more seconds until the desired level of smoothness is achieved. Do not apply pressure. For rough elbows, insert the purple roller, hold the Tornado to area for two to three seconds. Stop and check results. If needed, use for two to three more seconds until the desired level of smoothness is achieved. Do not apply pressure.
From Emjoi.
Includes:
Rechargeable callus remover
AC adapter
Two coarse rollers
Delicate roller
Precision kit with three cone rollers
Cleaning brush
Travel pouch
Portable, easy-to-clean design
Plastic construction
Approximate measurements: 5-1/2"L x 2-1/2"W x 1"D; Cord 8'L; weighs 5.4 oz
UL listed; 1-year Limited Manufacturer's Warranty
Pouch made in China; all else made in People's Republic of China
Reviews & Community QA
Emjoi Pink Rechargeable Micro-Pedi Tornado Callus Remover
61
61
A Must Have in every Household
This product should be in every household. I live on a budget and don't have a ton of time to do my own pedicures. This little device got rid of all of my dead skin in less than 5 minutes. Best of all I didn't have to wait for it to charge before I used it.
10-05-13
Awesome
This product is awesome. I love smooth skin. My feet feel like velvet, no they feel better. Don't hesitate to buy it. I don't know what I ever did without it.
09-16-13
Good device
I have very thick calluses and it does a nice job of smoothing them. It will take many uses to make a big difference but it is better than anything else I have tried. The charger doesn't fit well into the device and doesn't charge unless it is very carefully done.
09-08-13
A Waste of Money
I feel like I wasted my money on this item. Unfortunately, I threw away the packaging so I can't return it. It does not perform the way it is shown on TV. The abrasiveness was gone after one use.
08-30-13
Fabulous foot care
This is my second purchase of the Emjoi rechargeable!!! My daughter-in-law saw it in action and wanted one for her birthday! Definitely keeps my feet soft and looking beautifully manicured. Tip: Use the Emjoi on your feet when they are dry...much better results. Touch up every few days so the rough dry skin doesn't build up. Love the rechargeable feature!
08-25-13
OMG WHERE HAVE U BEEN ALL MY LIFE
I have never written a review for any product in my life !!!!!! This is beyond wonderful
08-24-13
Works great!
I really like this tool! I have the worst thick, cracked heels that no cream has ever been able to change. However, this tool really makes a big difference! It softens the skin on my feet and really changes the look of my heels. Then, I can shower and use a really good foot cream on my skin. It has really made a difference in the look of my feet. I am very glad that I purchased this tool!
08-24-13
Best At Home Pedicure
Used it plugged into wall as soon as it arrived, I let it charge up after that. It works FANTASTICLY EASY AND QUIET and PAINLESS! What a money saver! No more salon pedicures for me. I smoothed the calluses around the outside of the big toe and on the outside edge of my heels. That worked so easy I kept looking for any roughness of the bottom of my feet. The were quickly transformed into young looking feet! Start a new thing: A Home Manicure Get Together! For those of you that can't reach the bottom of your feet how about asking someone to do this for you and have them bring their Emjoi and you can do their feet. (Or just purchase extra rolls and use one machine) If you have regular get togethers you won't mind touching your friends feet because they will be well maintained. BONUS: Each person puts their money saved into a jar marked with their name and at the end of the year, go out to a dinner & movie or purchase something for yourself.
08-18-13
Something is wrong
I have the original battery operated emoji and I love it. I have recommended it to many people. I was very excited to see the rechargeable emoji. Every time I have used this emoji my feet are a mess when I finally give up. I did not send back because I threw everything away since I was so happy with the battery powered one. I thought maybe I was not letting it recharge long enough and maybe it was not powerful enough but I have tried letting it recharge for 18 to 24 hours at a time and I tried using both speeds. I am just using the rollers with my battery emoji and throwing this one away even though I am still paying for it on easy pay. Guess I just happen to get one that was defective. My bad for not saving my papers so I could send back. Glad others are enjoying theirs.
08-16-13
Awesome Attachments
I was so impressed with the battery operated model of this callus remover that I actually bought two of the Micro Pedi Tornado Callus Removers. The attachments work so well and are a great addition to the roller. Will be ordering replacement attachments as I dont want to be without this...ever!
08-15-13
Lifesaver Product!!!!!
My feet have always been a point of contention! I have dry cracked bleeding heels and my feet always have been a mess. Plus, I am now diabetic. I got my package, opened and went to work on my feet. UNBELIEVABLE! CAN'T BE WITHOUT THIS PRODUCT! My feet are so smooth and soft like never before! I love this product and I keep it plugged in right by my bedside table and every other night or so I touch up a few areas and put a very light film of Vaseline over my feet for the night! Even my pedicurist was amazed at the difference in my feet! With the winter coming in only 5 months I am so pleased that I will have this handy machine to keep my feet in prime condition all winter long! I love the fact that it does plug in and that I don't have to rely on a battery which can be a pain. Don't stop making this little gadget because it is a lifesaver for my feet. Thank you!
07-12-13
BATTERY VERSION IS BETTER
I LOVE EMJOI...I PERSONALLY FEEL THAT THE BATTERY POWERED VERSION WAS MORE EFFECTIVE..THE RECHARGEABLE EMJOI LACKS THE POWER..AND YOU HAVE TO KEEP RECHARGING AFTER ONLY ONE USE!...DONT SPEND YOUR MONEY ON THIS VERSION..BUY THE BATERRY OPERATED VERSION..MORE FOR YOUR BUCK!
07-11-13