Dyson DC40 Animal Upright Vacuum w/ 5 Attachments & Storage Bag
In Stock
Sold Out
We're sorry. This item is not available at this time.
Pre Order Possible .
Low Stock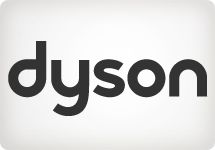 Description
Tackle dirt, dust, and hair anywhere in your home! With the DC40 Animal Upright Vacuum, you'll get the exciting innovations that Dyson is known for--the self-adjusting active base plate, the revolutionary suction power, the ball maneuverability, and the Radial Root Cyclone technology--all within a sleek, lightweight design. In fact, at just 14.5 lbs, the DC40 Animal is Dyson's lightest full-sized upright vacuum!
Top-notch clean. Thanks to its Tangle-free Turbine tool, the Dyson DC40 Animal helps to remove pet hair and dirt from hard-to-reach places such as stairs, upholstery, and the car. The brilliant, tangle-free design prevents hair from wrapping and tangling around the brush bar--because there is no brush bar! The brushes reach to the front and to the sides of the tool, drawing in from all directions for edge-to-edge cleaning. Plus, it never loses suction power, so you can capture dirt, dust and hair.
It's all in the ball. Dyson's third generation Ball technology allows you to maneuver along edges, under furniture, and around corners with ease. The special design gets closer to where dirt lies, and takes on those hard-to-reach places with greater precision. You'll also notice that there are no hoses or pipes around the ball--that's because its components have been engineered to fit inside the ball so you can steer smoothly and turn on a dime.
The Dyson DC40 Animal Upright Vacuum also features a motorized brush bar, the Quick Draw telescoping wand, easy-release dust cup, fingertip controls, and a 25'L power cord--all at a price that really cleans up!
From Dyson.
Dyson proves no loss of suction using the IEC 60312 Cl 2.9 test standard.Dyson proves no loss of suction using the IEC 60312 Cl 2.9 test standard.
Includes DC40 vacuum, tangle-free turbine tool, onboard combination crevice/brush tool, onboard stair tool, multi-angle brush tool, articulating hard floor tool, and storage bag
Radial Root Cyclone technology
Cleaner head with active base plate for optimum contact with floor
Motorized brush bar
15'L Quick Draw telescope wand
Fingertip controls
Quick release dust cup
Approximate measurements: Vacuum 42-1/2"H x 12"W x 13"D, weighs 14.5 lbs not including cord; Cord 25'L
ETL listed; 5-year Limited Manufacturer's Warranty
Imported
Reviews & Community QA
Dyson DC40 Animal Upright Vacuum w/ 5 Attachments & Storage Bag
98
98
The best vacuum ever
We have bought alot of good vacuums over the years and they are just plain heavy. I couldn't believe how lightweight this is and how much dirt and pet hair this picks up even after cleaning with my old vacuum. The ball moves into the smallest places without having to move furniture. thanks to the easy pay made it affordable. love QVC!
09-16-13
OMG Worth every penny and then some
I almost could not believe my eyes when I saw how much this vacuum picked up the first time I used it. The proof of the value of this vacuum will be right before your eyes as you see dirt collected that you never even knew you had !! I consider myself a very clean person and I am completely amazed by how well this works. Incredible amount of pet hair that must normally be invisible to naked eye. Do not hesitate to buy this. Do the easy pay and you won't feel it as much. Highly recommend !
09-07-13
Bummed :(
This "monster" did not live up to it's name, brand or price. Really wanted it work out and kept giving it a go, reviewed the operating manual several times. Trouble shot the vacuum before every cleaning session and still, didn't do the job. This was my first Dyson and everyone raves about them. I just figured I wasn't do something correct, but after my carpets were professionally cleaned the Dyson was not able to keep them clean. After looking at other reviews. It will be returned instead of replaced. Bummer
09-07-13
Broke in less than two months
I bought this vacuum because my old DC7 had served us well but was not working as well as it used to. When the DC40 first arrived, I was excited and impressed. Less than two months into owning it, it broke. The ball locked up and I had to take it to a repair shop for warranty service (I would have returned it if I'd had the original box). Three weeks later, the repair shop says they're still waiting for the part they need to fix it. My house is on the market right now, so I NEED a functioning vacuum. We had to borrow my MIL's old DC7 because I gave ours away (ironic, isn't it?). The vacuum repair guy told me that Dyson keeps making their machines out of flimsier and flimsier plastic... and showed me a very wobbly DC51 that he had for sale. He also said that he gets a lot of ball Dysons in his shop for warranty service, which tells me that they're just not made as well anymore. I'm glad that most people like their DC40s. I liked mine when it worked. I hope you all have better luck keeping yours working.
08-29-13
Sorry We Waited So Long
We held off for a long time on buying a Dyson because of the price. Boy, are we sorry we did. We have 4 cats and a dog and the hard floor cleaner on this is second to none.
08-26-13
I Love it!
My New Motto (if you don't have a Dyson you have a dirty Floor) lightweight picks up dog hair like crazy. I can't believe I waited so long to get one!
08-22-13
not all dysons are created equal
I have owned a Dyson DC14 Animal for over 10 years, being disabled I thought I would buy another so I can have one upstairs and one downstairs, well.... this one is going back and I will not be getting another , the suction on this one is nothing like the suction on my old one ,i also own a Rainbow, and when I bought my first Dyson I was in total awe over it, it really competes if not beats my Rainbow,.... the canister on this one is sooooo small , it simply does not compete with my first and apperantly, my only Dyson , i have been able to compare the Kirby , the Rainbow , the Dyson DC14 Animal, and now this new DC40 Dyson Animal, if that says anything to you before you buy this one, it is not worth the money.
08-13-13
Worked great at first
I don't know what happened ... I have a dyson already, the largest heavy unit. I wanted something lighter for quick pickups ... This was a big disappointment - the edge of the telescope pole broke off inside the unit, and lost suction. The hose gets clogged with the simplist of pick ups ... WHAT !?!? ... So disappointed.. I thought I got a bad one, but reading these other reviews. Instead of sending it back for replacement - I'm just getting a refund ...
08-11-13
the best vacum EVERY
This Dyson Animal is the second one I have bought. I gave my first one to my sister and it still works great. I own a dog and it picks up his fur from everywhere. My sister has suede like furniture and it is very difficult to remove pet hair from but with this Dyson no problem what so every. I espically like all the attachments and the handy-dandy caring case. BEST VACUUM EVERY!!!! Well worth the price.
08-09-13
Wonderful
I have had this vacuum for 2 months now and it is the best vacuum I have owned. It is extremely easy to use and the suction is unbelievable. I was hesitant at first but it turned me into a believer.
08-03-13
It's the best...
In our household, I have a husband, 2 cockatiels and a dog (American Eskimo). Between these guys, it's a big job to keep the house clean. I never thought I'd boast about a vacuum cleaner, but this thing does the job and then some. I wish it was cheaper, but I'm sold on this vacuum now.
07-29-13
still hate to vacume
This does not make vacuuming any easier for me. The cord is to short. The attachment hose is very stiff. It does have good suction.
07-28-13