Dr. Wayne Dyer "Secrets of Manifesting" Book, 4 DVD Set & 7 CD Set
In Stock
Sold Out
We're sorry. This item is not available at this time.
Pre Order Possible .
Low Stock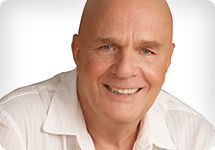 A Note from the Author
"The greatest gift you have been given is the gift of your imagination. Everything that now exists was once imagined. And everything that will ever exist must first be imagined."
—Dr. Wayne W. Dyer
Read about the book & uncover the voyage of discovery it will take you on.
Listen & watch the brilliance of Dr. Wayne W. Dyer.
Description
Tap into a better you with the help of Dr. Wayne Dyer and this amazing multimedia library. Based on his new PBS special, Wishes Fulfilled, this set includes his brand new book of the same title, the four-DVD set Experiencing the Miraculous, the six-CD set Secrets of Manifesting, and the meditation CD I Am Wishes Fulfilled.
Includes:
Wishes Fulfilled book
Experiencing the Miraculous four-DVD set (Dr. Dyer's travels to the world's three most sacred sites with narrated travelogue of scenery; total run time approximately seven hours)
Secrets of Manifesting six-CD set (recorded at intensive workshop in Maui; total run time approximately 5.5 hours)
I Am Wishes Fulfilled CD (meditation CD Dr. Dyer uses daily; run time approximately one hour)
Made in USA
Reviews & Community QA
Dr. Wayne Dyer "Secrets of Manifesting" Book, 4 DVD Set & 7 CD Set
66
66
He did a lot of swearing on these.
I could not believe the swearing that this man used on these dvd & cd's. VERY poor taste. I have always really liked him but these really turned me against him I don't want that language used in my home.
09-08-13
Great Spiritual Teacher
Just love the whole set. Using the meditation CD everyday. The information has helped me expand my spirituality. Patricia. PA
03-20-13
Still listening to it...
I bought this set 1 year ago & I still listen to the cd's in my car when I travel. I agree with the others the sound quality on the dvd's are not up to par. You can hear Dr. Dyer very well, but not anyone else.
03-09-13
Best Purchase Ever - Life Changing
I will never be the same. I have gone to a Higher Self Realization attracting the Good Life God intended for me to have. After all, I am because he is the I AM. Thanks so much for offering this product. You will be blessed greatly. I have gone to another level......It is all good.... Love, Cheri
03-06-13
NOT AS EXPECTED
Dyer is hard for me to follow. It is not as it was discussed when it was 'pitched' on the show. Quality of dvd and cds are not up to par.
03-03-13
Good so far
I have just about finished listening to the audio series on CD. They are excellent and very thought provoking. Looking forward to the rest.
03-02-13
great information
My husband and I are listening to this series. What a great teacher.
03-01-13
Not Up to Par
I am normally very inspired by Dr Dyer. The quality of this set is not up to par. The dvd's are so bad, I could only watch the first 3/4 of the first one. The sound cuts in and out. It might be an enjoyable experience if the production level was professional. Now on the the meditation cd. I do really enjoy the two tracks of meditation music however, I am unable to transfer these two tracks from the cd to my mp3 player or my phone. Even after "ripping" them they will not allow me to copy/move them. I will be returning the set. I can get the cd from other online sources that I can move to my mps player and it will be a fraction of the cost.
03-01-13
A Life Changer!
I purchased this set last week when Dr. Dyer was on the air. To be honest I've never heard of him before so was not one of his followers, but something was telling me to buy this set. I'm so glad I did...and now that I've listened to the CD's I know something/one higher than me was telling me to buy this set. The quality of the sounds is not great, but not really an issue you just have to increase the volume. If anyone is looking to change their life, this will definitely give you the motivation and tools to do it.
02-28-13
Dr. Dyer
Not what I was hoping for. This set is very geared towards Dr. Dyer and Dr. Dyer's ego. The only manifestation going on is Dr. Dyer manifesting himself to himself !!!
02-23-13
highly recommended
I love mr. dyers work. through the years I have read & listened to his spiritual insight. great price. I'm so glad qvc carries his work & at such a good price.
02-15-13
Inspiring
I thoroughly enjoyed Dr. Dyer's CDs and book. I have also read and listened to his Excuses Begone book and CDs. After the loss of my brother a few years ago, I have read many books on spirituality, and nothing has brought me as much peace and understanding as Dr. Dyer's inspiring and wise words about living a meaningful spiritual life. Thank you, Dr. Dyer.
09-08-12