Deluxe Weekender Bag w/Telescoping Handle by Lori Greiner
In Stock
Sold Out
We're sorry. This item is not available at this time.
Pre Order Possible .
Low Stock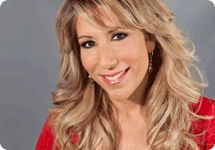 "When creating my products, I try to think of problems we all have and then come up with great solutions. My focus is to make your life easier, more enjoyable, and more fun! Whether it's saving you time and money, creating more space, allowing maximum visibility and storage, or simply providing great gifts, my goal is to make your life better."
—Lori Greiner
Description
A bag with more than meets the eye. Whether it's just a weekend jaunt or an extended trip, there's no reason to pack tons of bags. Keep all of your getaway essentials--including toiletries and cosmetics--organized with this deluxe weekender bag. Inside, you'll find a toiletry case that snaps into the lid, as well as a separate cosmetic case. A telescoping handle and 360-degree multidirectional wheels make mobility a breeze. Perfect for the on-the-go girl. From Lori Greiner.
Includes weekender bag, removable toiletry case, and cosmetic case
Telescoping handle
360-degree multidirectional wheels
Measures 17"L x 15"H x 13"D
Wipe clean with a damp cloth
Made in China
Reviews & Community QA
Deluxe Weekender Bag w/Telescoping Handle by Lori Greiner
670
670
Disappointed
Handle broke the second time I used it. Would not pull up. Very disappointed with the quality of the handle. Back you go!
09-17-13
My go to bag
This bag is great for weekends or overnights! It holds a ton of stuff. I love it. My daughter uses it as much as I do.
09-11-13
Almost amazing BUT
This bag is almost amazing except there are a few problems. The design is awesome. I am very picky about my stuff touching public surfaces and even laying my suitcase on the ground is an issue for me so the fact that it remains upright on wheels (that you can clean later) nothing touches any nasty public bathrooms, counters or floors. So even though its a bit bulky shape its amazing for travel. I used it in hospital when I was having my baby and it saved my life! Hospitals are not exactly that clean! So I love it for the little personal closet like organization. And I also love the toiletry kit idea that hooks onto handle! In actually use it for other items not just toiletry. But few problems are: it's really cheaply made and has a bad toxic smell to it and its also full of PVC which is not healthy for you. I also found out the little makeup case has cardboard inside so you can't even rinse it off. Come on lori cardboard!? Really?! There are other materials to stiffen things so I would expect a better quality and no PVC! Also it would be nice if there was also maybe 1 more snap on organizer for the lid maybe with nylon pockets instead for more bras and underwear or with some mesh and some nylon solid fabric pockets and if the toiletry kits and attachments were hand washable at least. If they are made of polyester or nylon fabric they can easily be washed and things you put your toiletries in or underwear in my opinion should always be washable! So overall love the bag but had to air it out for weeks in my garage and it overall seems really cheap to me so please improve the quality and the materials its made of. I would love to see a quilted black one. And also please make it more environmentally friendly!
09-07-13
not good for flying
It is a great bag unless you are taking it on an airplane. It will not fit in the overhead in most airplanes
08-18-13
You won't believe how much you can fit inside!
I bought this in black a few years ago and absolutely LOVED it!! That is, until airline baggage control broke one of the wheels when I was traveling once. I don't fly very much anymore but would probably buy another if I did. The one thing I absolutely loved about this weekender bag is its capacity. You will not believe how much stuff you can put in here! The design and shape is awesome and it allows such easy access for all of your things. I loved the telescopic handle and the removable inner bag for your toiletries. I have to say, one of Lori's best designs!
08-06-13
Not a Bag to Carry on an Airplane
I have loved this design since the first time I saw it, but I was disappointed when I carried it on a plane as it is to big to roll down the isle and when you turn it sideways it is hard to make it go straight. It would be a good bag if you go on trips in an auto but I feel if you checked with an airline you would receive it back with no wheels. I like the bag but I generally always fly. Hopefully Lori can make some improvements on this design.
08-02-13
Amazingly Efficient!!
Along with a few hanging items, I used this weekender for nearly a week-long visit with family! I was amazed at how many items I was able to neatly pack in it! As another person noted, you don't have to rummage through the items within to obtain what you are looking for resulting in a disheveled suitcase. Rather, the manner in which this weekender opens, allows you to see exactly what is inside and remove what you need without rumpling the remaining contents! P.S. Although I do frequently order items from QVC and am quite happy with them, I have not written many reviews. However, the items I have written reviews for, I am certain others will find as great as I have!
07-24-13
worse purchase ever
the zipper does not stay close at all once u zipper the bag it just separates the whole bag brought it for my granddaughter and she only used it 4 times when this happen would not purchase another bag by Lori Greiner!!!!!!!!!! VERY UPSET!!!!!
07-18-13
great!
I love this bag...the only criticism I would give would be that the telescoping handle is kind of flimsy. I love the bag overall though!
07-12-13
No Problem Here
I am astonished that so many of you have complained about the quality of this item. I ordered this last month for overnights to my baby grandson's home and used it two weeks ago. I was able to pack more items in this bag than my carry on suitcase! Everything was so easy to find. No problems with the zippers or wheels; no problem with the telescope handle although it does wobble side to side it has no bearing on the moving of this bag whatsoever. The snap out pieces are so perfect for make-up, pill bottles, and toiletries and I didn't have to worry about not finding a hook to hang them up as they hang right from your luggage within easy reach! This piece would make a great gift and if Lori decides to improve the quality even more, she surely has another winner! I purchased in the python and love it but it is the only choice available now. I really endorse this product and tell you with confidence to not always believe what you read and try it out for yourself...I did read the reviews before I purchased it but have so many other products from Lori that I automatically give her the benefit of the doubt and I am so glad I did!
07-10-13
Organization great zippers horrible
I returned my original bag back to get a replacement thinking maybe it was just that one, come to find out that it was not. Not only did the first one but the second suitcase as well the zippers busted and always on the side pockets. Sad part is I only used the suitcase twice and waited to long to use so now I can not return for my money back. Sad because I truly love the size of it and organization of it. Just wish it was better quality.
06-28-13
Very Organized!!!
I bought this weekender bag several years ago and came back for another as a gift for my daughter. This is a great organized weekender bag. Lori you should bring this one back with lots of colors.
06-27-13