Dell 15" Laptop AMD A10 Quad Core 8GB RAM 1TB HD
In Stock
Sold Out
We're sorry. This item is not available at this time.
Pre Order Possible .
Low Stock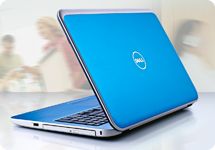 Learn More
Click the links below for more information about this lightning-fast Dell laptop.
Description
Your household needs a computer that runs at the speed of life, just like this Dell(TM) Inspiron M531R laptop. This lightning-quick portable PC is offered in a great selection of colors--at an amazing value.
What makes this laptop special? The ultra-fast quad-core A10-5745M processor and 8GB RAM power through all your most demanding apps, viral videos, and top online games. The spacious 1TB hard drive has plenty of room for files, photos, videos, music, school reports, and work applications.
What's the operating system like? With Windows 8.1, social media and email updates are right on the Start screen. There are tons of apps so you personalize your PC. Cloud storage makes it easy to save and share media files. And with unique user IDs, every user gets a customized experience, even when using the same device.
What's in the box? Inspiron M531R i5535-2684sLV laptop, six-cell lithium-ion battery (installed), and AC adapter.
From Dell.
Software (ships separately) is included to help you enjoy your PC right away! You'll be supported by Lifetime subscriptions to Trend Micro Titanium Anti-Virus Plus and Premier PC Support. Plus, you receive great titles like Adobe Photoshop Elements 12, Laplink PC Mover Professional, a one-year subscription offer for Indie Flix, and much more. From PC Treasures.
Manufacturer's specifications are subject to change without notice.
Use of the Internet may require payment of a separate fee to an Internet Service Provider.
Wireless capability may require a network connection, additional accessories, and/or a service connection fee.
Not all DVD-R/-RW and DVD+R/+RW discs are compatible with all DVD-R/-RW and DVD+R/+RW players. Contact the manufacturer for further information.
Use of Bluetooth technology may require Bluetooth software and compatible accessories.
Please consult the manufacturer's documentation regarding the safe and proper use, handling, storage, charging, and disposal of products containing lithium-ion batteries.
Includes Dell Inspiron M531R i5535-2684sLV laptop, six-cell lithium-ion battery (installed), AC adapter, and PC Treasures software (ships separately)
2.1 GHz AMD Quad-Core A10-5745M processor with 2.9GHz Turbo Clock Speed; 4 MB cache
15.6" diagonal HD display with 1366x768 resolution
8GB Memory (DDR3, 1333MHz, 2 DIMM)
1TB Hard Drive (5400RPM)
DVD+/-RW drive
Wireless-N Wi-Fi
Bluetooth wireless technology
AMD Radeon HD 8610G Graphics
Waves MaxxAudio
0.92MP 1280px720p HD webcam with digital microphone
Non-backlit keyboard with numeric keypad
Touchpad with integrated scrolling and gestures
10/100 ethernet
8-in-1 media card reader
Two USB 3.0 ports
Two USB 2.0 ports
HDMI 1.4a, ethernet ports
Security slot
Windows 8.1
Measures approximately 14-7/8"W x 10-1/4"D x 1-1/4"H; weighs 5.18 lbs
UL listed adapter; 1-year hardware Limited Manufacturer's Warranty
Imported
Reviews & Community QA
Dell 15" Laptop AMD A10 Quad Core 8GB RAM 1TB HD
11
11
Junk
Not worth the price. I could have did better buying something cheap from Walmart. Its terrible.The space bar doesn't work half the time,letters run together and you always have to go back to correct, the mouse will only work if you touch the center of it and only in the center,the games are slow.Hand gesture doesn't work.It is not easy to maneuver throught. Just Junk!! They got over.
04-12-14
Not blown away.
Not intuitive, should have Microsoft office preloaded (seriously, what's with the microscopic product key that we have to input to get it set up?), too many unnecessary features. I feel like it's going to take me a while to get comfortable using this, which is annoying.
04-01-14
Not good
I ordered this laptop,all the programs were not working. I was on the phone with Dell for 2 hrs. Have never seen anything like this before. I'm returning it.
03-30-14
LOVE THIS COMPUTER LAPTOP!
This is my first laptop that I have setup on my own, and it was very user friendly. Love the Windows 8.1, and the HD graphics are beautiful. The only thing I had Tech Support help me with was installing the Gesture Control, which is very cool. Tech Support gave me friendly and speedy service. I was very impressed. Overall I made a great purchase, and am enjoying this laptop daily. I purchased the Silver color and love the look, quality, & power it has. Game playing is fun with great graphics and sound. The only thing I wasn't impressed with was PC Treasures free software game coupon which expired before I could use it, but other than that I am a very satisfied customer, and the laptop runs great... Thanks QVC!
03-16-14
Does not perform as advertised out of the box
I am returning this computer today. This computer does not perform as advertised right at of the box. The swipe feature did not work and neither did the scrolling feature on the integrated touchpad. As another reviewer posted, we spent 3 hours on updates and still no improvement. One should not have to spend hours on updates or with Dell Support to get the computer to perform as advertised. It's going back today. Maybe I'll try another in the future and won't have to spend so much time getting it to work as it was advertised.
03-07-14
Very Disappointed
I bought this laptop back in January when it was the TSV. It took a month to arrive which was a pain. Once it finally arrived, I was shocked by how slowly things run on it. I have a four year old laptop from another manufacture with an i5 processor and only 4GB of RAM that runs faster than this brand new machine. Another issue I've had is that the fan runs almost constantly which would mean the system is running hot. This laptop is definitely going back!
03-06-14
Too Slow
I was wondering if this was made for QVC and not up to normal Dell standards. I believe I will be sending it back which is a pain since I have loaded my software. This thing comes packed with a ton of JUNK. Trials, ads, on and on. The anitvirus package arrived almost 2 weeks after the laptop. Figured I'd be OK since McAfee trial was installed. Lo and behold it had to be activated first...ugg. After a few days I installed TrendMicro from a liscense I had since included one wasn't here yet. I scanned and cleaned computer but I still had a ton of popup and adware. I called support, dropped 2 times then waited 20 min. They direct to a website but I already tried that and got an invalid certficate message. Send a call request and said up to 2 hrs. Got a call back within 10 min (thinking it was good) from a local tech. Cleared all mys browser settings and sent me back to website. Online ran several adware type programs and said good to go....this all took 3 hours!!!! Excited to go and first thing I click another window opens with spam!!! Same problem, every click opens garbage. Plus very slow. With these specs it should scream!
03-05-14
So So
Waited a month to get: but i knew they were being made: Loved the red color,does she finger prints and since i have a tablet with Windows 8.1 i knew what to do: As i am setting things up, i notice the touch pad does not really work like my old Dell. Contacted CS- that was no help at all and not in the US. Found the setting for the touchpad and made some changes and while it would work the way i wanted, it took 2 fingers on each side of the touchpad. The other thing i noticed was it was about as slow as my Dual Core, Intel 2. So i shipped it back and ordered the Dell Intel 5. Will see how that goes.
02-21-14
Not Slow, Plays Games On Medium To High Settings..
Unlike what one of the reviewers said, this computer isn't slow. Is it as fast as the Intel Haswell chips, no, but it's no slouch. I removed all the bloatware on it and it's running perfectly fine. I got it so I could play Star Wars The Old Republic, a resource greedy game and it plays it just fine, on medium to high settings. The disk that comes with is nothing to write home about and I'm surprised that QVC would advertise the software at the value they do. Quite frankly, none of the software is essential, the only one really worth the price is Photoshop Elements which is probably the only software from the disk that I'm going to put on it. Also, you do not need the virus software. Windows 8 comes with windows defender/microsoft essentials. Why bog your lappy down with stuff running in the background that's over kill. It does run a little hot (what it thinks is hot) when you are downloading which surprised me. Usually it won't run hot unless you're playing a game or processor intensive software, remember that the vid and the processor are one in this computer. If the fan goes on, means everything is working the way it should. If it stays on, contact Dell. Overall, it does what I want it to do and I'm happy with it.
02-18-14
FANTASTIC!!!!!
I was really holding my breath when I bought this. But, I thought this is QVC. If I don't like it I can always send it back. My cable company helped me set up my WiFi and explain a few things, however I needed more help and called Dell. (I had heard horror stories about the hold time and the general attitude of the reps.) To my surprise they answered right away. The rep I talked to told me he had to transfer me to another department that is for those of us that had special accounts. They answered right away too. This man, Akhil, in India, was wonderful. He said he would stay on the phone with me till I had all my problems answered. He took over the running of the computer to set up passwords for me and set up the access for my husbands e-mail. (I had no trouble getting into mine right away.) I guess what I am saying before this gets any longer is you MUST BUY this. I have been on it for hours for the last two days just cruising around. The more you play with it the easier it is to understand Windows 8. Thanks QVC for such a deal.
02-15-14
Not so great
Took a month for it to arrive. xRuns slow, and hot. I am returning today.
02-12-14