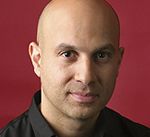 When it comes to fashion and jewelry, David Sigal believes if you love it, wear it.
His sterling silver jewelry makes a bold statement. Always trend-conscious, Sigal embraces stylized individuality by incorporating unexpected materials like bold enamel. Drawing inspiration from jaunts to New York, Milan and other fashion-forward locales, he gives each piece its own unique story.
Born in Montreal, Sigal has jewelry design in his blood. His grandfather was a highly skilled gold and silver engraver, and his father and uncle owned a successful jewelry store. With such creativity in his lineage, it's no wonder he drafted jewelry designs as a child. Today, many describe Sigal as a new-generation Canadian designer.