Cottage Farms 8 Piece Dwarf Award-Winning Reblooming Daylilies
In Stock
Sold Out
We're sorry. This item is not available at this time.
Pre Order Possible .
Low Stock
Description
Among the easiest of all perennial plants to grow, daylilies thrive during the hot summer months and tolerate a wide variety of soils. These award-winning dwarf daylilies are delightful additions to summer gardens, providing a profusion of cheery flowers for weeks on end. From Cottage Farms.
Includes two plants of each variety: Bertie Ferris, Pardon Me, Exotic Candy, and Pandora's Box
Shipped as eight #1 field-grown dormant divisions
Plant 2' apart, carefully spreading the roots out
Place in full sun to partial shade
Water 1" or more per week; mulch to retain moisture
Fertilize during growing season; discontinue September 1
Remove spent blossoms promptly to promote additional blooming
Divide every 4-6 years
Matures to 2'H the first year with a 2' spread; fuller growth in the second year
Perennial
USDA hardiness zones 3 through 9
1-year Limited Manufacturer's Warranty
Cannot ship to PR, AK, VI, HI, Guam
Ships at the appropriate time for planting in your area
Grown in USA
Important Details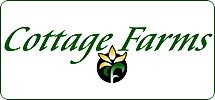 We're not happy if you're not happy. Cottage Farms warrants its perennials for 1 year and annuals for 90 days from the time of shipment. If, for any reason, you're dissatisfied, Cottage Farms will replace your plant with a similar or comparable one at no charge. If your replacement is not available or it's too late in the season to ship, it will ship the following shipping season.
Reviews & Community QA
M105865 - Cottage Farms 8 Piece Dwarf Award-Winning Reblooming Daylilies
36
36
Good Purchase
I purchased these in 2008 and I got flowers the first year. I have received many comments on all of my flowers that I've purchased from QVC. They are coming through as I type and I can't wait to watch them bloom all season. They are beautiful and I know that I will need to divide them this year.
02-24-11
Names vs Colors
There is no video associated with this item number. There are four names of blooms: Bertie Ferris, Exotic Candy, Pardon Me and Pandora's Box. None of the names are color names so I don't know which bulb is which. There are two pink, two red, two peach and two white. What color should I assume is a "Pardon Me" or a "Bertie Ferris"? QVC is usually so good about showing each blossom and its name, several times in the presentation. No presentation....no name. I don't want to plant the pink next to the red, etc.
05-15-10
ALWAYS A GOOD BUY
Have ordered these a few times. once a year. Anything that doesn't survive our winter, colorado, gets replaced with one of these. Have never had a single one die on me. Rebloom is definitely a positive. Flowers, Flowers! Hope that this company continues to offer these wonderful daylilies. also, my husband went to a local nursery as a surprise last year, and came home with 6 red daylilies. beautiful, but he paid $15.00 per plant. I just about feel over, he didn't know that all our daylilies had come frm QVC and at that wonderful QVC price. The expensive ones aren't any healther or prettier. These are small when they arrive, but put in a pot to get started and till they can go outside ground, they start growing right away! Little fertilizer also a good start.
05-06-10
No flowers to speak of last year but I'm hopeful
Bought these last Spring and really didn't expect too much last summer, which was good because I didn't get much out of them. It's warming up now in Chicago and I have leaf growth that looks pretty good, we'll see what happens. I'm reserving judgement until July. Won't pass judgement yet.
05-04-10
No Flowers
Last summer these reblooming Daylilies never bloomed at all. Not even one flower. This year they have decided to not even come out of the ground. I just have blubs that are doing nothing in the dirt. Have not had any luck yet with any of my flowers from QVC. Big disapointment because on T.V. they are so beautiful. I would not waste my money again.
04-27-10
Finally after 3 years
I purchased these after an on air presentation. It was a dreary day in Oregon and I must have been longing for spring and the rain to end. First of all, while delivered at the right time to plant, the wrong selection was packaged, not the plants I had ordered. I notified QVC and they corrected the problem. I planted these after soaking the tubers in Spray and Gro from QVC as recommeded so they would have a healthy start. They barely sprouted and there were no flowers at all the first year. The second year they sprouted, but only one plant had flowers. This year is the first year they look healthy at all, there are 6 left living and have lovely mounds one of the areas I planted them. We will see what the bloom is like this year. Dayllies grow well in Oregon zone 8 but these were a huge disappointment and waste of money. Three years to take off does not equate the cost. It is the last time I will purchase plants on QVC from Cottage farms. Better to buy locally and often at a better price. I would not recommend these at all especially for the price and effort involved, they do not live up to the claims made about them when presented.
03-29-10
Getting Ready for Third Season
I purchased this set in April 2008. I planted them in one bed. I later moved two plants to a bed with poorer soil. That bed also floods frequently due to guttering that needs to be replaced. Anyway, all eight plants bloomed the first season! The plants looked healthier and had more blooms the second season. I did feed them with Miracle-Gro every few weeks. I have plans for moving my plants around again, but I will have to wait. I can't quite remember which type of daylily I planted where. I was going to take photos so I would know where everything was. I didn't. These plants have been great for me. I receive lots of compliments on them.
03-20-10
I love these lilies!
I purchased these daylilies three years ago. All of them lived and have provided beautiful blooms all season. Everyone comments on how unique they are as compared to regular orange daylilies. Love them. Good investment!
03-10-10
Disappointed
I bought these last year and was so excited about the beautiful blooms that would fill my yard, only to be disappointed when just 2 of the 8 actually lived to bloom. Don't waste your time and money.
02-24-10
Very Poor
I purchased these last spring. On the show, they claimed they would bloom all summer. Only two plants bloomed ,one time. I was very disappointed. I am waiting to see if they do any better this year. At this point, I would not recommend this product to anyone.
02-18-10
Unhappy Gardner in California
Last year I spent hundreds of $$ and bought over 300 blubs from QVC buying Daylilies and easy to grow plants. I only got 5 daylilies out of all the plants. Very disapointing. I have a gardner and he couldn't believe that the plants didn't grow. I even paid extra for my water to ensure that I would have beautiful plants. I finally bought packages of seeds so I would have some type of color in my front yard. I will not be purchasing more. Although the roses are beautiful and easy to care for.
02-14-10
2009 Ordered, planted, NONE bloomed!
Heart sick. Planted and They did not bloom. Disappointed.
02-05-10