CooksEssentials Stainless Steel Nonstick 10-piece Cookware Set
In Stock
Sold Out
We're sorry. This item is not available at this time.
Pre Order Possible .
Low Stock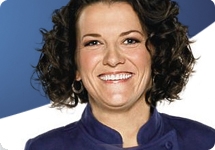 "I truly believe everyone can cook and enjoy doing it – you just need the right tools for the job. Technique® Hard Anodized cookware gives you the right tools. These pots and pans can be the workhorse of any kitchen, doing the hard work day in and day out, and you can rely on them to deliver every time. Even browning, no sticking, incredible durability...and now clean-up is even easier since they can go straight into the dishwasher. If you love to cook, you'll love Technique. If you think you don't love to cook, try Technique — you'll change your mind!"
—Meredith Laurence, The Blue Jean Chef
Check out some of Meredith Laurence's favorite recipes & helpful tips.
Description
Cook with pride. This 10-piece cookware set will make a true chef out of you--even if you're not so savvy in the kitchen. Each piece is equipped with a heavy encapsulated base that's an excellent heat conductor and prevents hot spots. From Cook's Essentials(R) Kitchenware.
Includes one 1-qt covered saucepan, one 2-qt covered saucepan, one 5-qt covered Dutch oven, one 8" fry pan, one 10" fry pan, and one 12" covered chicken fryer
Polished finish
Tempered glass lids
Impact bonded bottom eliminates disc separation due to overheating
Metal utensil-safe interior lined with DuPont(TM) ScratchGuard(R) nonstick coating for easy food release
Dishwasher safe; oven safe to 350F
Lifetime Limited Manufacturer's Warranty
Imported
Reviews & Community QA
K19792 - Cook's Essentials Stainless Steel 10-piece Cookware Set
188
188
Awesome
Had these pots since 2009, still work like new. Love it.
12-26-12
One of the best purchases I have made
I bought this cookware for my daughter for Christmas and she loves them. I wanted to find out how they looked and if I would love them. they look and cook great and they are so easy to clean. Now I'm trying to purchase a set for myself and QVC does not have them available. I REALLY WANT THIS COOKWARE!!!
02-17-12
are these the best pots to buy ?
I wanted to wait until i had these pots and pans long enough before writing a review , well i would say YES these are the best pots and pans to by , with a husband and 3 kids to cook for i needed something that i could trust my food in with out getting some "extra " black pepper , I have used a fork and a metal spoon in these and NO scratches , they come so clean in the dishwasher , they are truly the best ever. If I had to buy these all over again and they cost $500 i would with out thinking twice. Great price for the best quality , you get more then what you pay for and expect !!
01-25-12
I've had this set for over 20 years
I bought a set for myself and my daughter over 20 years ago, and have just had my first problems appearing. My grandson broke the handle off my 10" fry pan, and the non-stick is actually starting to disappear from all the fry pans, the dutch oven, and the larger sauce pan. I called QVC customer service and they said they would be sending me 5 new pieces. Now I call that a lifetime warranty! I'm hard on cookware, I cook on high heat most of the time, and have never had this sort of luck with any cookware. I also bought the bake set over 20 years ago and am still using them with no problems (except the scratch my son put in the cake pan, getting over-zealous about my cake).
01-03-12
LOVE IT!
Got this set for Christmas. Awesome! Read the instructions if you want to keep your cookware looking great. OK to put in the dishwasher but not if you want to keep the finish nice. They clean up so easily you won't mind hand washing them. Cook on medium heat. No need for high. They cook quickly and evenly on medium heat. They look great, they cook great and the sizes are perfect. Eveything you need in this one set! I have read many reviews about many different sets on qvc before choosing these. I think the people that are dissatisfied do not read use and care instructions. Take two minutes to do that. Could be the difference between a great product or something you think isn't so great.
12-28-11
They lasted 11 years! And then some!
I bought Cook's Essentials set from QVC 11 years ago and they have been truly wonderful pans! I am coming back now to replace three of the skillets I use the most often. The nonstick coating is just starting to flake off of these after 11 years of use! Incredible. I am replacing now just the couple that need to be replaced, but the rest of my set of these pots/pans are all still in great shape. I love them. They are easy to clean and easy to use. I'm only buying these pans for the rest of my life.
12-11-11
Thought they were good, but do wear out over time
I bought these over 5 years ago. I also convinced my mom to buy them. I've already tossed one pan due to scratching. The location where the lids connect to the pans is also scratching. My moms pans are scratching too. I have washed these by hand 90% of the time, occassionally put in the dishwasher. I really like them, the nonstick works great, but in the long run, I realize it wasn't the best purchase. Maybe pans aren't supposed to last very long? I was hoping to have these pans for a much longer time.
12-08-11
Great Cookware
I was having lots of trouble finding pans that wouldn't stick (especially when frying eggs). These pans & skillets are great! Eggs just slide out onto the plates. Clean-up is very easy too.
12-06-11
The best !!!!
My sister kept telling me these were great ! as she has bought three sets ! an she was wrong, they are not great, they are the BEST !!!!! Heavey so they dont warp, cooks evenly , does not stick, looks beautiful shiny an washes an stays shiny !
12-04-11
Awsome cookware
I love this set of cookware..This is my 3rd set, and I gave one set to my grandmother for a gift and she said it was the best cookware she has ever used!
11-22-11
After 2 years sticking
I bought these about 2 years ago. The frying pans stick. I mean the food sticks like it doesn't have any non-stick. However, the pots are still good. Where do you send the pans back. They are suppose to be lifetime. I wouldn't purchase these. I should have gotten the hard adonized.
11-16-11
Cooks Essentials
Love it, love it , love it. I have been tracking this set for almost 2 years. My good friend has had hers over 5 years and I knew once I moved into my new apartment, that was my first order! The set came the exact day I moved into my apartment. It was meant to be! Highly recommend this!
10-21-11