CooksEssentials 12-piece Cookware Set w/ Color Smart Nonstick
In Stock
Sold Out
We're sorry. This item is not available at this time.
Pre Order Possible .
Low Stock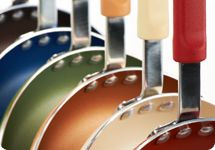 Looks Good, Cooks Good

Learn more about this 12-piece Color Smart collection:
Description
Kitchen color goes big time! This durable 12-piece Color Smart aluminum cookware set offers a wide range of large-capacity pots, pans, and skillets--all in your choice of color. It's the ultimate collection for everyone from a rookie cook to a veteran chef. What a great gift idea for your favorite foodie!
Unlike other sets on the market, this cookware collection isn't simply coated on the exterior--it boasts colored aluminum construction inside and out. Available in a wide array of fun shades, this collection lets you truly combine your fashion sense with your passion for cooking.
Each pot and pan features aluminum construction with an impact-bonded stainless steel bottom for even heat distribution and added strength. The PFOA-free nonstick-coated interiors ensure effortless food release and quick cleanup. Tempered glass lids let you keep track of all your favorite dishes as they simmer. Convenient pour spouts and draining lids give you the control to drain quickly or slowly, as needed. And NSF certification means the product meets the NSF minimum standards required for public health protection for cookware.
This 12-piece cookware collection is built to last, so you can look forward to years of amazing meals--from everyday dishes to your family's grandest holiday feasts.
From Cook's Essentials(R) Kitchenware.
Includes 1-qt sauce pan with pour spout and lid, 2-qt sauce pan with pour spout and lid, 8" skillet, 10" skillet, 12" open everyday pan, 4-qt saute pan with helper handle and lid; 6-qt stock pot with locking drain lid; and wire steam rack
Tempered glass-top lids
PFOA-free, metal utensil-safe interiors
For use with gas flame, coil, and induction cook tops
Aluminum construction; stainless steel bases
Dishwasher-safe; oven-safe to 400F; Lids oven-safe to 350F
Plastic or wood utensils will help keep Color Smart interior looking new. With metal utensils, minor surface marring or scratches may occur but will not affect the non-stick performance. No electrical or sharp edge utensils may be used
Approx. measurements: 1-qt pan 6"Diam x 3"H; 2-qt pan 6-1/2"Diam x 4-1/2"H; 8" skillet 8"Diam x 1-3/4"H; 10" skillet 10"Diam x 2"H; 12" everyday pan 12"Diam x 2"H; 4-qt pan 9-3/4"Diam x 3-1/2"H; 6-qt pot 9-1/2"Diam x 5-1/2"H; rack 8-3/4"Diam x 1"H
NSF-certified; Lifetime Limited Manufacturer's Warranty
Made in China
Reviews & Community QA
CooksEssentials 12-piece Cookware Set w/ Color Smart Nonstick
296
296
Terrible!!!
I have had this set less than a year and have had to throw out 3 of them. The non-stick coating was coming up on the inside of them. I will probably have to dispose of the whole set by the year anniversary. I am very careful with my non-stick items and only use plastic or wood so there is no reason for the coating coming off. I'm about ready to give up on non-stick cookware. Every sales pitch says how durable, long lasting it is and it's NOT. I'm not going to contact QVC for replacement because I don't want to use them to feed my family.
03-22-15
Warranty..only if they have a replacement in stock
And I need the warranty to replace the pans which have the non stick coating peeling off. They replaced one pan-thank you- but the 2 qt saucepan? They are sorry- they can't replace it because they don't make it any more! I use only plastic and bamboo utensils in these pans. But every pan is getting scratched and/or is peeling. I Love QVC and they've been helpful. But the people that make Cook's Essentials...the best they can do is tell me they are sorry for my inconvenience. I'll buy more cookware from QVC but NOT Cook's Essentials.
03-08-15
Not good
They are not good , save your money, I just would not buy again
02-17-15
Junk
I purchased this cookware, hoping I would disagree with the reviews. Well, they were right. This cookware is terrible. Everything sticks to it. If you are thinking about cookware, don't purchase because it is a better price. It will be a mistake. The only reason I didn't return was because it was so expensive for return shipping.
01-22-15
Pan Set Color
I bought this set for me sister as house warming gift in June , I went to see her and she showed me the pans and the paint was chipping from the outside of the pans. Since she has had them so long I can not return them. I'm very disappointed.
01-08-15
Save your money!
I bought this set of cookware this past summer. At first I thought they were great, nice size selection etc. However. after using them for a few months they are showing wear to the nonstick coating even though I've never used metal utensils in them, only silicone or wood. The paint has chipped and I find them harder to clean then most nonstick cookware. I'm very disappointed and will never by another Cooks Essentials product.
01-07-15
Nonstick means nonstick
I have been using my cookware for seven months now and nothing sticks. That means melted cheese or eggs. Omelets are a dream to make now. Love it!!!
12-27-14
Disappointed
I loved the look of this set when it arrived. The nonstick coating scratches way too easy and now after regular use, it looks like any other I have had. One of the pots fell a couple feet onto a carpeted floor and bent to where the lid will not fit. I would have thought it stronger than that.
12-21-14
Very pleased
I enjoy cooking with my new set. I have, however, noticed that i have some spots on the bottom of my pans that have chipped off. They still work wonderfully and NOTHING STICKS TO THESE PANS...I know bexcause I tried. :)
12-15-14
Wow! These are great
I never enjoyed cooking as much as I do with this set. Cleaning is an important part of cooking for me and these guys do the trick. Easy to clean and non-stick. They are perfect!
12-06-14
not quality cookware
The first time I used cookware the coating scratched. I used Teflon utensils..not good quality. Had not opened box for a month because I moved and now I can't return. I'm very disappointed in the quality.I also have Emeril and Wolfgang puck cookware, They are excellent.
11-15-14
Bad set
I thought this would be a good set to buy. Price is right, nice set. I was wrong. They scratched easily. Dented easily, The strainer on the top of pot never fit, the pot was alittle dented, that was just from putting away, Never dropped or banged it. was very dissapointed. Didnt last a month without scratches and peeling of teflon
11-11-14