Clarisonic Mia 2 Sonic Cleansing System with Fresh Cleanser
In Stock
Sold Out
We're sorry. This item is not available at this time.
Pre Order Possible .
Low Stock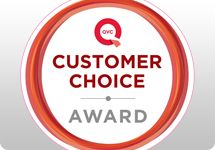 Customer Favorites Come Together
Clarisonic has won the QVC Customer Choice Beauty Award for Best Tool five years in a row.
Read rave reviews about Fresh Soy Face Cleanser.
Read customer questions and Dr. Robb and the Clarisonic team's answers.
Description
What is it: The Mia 2 takes the travel-convenient design users love about the original Mia, and improves it with two speeds and a one-minute T-timer setting to personalize your skin care needs. With plenty of patterns and colors to choose from, there's a Mia 2 for everybody!
Fresh Soy Face Cleanser is a unique, multifunctional, daily formula that promotes a pure, clean, healthy-looking complexion.
Who is it for: All skin types.
Why is it different: The rechargeable Mia 2 uses gentle sonic micro-massage action to deeply cleanse skin, loosening dirt, makeup, and oil as it helps to reduce the appearance of pores and wrinkles. Clarisonic cleansing is proven to remove six times more makeup than manual cleansing with finger pads, allowing serums and moisturizers to absorb better.
Ideal for all skin types, the ultra-gentle Soy Cleanser contains nourishing amino acids, rich soy proteins, and soothing botanicals to help hydrate and calm skin. The lightweight cucumber- and rose-scented formula has a refreshing, cooling effect. For those who wear makeup, this formula effectively removes every last trace, even around the delicate eye area.
How do I use it: Charge unit for 24 hours prior to first use with included pLink charger. Use twice a day, every day.
First, remove eye makeup. Wet skin and brush head, then apply Fresh Soy Face Cleanser to the skin or directly to the brush head. Push the on/off button, select speed, and follow the one-minute T-Timer prompts while moving the brush in small, circular motions: 20 seconds on forehead, 20 seconds on nose/chin, and 10 seconds on each cheek. Hold the brush head flush to your skin. Pressing too hard will impede the motion of the brush and reduce effectiveness. Mia 2 will automatically shut off after one minute.
From Clarisonic and Fresh.
Includes:
Rechargeable Clarisonic Mia 2 skin care brush handle
5-fl oz Fresh Soy Face Cleanser
pLink charger
Sensitive skin cleansing brush head
Deep pore cleansing brush head
Protective travel case
Two speeds (low and normal)
One-minute pulsing T-timer
Brush head precision-designed to oscillate bi-directionally at sonic frequency
Brush made of plastic
Brush head made from non-porous, soft elastomeric material
Remove brush head and clean weekly with soap and warm water
It is recommended that brush heads be replaced every 3 to 4 months
Charge unit for 24 hours prior to first use
Mia 2 measures approximately 5-3/4"L x 2-1/2"W x 2-3/4"H
UL listed; 2-year Limited Manufacturer's Warranty
Charger made in China
Reviews & Community QA
Clarisonic Mia 2 Sonic Cleansing System with Fresh Cleanser
332
332
Daughters loved their Clarisonics!
Perfect Christmas gift for my daughters! They were a hit...
01-25-14
Skeptic
I was very skeptical of purchasing this item couldn't justified the cost. Decided to buy it when it was a TSV in November. To my surprise I was really surprised how it made my skin feel and look. Used twice daily with my Purity. Started to notice it didn't hold the charge as stated until it just stop working. This item is expensive to just throw money down the drain. This should have lasted longer than two months. Well I am glad that I had the opportunity to use this item but I will not be reordering . Just in the nick of time to return before the holiday time frame expired.
01-24-14
Good Overall...not for me
I made the purchase with the hope that my aging skin would somehow be "renewed", thinking it would help my skin absorb anti aging products more readily. I found that after faithful use, my skin seemed even more dry than before, despite the use of some rather costly products. I have. some small patches of facial eczema, which have become more inflamed after using the Mia. Sadly, I am returning the product.
01-23-14
not worth it
wanted this for awhile been using few weeks charge is suppose to be for 2weeks needs charging to much you can't use again don't like it
01-20-14
Not life changing
I decided to invest in this largely because of blackheads on/around my nose and chin in the hopes that I could stop spending a fortune on blackhead strips. No such luck. I used tried both brush heads on mine for 10 days each but saw no improvement in my skin at all. It didn't do me any harm, either, but it's too pricey for the (lack of) results. Sending back.
01-19-14
Great Product
I bought this as the TSV back in November and have been using it since. I have very, very sensitive skin that is combination oily. It has taken some time to figure out what works for me but I bought a delicate brush head and my skin has cleared right up. I was using the sensitive one that came with the clarisonic but it was too harsh for me. I also find I only use it once every other day to once every 2 days but even with that my skin has cleared up and looks beautiful. I had been breaking out since I had my second son 3 years ago and I finally have clear skin now. I will be keeping this! If you find your skin is sensitive and you are breaking out, try the delicate brush head and maybe even using every other day. This is a bit pricey but I feel like it is so worth it and also feel it gives me a "minute" of me time! Thank you QVC for the great value and also for the easy pay option! I may not have bought it without easy pay so thank you for that option!
01-15-14
Great product!!
My skin has never felt better! I recently had a baby and have really dry skin. After using the clarisonic my skin felt softer and looked healthier! The fresh soy face wash is amazing as well! It is like layers of dead skin is being buffed away each time I use this product. I can tell a difference when I don't use my Mia 2. It is working for me, so glad I purchased! Also the battery life is superb I purchased back in December only charged once(before initial use).
01-13-14
Best Gift I have given to someone special!
I own the Clarisonic Mia 2 for almost 2 years now. I purchased this one when it was a TSV in the purple leopard as a gift for my daughter. She loves it just as much as I do. Does the best job ever cleaning. Love the fact that it is compact enough to pack for traveling and the type of charging system it has as well
01-12-14
Love IT
First let me just say I too have very sensitive skin. This is the first time purchasing the Clarisonic and I love it. The brushes are the softest, and gentle. The soy cleanser is also very gentle. With all that, I am kinda surprised that this would ever make anyone break out. I mean it's only on in one minute intervals also...
01-11-14
Didn't work for me
I have always wanted a Clarisonic. You hear so many awesome things about the benefits. This didn't work for me. I have very sensitive skin and this was too harsh of a product. I think this will work for you if you have normal skin. I can see why some people might like it. It does deep clean your face well and clear pores, but if you have sensitive skin, rosacia, capillary issues, acne or dry skin I would not recommend it. I have combination skin, but it is very sensitive. I used the sensitive cleaning head and it was still too harsh. I went twice a day to once a day and it was still too harsh. I broke out and I don't have an acne issue. I read about the purge phase, but I used this for 2 months. A purge phase should not last that long. And, the brush just seemed to get dirtier too me. I can't believe it's good to rub a dirty brush head against your skin. Hopefully you will get better results if you order the clarisonic. I would recommend ordering it from some place like QVC that has a good return policy!
01-09-14
Try it for yourself.
I bought the clarisonic around Thanksgiving. I got to try it for 90 days under qvc's holiday return policy. I have good skin, small pores and no break outs. I noticed no change in my skin for better or worse. I washed my face with a Pond's wipe and took my make up off before using the clarisonic. I never noticed any make up on my brush so perhaps it does a good enough job. It felt good while using it and I enjoyed the ritual of it. It held a charge for 2 weeks before I had to recharge it. I think it's nice you can take it in the shower. If it was a one time price I probably would have kept it but since I had to keep buying the brush heads and I wasn't really seeing any positive results I decided to send it back. I appreciate I got to try it and am able to send it back. I think you will just have to see for yourself.
01-08-14
Clarisonic Mia 2 and Cleansers
I've been using this for about 5 wks and have not noticed anything beneficial. No difference in pores or the amount of stuff in them; face doesn't feel cleaner; no makeup/dirt on my brush; no diff in absorption of products that I've noticed; still the same blackhead in the same spot, etc. Timer is annoying as I always need another cycle after it has shut off. Gel cleanser left my face dry/tight. The Fresh cleanser was better but req'd a lot of water to remove it all. No problems with the unit not charging properly. I'll have to trust the clinicals on this product even though my personal experience differs. Wouldn't be the first product I've purchased with microscopic results that I'll never notice. I'll need to start giving that more thought with future beauty product purchases
01-07-14