Clarisonic Facial Cleansing System
2012 Customer Choice Beauty Award Winner
In Stock
Sold Out
We're sorry. This item is not available at this time.
Pre Order Possible .
Low Stock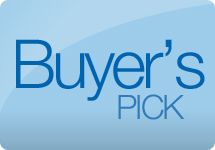 "Gentle enough to use every day, this sonic system is used and recommended by leading spas and dermatologists."
—Jackie, Beauty Buyer
Description
What is it: Sonic skin cleansing. Sonic technology first changed the way we clean our teeth--now it's changing how we cleanse our skin! This cleansing method is so gentle and effective, it is used and recommended by leading spas and dermatologists.
Who is it for: All skin types.
Why is it different: This sonic micro-massage gently cleans pores--loosening dirt, makeup and oil as it reduces the appearance of pores and wrinkles. It's proven to remove six times more dirt, sebum, and makeup than traditional, superficial cleansing, allowing your serums and moisturizers to absorb better. Skin is left soft, pampered, radiant, and younger looking--without harsh abrasion or chemicals. It's so gentle, you can use it twice daily. You can also use it on your face, decollete, and body, if desired.
How do I use it: Use for one minute twice a day, every day. It's waterproof, so you can even use it in the shower or tub. Pair it with any non-abrasive cleanser.
Prior to first use, charge unit for 24 hours. Remove eye makeup. Wet your face with warm water and apply cleanser. Wet the Clarisonic brush head with warm water, press the power button, and gently move the brush in circular movements across the face. It is recommended that you use the brush for 20 seconds on the forehead, 20 seconds on the nose and mouth, and 10 seconds on each cheek. When you are finished, rinse the brush and place back in the charger.
From Clarisonic.
Includes three 1-oz gentle hydro cleansers, 6-oz Clarisonic gentle hydro cleanser, white sensitive brush head, blue delicate brush head, gray normal brush head, and rechargeable waterproof skin care brush
Normal and low power settings
Brush heads precision-designed to oscillate bi-directionally at sonic frequency
Brush heads made from non-porous, bacteria-resistant soft elastomeric material
Remove brush head and clean weekly with soap and warm water
It is recommend that brush heads be replaced every 3 to 4 months
Brush measures 7"L x 2-3/4"W
UL listed charging cradle; 2-year Limited Manufacturer's Warranty
Made in USA
Reviews & Community QA
A74151 - Clarisonic Facial Cleansing System
2134
2134
WORKS GREAT
I have had this for over two years and it is a really great product. My face feels so clean after using. Recently put it in the shower and I use it more.
01-15-13
Nothing better than...
I bought clarisonic about 2 years ago....cleans well does everything its suppose to and i don't think pll give enough credit to the charging device. Over the past 2 years I probably charged my clarisonic 3 times.
11-18-12
Beautiful skin
I've used for amost two weeks and my skin looks amazing. The texture and the large pores have improved so much. I'm 45 and have tried all the fancy skin creams for anti-aging and I honestly feel that this has done more to make my skin appear youthful than tons of money on creams. I just wished I bit the bullet years ago to splurge on this tool. My husband and son also use this since three heads came with my tool and they love it too.
11-16-12
Broken-Don't waste your money
Mine broke too after about 2 years. For the price it should have lasted a lot longer. I didn't even use it more than once a month. Since this seems to be a common problem I don't think it's worth the money.
11-15-12
Love my Clarisonic!!!
I received this early December of '08. It is still going strong (as of today, anyway)! I have left the charging unit plugged in since I received it (only unplugging a time or two to switch to another outlet when I rearranged my countertop). I keep the cleansing unit in the shower stall resting on the enclosure top (it's barely wide enough to hold it) & probably put it back in the charger every 3-4 weeks. I do NOT use it every single night, but most days of the week. Maybe I've just been lucky. I love the way it makes my face feel (use w/Philosophy Purity), but I think it possibly irritates my complexion occasionally. (Maybe I hold it in on my cheeks a little too long or press a little too hard.) All in all I will buy another when this one goes. Once you've used it, facial cloths just won't do the trick!
11-10-12
Love Mine!
I have read many reviews stating that their clarisonic will not charge after 2 years. I have had mine for almost 5 years and it is still going strong. I have taken it on vacation and the charge will last for about 2 weeks without re-charging. My daughter has had hers for 2 years and it is still charging. I don't know about the Mia as it has a totally different charging system. Even if it only lasted 2 years it is something I use twice a day every day. That's about 27 cents per use. Not bad.
11-10-12
Broken am sad.
Loved my product,,great cleanser.However, it has stopped working after 2years.:(..For this price..sad,sad.Dr Rob,great ingenious item but longevity is not there.So,if you can afford this go for it your face will love you for it.Stars for the work it did.
11-10-12
Sad but True -- Only Lasted 2 1/2 years
Sadly, my clarisonic stopped charging and working after 2 and 1/2 years. So now I have a large, heavy face brush that doesn't do anything but sit on the counter. I still use it to cleanse my face, but obviously that's a poor excuse for what this product is intended to do. For the $216.00 I spent, I wish this product had a longer life. By reading other reviews and researching the product, it seems it may be intended to only last for 2 - 3 years, and then need to be replaced. If you can live with that, then it is a great product. If you can't, find another way to cleanse your face that doesn't reinforce the consume and throw away mentality of this product. I'm very disappointed.
10-22-12
Amazing Facial Cleansing System
Listen, I have tried everything on the market to clean my face! I never felt like it was "truly clean" until now!!! My skin was looking tired and blah! Why? Well, I think it's because I never really completely cleansed my skin. Make-up, smoke, environmental factors all maintained their "battle position" within my skin. I was removing surface evidence of the day, but never really getting into my skin! The very first time I used this there was without question someone else's skin looking back at me. Fresh, clean, glowing and happy! Gone was the dirt, grime, make-up, smoke, whatever that had taken my skin hostage! At 43, I do not want all of these enemies settling into the fine lines that have been invading slowly over the years and now....they don't get the chance! My pores have actually gotten smaller as well! I am addicted! I use this product twice a day religiously and my skin looks younger, feels smoother and is no longer singing the blah blues!! I even venture out of the house without make-up now without feeling self conscious! The "nourishing care cleanser" is my favorite, but they are all fantastic. I highly recommend this product and I for one will never be without it again! Oh yes....let me tell you that I have had so many compliments on how great my skin looks these days!!! And who doesn't want those kind of compliments??!!Hmmmm....I guess it is true...some of lifes greatest things come in small packages.
10-09-12
Love Love LOVE it!!!
I purchased my clarisonic last year and use it about once or twice a week. I feel that it awakens my skin and cleans it extremely well! I've never had any problems with it at all and it was worth every penny! Your skin feels like you just left the spa after every use. If your looking for a great cleansing routine... This is it!
10-02-12
GREAT CLEANSING!
Not only does the Clarisonic clean well and help with exfoliation, it gives your face a good massage to keep fluid build up at a minimum. I CAREFULLY use it under my eyes and it helps with puffiness. Problems: The recharge unit is too lightweight and can easily topple. The unit, itself, does not stand on its own after use in the shower and the bristles must touch SOMETHING instead of being completely in the air to dry. The unit is weighted so that if you do use it in the shower and try to keep the bristles nice and dry and not bearing the weight of the unit, the unit wants to fall because it is so very head end heavy. I try to balance it "just so" so that the bristles aren't touching anything and the unit's weight doesn't pull it over the shower recess. How GREAT it would be to have an appropriate way for us shower users to store it would be. Sometimes I think designers of products never actually use them or design them for REAL use! However, I think a two year re-charge on the unit is pretty good contrary to several reviewers. If you use twice a day for two years, your cost per use.....well, that's the reasoning I use to buy expensive handbags and things that will be used over and over. Bargain really. I splurge on value and things which are really good at what they do. Overall, this is a good investment and you will see positive results. Designers: MAKE A SHOWER HOLDER!!!!!!!!!!
09-17-12
Poor product - doesn't last!!
When I was in the process of moving a little over two years ago I bought this. Unfortunately it was packed with things I did not use and I couldn't find it. Needless to say I was disappointed. I finally got a chance to go through those boxes and I found the clarisonic. I was thrilled. Now it doesn't take a charge. I only used it a couple of times before I packed it. It is brand new and it does not charge. I paid over $200. For me, its not worth the money.
08-01-12