FAQs
Q: What types of batteries will it recharge?
A: The ChargeIt! will recharge AAA, AA, C, D and 9V batteries in the following types: Alkaline, Rechargeable Alkaline, Rechargeable Nickel-Metal Hydride (Ni-MH), and Rechargeable Nickel-Cadmium (Ni-Cd).
Q: How long does it take to recharge a battery?
See chart below.
NOTE: Charge time can be longer than shown based on battery condition.
To find approximate charging times, please use the following formula: Battery Capacity x 1.4 = Charging Time.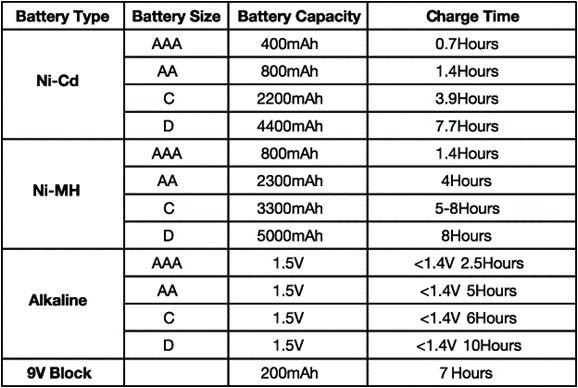 Q: Can it recharge solar light batteries?
A: If they are of the above type and of good condition, yes.
Q: Can it only charge the same type of battery (Alkaline, Ni-MH, or Ni-Cd) at a time?
A: Yes. You need to select the type of battery (Alkaline, Ni-MH or Ni-Cd) with the selection switch on the front of the ChargeIt! before you begin charging batteries.
Q: Must you charge all the same size batteries at a time?
A: No, you can charge all different sizes of batteries (of the same type) at the same time.
Q: Does it come with batteries?
A: No, it does not come with batteries.
Q: Can the ChargeIt! overcharge a battery?
A: No, the ChargeIt! has a built-in overcharge protection to prevent overcharging.
Q: How many times can alkaline batteries be recharged?
A: Alkaline batteries can be recharged up to 10 times, but will eventually reach a point where recharging will not provide an acceptable charge.
Q: Does the battery brand make a difference in charging?
A: The performance of different types and brands of batteries will vary, sometimes significantly.
Q: Do alkaline batteries need to be totally dead before recharging?
A: For best results, recharge standard alkaline batteries before they are completely drained. You can recharge them successfully regardless of remaining charge level (for example, 25%, 50%, 75%).
Information provided by PC Treasures.