Canon EOS Rebel T4i DSLR 18MP Camera w/2 Lenses, Bag & 8GB SD Card
In Stock
Sold Out
We're sorry. This item is not available at this time.
Pre Order Possible .
Low Stock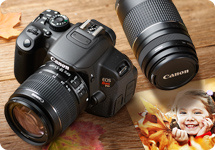 Description
The world as you see it. With its high-powered features and professional intuition, the Canon Rebel T4i DSLR is not just a camera--it's a captivating glimpse into the life you live. Take a picture and it becomes your new cover photo. Shoot a short film and share it with the world. However you choose to tell your story, the Rebel T4i lets you do so with passion and precision.
What makes the Rebel T4i special? For starters, it makes advanced photography easy and fun! The 18.0 megapixel CMOS sensor and DIGIC 5 image processor work in tandem to ensure every image is shot in breathtaking detail. It snaps up to five photos per second, so you can capture that perfect fireworks burst, a squirmy toddler, and other blink-and-you'll-miss-it moments. It also boasts a 3" diagonal Vari-angle touchscreen Clear View LCD monitor that adjusts positions, allowing you to snap fantastic photos from a variety of angles. Plus, an extended ISO range of 100-12800 allows you to take the Rebel T4i into more shooting situations than ever before.
Does it record movies? Absolutely--and in crystal-clear Full HD 1080p resolution! Use the camera to get a shot of your little superstar, as well as a video of the game-winning play, dance recital, or birthday candle blow out! And, take advantage of great features like Movie Servo AF, for continuous focus tracking of subjects in motion.
What's in the box? You receive the Canon Rebel T4i DSLR camera, 18-55 IS lens, 75-300 lens, 8GB SD card, interface cable, neck strap, rechargeable battery, and carrying bag for easy transport.
From Canon.
Please refer to the Specs & Disclaimers tab above for more information about this camera.
For your own protection, all items priced at $500 and above will require an adult signature upon delivery. If an adult is not at home, we would require an alternative ship-to address for proper signature or an authorized adult to sign at the carrier location.
Includes EOS Rebel T4i DSLR camera body, 18-55 IS lens, 75-300 lens, 8GB SD card, interface cable, neck strap, rechargeable battery, carrying bag, EOS Digital Solution software, software instruction CD, manual
18 megapixel CMOS sensor
14-bit A/D conversion
3" diagonal Vari-angle touchscreen Clear View LCD monitor with smudge-resistant coating, multitouch operation, touch AF
Live View
DIGIC 5 image processor
Nine-point auto focus with dual-cross f/2.8 center point
Hybrid CMOS AF
Scene Intelligent Auto Mode
HDR Backlight Control
Night Scene mode
Seven creative filters
Multishot noise reduction
Up to 5fps continuous shooting
Full HD 1080p movie mode with Movie Servo AF, manual exposure control, multiple frame rates
Video snapshot with editing
Built-in stereo mic
Manual audio level adjustment
SD/SDHC/SDXC memory card slot
USB 2.0 terminal
Video, mini HDMI outputs
Cannot ship to Canada or PO boxes
Measures approximately 5"W x 4-1/4"H x 3-1/4"D
UL listed adapter; 1-year LMW
Made in Japan
Reviews & Community QA
E223217 - Canon Rebel T4i DSLR 18MP Camera w/ 2 Lenses, Bag & SD Card
56
56
Feel Like A Pro Photographer
I bought this camera to take on a week tour of New England (all six states) and brought back some of the most gorgeous photographs...the colors are vibrant and detail is amazing....its like taking the vacation all over again each time I look at the photos. Honestly the pictures are good enough for publication.. . I'm taking a photographers workshop class at our local community collge and I really believe I have the best camera in the class! So many features and yet so easy to use! The camera bag is perfect in that it protects the camera AND is light to carry and compartments are easy to access! Just a perfect purchase! I would buy this camera again in a heartbeat! What a bargain I received too!
02-26-13
WHAT A CAMERA
SIMPLY THE BEST!!! ALL THE FIVE STARS, REVIEW AND I WOULD ADD FIVE MORE. I CAN NOT WAIT TO USED THIS ON MY VACATION, EVENTS ETC... WHAT MORE CAN I SAY JUST TOUCH CLICK AND HAVE FUN WITH THIS GREAT CAMERA....THANKS QVC
01-04-13
Outstanding
When I received my Canon I was breath taken. It was everything that I expected my first use it was so easy to use. The after product was exceptional. Nobody can go wrong with this product.
01-02-13
Love Love Love this camera!!
I purchased this camera in October for my children's sporting events. I was tired of getting blobs of color and only being able to take pictures when the team was standing still. I did alot of research on cameras/lens for sports photography. Wasn't really sure this was the way to go but in no way could afford the cameras/lenses being suggested. Let me tell you....this camera and lens takes excellant sports photos. They look like you are right out in the pile on the football field....right on the court ready to jump for the basketball. You can see the facial expressions, the detail on the uniforms... the action no more photos of the team standing still. I have used it for high school football and basketball as well as elementary basketball games. It's great for for portraits and in macro mode. It's easy to use. Easy to upload the photos. Easy to review the photos on the camera. I have not used the video mode yet. It's light weight. I like the rechargable battery. The first time I used it I took over a thousand pictures by the third quarter of the football game and the battery went dead so if you really really like to take pictures I would suggest getting more than one battery!
12-22-12
Excellent
Best camera I ever had,and I've had a few. It is second to none.
12-19-12
Low light is OUTSTANDING, auto focus during movies
I spoke, at length, to a Canon representative before making this purchase through QVC (who has this amazing deal, much lower price than from Canon, I assure you!) I learned, after purchase, that this is a NEW camera launched in June of 2012 -- which means it is THE BEST in the Rebel Series. There are different lines of Canon cameras aimed at the amateur (the Rebel Series), intermediate, and professional. For me, I am not making money with my photographs so to go into the very high - end range makes NO sense. I have never had issues with my Rebel camera photos and have been shooting with them since the film camera versions. This is a replacement for my Xti, which I have had for at least 5 years (and was the latest and greatest at the time). This camera has also got built in video (HD) which previous cameras did not. Even their newer upper model cameras come with video capability. I was not happy about this, I want money spent on a camera to make better photos, not video -- but I was told by the Canon rep that all of their SLR digital cameras are being made with video, now, as they are selling and customer demand has shown it is preferred to have the 2 in one. Also, with this camera, it is the only one in this series (you would have to ask if any higher end cameras have this - but I think he said (canon guy) this was the first) to have automatic focus during video shooting. Typically, if your camera has video, you focus on a certain point and - whether you can zoom in and out during video or not - the focal point remains the same. With THIS camera, the focus will change!! If your subject comes closer to you, the camera will adjust to that. The problem with this is that the noise heard from the machinery changing the focus (as you hear when it changes for a photo) can be heard on the video. However, another reviewer was kind enough to give a tip of using MANUAL focus during video to help lessen this issue. I have to say with this camera's low light ability, I have been astonished at it's ability to capture things without a flash. I am no pro, but typically shoot in Program mode (P). If you shoot in auto, the flash might pop up -- so I shoot most shots in P indoors and I get very beautiful detai lwith this camera. In fact, the low light is kind of freaking me out and I have to play around and learn to get it to where I want it. I did a lot of practice shots, including a photo where my daughter had just come out of a pool and was standing in my hallway at night, with no lights except some illumination of a bathroom light nearby. I shot the photo in Program Mode with no flash and when the image appeared, there was MORE LIGHT in the photo than there was in real life. It looked almost like day time. I could see all of the little beads of water on her skin, I was blown away. I am pretty good at keeping extremely still while holding a camera and shooting in lower light, knowing that movement can cause blur, and this photo came out crisp and clean as they come. I went around the house trying to take shots of everything I could in rooms without lights to see what I came up with, and sometimes there was too little for it to focus on auto mode, but when it did?? You'd never know there was no lilght. I always prefer the natural shadows and tones of no flash to using a flash, so this camera is perfect for me. Of course there are instances where you really need that flash to stop movement (what flash does) but -- for instance, my daughter had a birthday this month and the photos I took (program mode! And never changed a setting, just turned the dial to P) of her with the cake and candles is amazing. I asked her to do them slowly so as not to create blur, but even the smoke rising from the candles is so clear in the shot ... I am blown away. ALSO, the meteor shower last night? If a meteor had crossed the frame, I could have shot it. I have set it to my comfortable P mode and shot the stars (and I live in the suburbs outside of a city with many lights) and end up seeing MORE stars in the shot than I was able to with the naked eye. I have to focus on a very bright star, first (well, planet) to get the auto focus to kick in, then I just set it to manual so the focus does not change and I can shoot all over the sky. People can't believe they can see the stars in these shots. Even the clouds in the sky come out brighter, when they are crossing during a shoot. That's one thing that has me a little perplexed is taking shots and them coming out so much lighter when using the low light. I found that taking photos of my husband putting up Christmas lights? Amazing. In real life it was so dark he was nothing but a black silhouette. In program mode? He is illuminated by the lights. Of course if you don't want that, you can set your ISO (remember film speed on film cameras? Digital doesn't really have film speed, but so as not to confuse us - they have settings that match the old film speeds so we can choose our lighting preference -- this is something even the most ametaur photog can do with ease). So remember the old film cameras, you typically bought what, 100 speed film? Maybe 200 for flash indoors? Or if you really wanted to go nuts, you bought the most expensiv e type, the 1600 low light capability film and played by taking photos of your friends by candle light to see how they would turn out? Well, my old Xti went up to 1600. THIS camera? In the 6 THOUSANDS, expandable (yet I have not tried) to like 12000. I can't even comprehend that. So THIS explains the amazing low light capability of this camera. Holy smackerals, folks, it sure did pay off that I waited those few extra years to replace my camera because I will be using this one for years to come. I can't wait to see what they will have in 5 MORE years from now, but until then, I know I will be happy with this purchase. I admit I have not, yet, used the zoom lens -- I already own a 300MM Canon zoom, but I know that the one I already own I absolutely love -- I live in Florida and being able to take close up shots of wild alligators without ACTUALLY being "close up" is amazing. The only thing they could have really done to make this deal even sweeter was throw in some sort of monopod or something to help you keep still in low light conditions. I plan on going right back out tonight and attempt to catch my meteor. I will not give up, and this camera has the capability of capturing it if I am lucky enough to have it pointed in the right direction and have a "shooting star" pass through the frame. OH, and the auto button -- how could I leave this out?? With my Xti, I always, ALWAYS had the most difficult time with the AUTO outside. I mean, really a hard time. I could not really use auto outside. In bright sunlight, of course the shadows were too harsh. So I always had to go into a program or manual mode and every time we moved (say at a birthday party) to under a tree or maybe under a DIFFERENT tree or in sunlight, I had to go nuts trying to figure out how to set the camera so it wasn't too light, too dark (and sometimes it was, anyway). Again, NOT a professional, so I don't know how to do these changes quickly -- so it's a lot of trial and error and photos lost in the process. With THIS camera? I was outside in partial shade and a bright noon sky above -- and I thought I'd have to do the old Xti trick and use Program mode, and my pics were too light. Although skeptical, I turned it to "auto" and - WOW, the camera knew what to do!! I captured really fun pics of my daughter and her friends outside at a park, with shade trees that were letting in droplets of sunlight through the leaves and EVERY photo was absolutely perfectly lit. I could see the dark spots perfectly and the spots of sunlight through the trees came out as if I had a clue as to what I was doing!! Smart camera, way outshines my old Xti Rebel camera. It was my first time shooting outdoors with the camera and I must say, except when I was naughty and used P mode, there is not a photo shot that day that needed a single correction as far as exposure. And I shot in shade, partial shade, and in full, bright sunlight along a beach. Every exposure was as it should be. Amazed. GET THIS CAMERA. And QVC? I have sent this link to numerous people, I will accept a check as my commission ;-P ENJOY THIS NEW CAMERA! Trust me, I looked all over -- you will not find this amazing deal with the 6 monthly payments, to boot, anywhere else!!
12-14-12
Love, Love, Love!
The Canon EOS is one of the best full-size cameras EVER! I had the regular film version and then decided to convert to the digital one. It is awesome. The extra long lense was amazing at taking photos at lacrosse and softball games. Really got up close and personal. It is easy to use and has all the various options you need for close-ups, full-out pictures, etc.
12-14-12
The Best Purchase Ever
I absolutely love this camera, I am in the processes of opening my own photography business and this is the camera that I am using to start it. It is an amazing camera all around, I would definitely recommend this camera and any other canon products to anybody.
12-08-12
Great Camera
I purchased this camera. Then I saw the Canon T3i TSV, so I purchased it. Both cameras are great. But the T3i was quite a bite cheaper and very little difference in the cameras. So I returned the T4i. I would highly recommend both cameras. I love mine.
12-04-12
Thank You QVC
Love this camera! Easy to use and is awesome quality! Thanks to QVC and their easy pay we got it in time to take with us to Hawaii!!!
12-02-12
Great value and performance
This is my first "new" DSLR purchase, but not my first Canon DSLR. I opted for the T4i with the enhanced video capability in addition to the picture taking. Touch screen helps alot so you don't have to futz with the menu button all the time and the quality is top notch. Solid, feels good in the hand. It's a great value for the bundle and the price. I wish they had bundles with the new STM lenses that support the new video focusing capability of the T4i.
11-28-12
Awesome
Love the camera, very lite and takes awesome pictures. My wife loves it more then I.
11-24-12