Canon EOS Rebel T3i DSLR 18.0MP Camera w/2 Lens Kit, Camera Bag & 8GB SD Card
Customer Top Rated
In Stock
Sold Out
We're sorry. This item is not available at this time.
Pre Order Possible .
Low Stock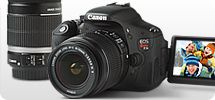 Picture This
A camera that's easy to use and gives fabulous results — learn more!
Description
A picture is worth a thousand words--and a picture snapped with the Canon EOS Rebel leaves you speechless! With its 18 megapixel resolution, a precision 18-55mm IS type II lens, and a top-of-the-line DIGIC 4 image processor, this awesome upgrade to the typical point-and-shoot makes capturing professional-quality, finely detailed masterpieces simple.
It's clearly better. This easy-to-use camera creates crisp still images even when handled by a beginner. The 18MP CMOS sensor captures shots with exceptional clarity and tonal range, while ISO sensitivity up to 6400 lets you shoot in everything from sunlight to dark theaters. EOS Scene Detection automatically analyzes faces, colors, brightness, movement, and contrast, then Scene Intelligent Auto enhances features for maximum impact--blues and greens look more vivid, hot colors become more fiery, and skin tones appear truer to life. And with the vari-angle monitor, you can simply rotate the monitor and not the whole camera to capture footage--hold the camera directly overhead at sporting events or concerts, or hold the camera at a low angle for recording kids and pets.
Get the gang ready for their close-ups. Cutting-edge 1080p Full HD movie mode gives you greater creative freedom with Movie Digital zoom and Video Snapshot features for enhanced movie shooting options. And with the ability to shoot up to 30 frames per second, the camera records rapidly-unfolding scenes with ease.
Get started right out of the box! An 8GB SD memory card gives you loads of space, while the camera bag makes location shooting a breeze. And no image is out of your reach with an interchangeable EF-S 55mm-250mm zoom lens. From Canon.
For your own protection, this order will require an adult signature upon delivery. If an adult is not at home, we would require an alternative ship-to address for proper signature or an authorized adult to sign at the carrier location.
Includes EOS Rebel T3i body, EF-S 18-55mm lens, USB cable, AV cable, battery pack, battery charger, camera strap, EF-S 55mm-250mm lens, 8GB SD card, Belkin 6' HDMI to mini-HDMI cable, camera bag, manual, EOS Digital Solutions CD and EOS Digital Software Instruction Manual CD
18MP CMOS Sensor
DIGIC 4 Image Processor
Vari-angle 3" diag clear view LCD Screen
EOS Full HD Movie Mode at 1920 x 1080 resolution
Movie digital zoom
Scene Intelligent and Picture Style Auto modes incorporating EOS Scene Detection System
Advanced imaging features: Basic+ function, Multi-Aspect function, and Creative Filters
3.7fps continuous shooting
63-zone, dual-layer metering
LiveView Mode
Direct Print via PictBridge
Built-in flash
HDMI output
ISO up to 6400
USB 2.0 terminal
Video out terminal: NTSC/PAL selectable
SD/SDHC/SDXC memory card slot
Compatible with full line of Canon EF, EF-S lenses
Measures approx 5-1/3"W x 4"H x 3"D
UL listed charger; 1-year LMW
Camera made in Japan; lenses made in Malaysia and Taiwan
Reviews & Community QA
E167899 - Canon EOS Rebel T3i DSLR 18.0MP Camera w/2 lensKit,Camera Bag
140
140
Poor service from Canon
Purchased this camera in Dec. 2011. This camera has had focusing issues from about 7 days after receiving. Spoke to Canon tech support a couple of times and the last one actually told me that Canon offered better lenses than what is supplied with this camera and recommended I spend another two thousand dollars for better lenses. I sent the camera and lenses back to Canon under warranty and they say it meets specifications. Must be some low specs. I have a $180 Kodak producing photos that are 95% as good as this camera. I have had Canon film cameras in the past. I have a couple of semesters of photography classes so its not inexperience causing the problem. Repair service has been slow with Canon also. Their website says 5 days. After 9 days they still have my equipment. Canon also lost the CD with sample photos, a letter with descriptions and a receipt copy. They did not know to check the serial numbers since all 3 are registered with Canon. I have been very disappointed after having Canon products in the past. unless something improves, the next purchase of this size will be a Nikon.
08-22-12
Exception Camera!
I love my cannon!! It's pretty easy to use and the quality of the pictures are awesome! I love to use my 250mm lens while on vacations, the photos are incredibly clear. I plan to take a class to become better aquatinted with its capabilities at a more advanced level. It's worth every penny and the memory card that it comes with already allows almost 500 pictures or so before full. Way better than the Nikon :)
07-05-12
LOVE IT
What a terrific camera. Everything I hoped for. Was able to start taking photos immediately with my very limited knowledge of a SLR
06-27-12
GREAT PICTURES
THIS IS MY FIRST DSLR CAMERA AND I LOVE HOW FAST AND EASY IT IT,IT TAKES GREAT PICTURES.
06-05-12
AWESOME FOR PHTOS OF OUR 8 KIDS!
I never take the time to write reviews even though I love several products from QVC. I was so impressed with this canon camera I had to take time to write a review. We have 8 children and I take about 100-300 photos a week. I have a canon point and shoot and a canon bridge camera. Both of my current cameras take great pictures but nothing compares to this canon T3i. We have a newborn 4 week old daughter and have been taking many photos of her. I was asked if my photos i have taken of my newborn were professionally photographed many times by all of our creatives and friends. You are able to see my newborn daughter's eyelashes and individual strands of hair. No detail is missed with this camera. I am a very busy mom and if I am taking the time to write a review it means I LOVE this camera and trust it to capture all of my memories. It is the only camera we took to the hospital for the delivery of our daughter. BUY this camera! This camera has inspired me to take photography classes.
05-31-12
Reinvented My World!
Bought this camera as a gift for myself and it has proven to be all that and a bag of chips! The pictures are like nothing I've ever experienced with any other equipment. Phenomenal camera that will not disappoint! The features on this camera make you feel like a professional. Don't let the cost deter you - for me, this camera opened up a whole new way of looking at life!
05-30-12
Great Camera
I wanted to put this camera through its paces before I wrote a review. I bought this package in December and have used it a lot. It does take some getting used to over a point and shot but after some good work outs I would recommend this without any reservations.
05-29-12
Best Sports Pics!
I absolute love this camera! I purchased it right around the beginning of my son's baseball season and could not be happier. It takes wonderful pictures! I was so excited to get this camera and used it the entire baseball season (took over 2000 pics). The picture quality is unbelievable. The shutter speed is shockingly fast. I was able to take some great pics of the kids in action. With those pics we put together our team's yearbook page, started a team share site and put together picture gifts for our parents. I've even been approached by other teams to take their pics next season. :) I highly recommend this camera. QVC offers a wonderful package and the easy pay option is so great. Thank you QVC. I am extremely happy.
05-29-12
Best Thing I Ever Bought
Easy to use. Love it I feel like a pro with this camera
05-26-12
best gift ever!
No one has this package Deal! The bag alone is about 100.00
05-26-12
Don't leave home without it!
LOVE, LOVE, LOVE this camera. This is my first experience with a professional grade camera. So easy to use. I take a lot of outdoor nature pictures and it is perfect for this. I never leave home without it. It takes such great pictures that all my family always ask me to take pictures for them. Don't hesitate to purchase this camera, it is worth every penny!
05-25-12
Excellent buy!
I CAN'T STOP TAKING PICTURES! I love this camera. Very easy to use and takes the most breath taking photos you'll ever see. If you have never had a professional camera before this is the one to get. It's very user friendly right of the box. The first two day I had it I took over 2,000 pictures. And the HD video recording is great. This camera is great for anyone who wants that pro style look at a affordable price. Why wait buy now and save yourself the time without it. GREAT PRODUCT QVC!
05-21-12