Canon EOS Rebel T3i 18MP DSLR Deluxe Kit with 18-55mm & 55-250mm Lens
In Stock
Sold Out
We're sorry. This item is not available at this time.
Pre Order Possible .
Low Stock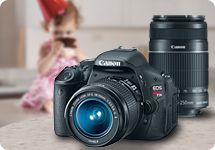 The DSLR That Grows with Your Family
---
A previous model of this product was Customer Top-Rated.

Overall Rating 4.72 stars | 33 Customer Reviews

See 10 of the latest reviews
.
Description
They grow up fast. Don't miss a moment!
From birthday parties to baseball games, dance recitals, and more, the customer-favorite Canon Rebel T3i DSLR camera makes it easy to capture professional-quality images for beginners and experienced photographers alike.
What makes the Rebel T3i special? The 18-megapixel CMOS sensor works in tandem with the DIGIC 4 Imaging Processor to capture images with exceptional clarity and tone, while ISO sensitivity up to 6,400 lets you shoot in practically every light setting. Rotate the 3"Diagonal Vari-angle monitor to shoot scenes from virtually any angle. Plus, each included lens, the EF-S 18-55mm IS II and the EF-S 55mm-250mm IS II, offers superior image stabilization, so nearly every shot you take is blur-free. And, when a single moment isn't enough, you can capture video in crisp, clear detail with 1080p Full HD movie mode.
What can I do with the pictures I take? Share snapshots with loved ones via Facebook, Twitter, and Instagram; create an online portfolio, tackle that Pinterest project, even help create invitations for an upcoming event. You can also display your favorite photos in scrapbooks and picture frames throughout your home. The possibilities are endless!
What's in the box? You get the EOS Rebel T3i DSLR camera body, EF-S 18-55mm f/3.5-5.6 IS II lens, EF-S 55mm-250mm f/4-5.6 IS II lens, 8GB SD card, strap, USB cable, A/V cable, rechargeable battery, charger, carrying bag, EOS software disc, and instruction manual. You'll also get Adobe Photoshop Elements 11 with Digital Scrapbooking Tutorial, and more! (software ships separately)
From Canon.
Please refer to the Specs above for more information about this camera.
For your own protection, all items priced at $500 and above will require an adult signature upon delivery. If an adult is not at home, we would require an alternative ship-to address for proper signature or an authorized adult to sign at the carrier location.
Includes EOS Rebel T3i DSLR camera body, EF-S 18-55mm f/3.5-5.6 IS II lens, EF-S 55mm-250mm f/4-5.6 IS II lens, 8GB SD card, strap, USB cable, A/V cable, rechargeable battery, charger, carrying bag, EOS software disc, instruction manual, and software (ships separately)
18 megapixel CMOS sensor
3" diagonal Vari-angle touchscreen Clear View LCD monitor
Each lens features image stabilization
Live View
Direct Print
DIGIC 4 image processor
Nine-point auto focus with dual-cross f/2.8 center point
High-sensitivity, high-resolution, large single-plate CMOS sensor
Scene Intelligent Auto
RGB color filters
Up to 3.7fps continuous shooting
Full HD 1080p movie mode, 30fps; enhanced shooting options
Built-in microphone
SD/SDHC/SDXC memory card slot
HDMI output
Camera body measures approximately 5"W x 3-3/4"H x 2-1/2"D, weighs 18.2 oz; EF-S 18-55mm f/3.5-5.6 IS II lens weighs 7.1 oz; EF-S 55mm-250mm f/4-5.6 IS II lens weighs 13.8 oz
UL listed adapter; 1-year LMW
Made in Japan/Taiwan
Reviews & Community QA
Canon EOS Rebel T3i 18MP DSLR Deluxe Kit with 18-55mm & 55-250mm Lens
11
11
GIFT
This item was a gift to a son and his family. Just like one that I have and I love it. Thought that they would get great use out of it as I have. Great quality for price. Shipping timely and I love the payment breakdown. Thanks QVC!!
09-25-13
LOVE this Camera!
I have a Canon 40D SLR and wanted to get something with higher resolution, so I purchased this one. I LOVE this camera! It's so easy to use and takes fantastic photos! AND it's SOOO much lighter than my 40D. I'm not a professional photographer by any means, but this camera lets me take pictures that look better than some of the local pros. You can't beat the value here either with the 2 lenses. I use the zoom lens for taking photos at soccer games. Cannot say enough about this camera!
09-19-13
Very satisfied
Have a Nikon D60 , but it doesn't compare to the T3i , I love all the great features ,a true professional camera .
09-18-13
Love this camera
Very easy to use DSLR camera! The video that was with the Rebel was just what I needed to understand all the funtions available for this camera. Pictures came out beautiful and the buttons are placed nicely, even for a lefty. Love this camera
09-15-13
Great Camera
I just got my new camera been outside on the farm using it. It takes very clear pictures of the animals and scenery. I took some of my grandson and I can definitely tell the quality difference between it and my small pocket camera. The value is wonderful. Lots of extras for the price.
09-13-13
Amazing camera
I love this camera! I am totally satisfied with it!
09-13-13
T3i awesome!!
I just got my t3i yesterday and it is the best thing since sliced bread. I took a few pictures and they are great. I can only imagine the pictures I can take after I read the booklets that came with it and learn what all the buttons can do. Thanks Canon for making a great camera and thanks QVC for bringing us this great brand!!
09-11-13
Smiling Over This Purchase
I received my Rebel just 4 days ago and I've been taking dozens of photographs of my new grandson. It's very easy to learn and use and I would definitely recommend to anyone who is on the fence. You won't be sorry. The photographs are professional quality.
09-09-13
Best Camera
The Canon Rebel T3i is a fantastic camera. I have had this camera for one day and I've taken over 500 photographs, both day and night (sporting events), they came out perfect. It took me about one day to learn the button locations and once you get use to the button location, you'll be accessing all the functions of the camera with ease and quickness. I couldn't have made a better camera purchase than this one.
09-08-13
excellent camera
i rented on of these cameras and when i saw it go on sale with the 2nd lens and accessories it was great. i would recommend anyone who is an amateur looking to have fun use this camera. love it. i got this one as an early xmas gift from my husband
09-05-13
Excellent camera with a minor glitch
I purchased my T3i from QVC about 18 months ago. I owned a Sony H-2 digital at the time, with only one non-removable lens, and wanted to step up to a better camera. The T3i and I get along VERY well (a love affair on my part). The learning curve is fairly long to get really proficient with all the bells and whistles that are in this camera, but at the same time if you just want to jump out there and grab a few quick shots at a birthday party, you can pretty much do that right out of the box. The kits that are sold with several lenses is where you need to ensure what you pay for is what you receive. Look to make sure that if a lens is promoted as having IS (image stabilization) that the one you receive does indeed have it. So buy it, get out there and take a zillion photos because you are now a fotogfer....lol
08-30-13