Canon EOS Rebel T2i DSLR 18.0MP Camera w/2 Lens Kit,Camera Bag & 8GB SD Card
In Stock
Sold Out
We're sorry. This item is not available at this time.
Pre Order Possible .
Low Stock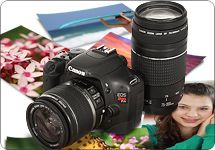 Snap Shots
Learn more about the Canon Rebel T2i Digital SLR camera:
Description
Should I upgrade to a digital SLR camera? If you're ready to move up to a fully loaded high-resolution camera that's still easy to use, the Canon Rebel T2i will help you take your photography to the next level!
What makes the Rebel T2i special? This digital SLR offers spectacular detail and speed with crystal-clear 18 megapixel resolution, top-of-the-line DIGIC 4 image processor, and two high-end precision lenses. The feature-rich camera lets you shoot in all conditions--from the bright sunlight of a soccer game to the high-contrast of candles on a birthday cake and everything in between. You can capture extreme close-ups or wide panoramic shots with ISO sensitivity up to 6400, nine-point TTL-CT-SIR auto focus, and 63-zone TTL full-aperture metering.
Can I use the Rebel T2i for video? The cutting-edge 1080p Full HD movie mode gives you greater creative freedom with manual exposure control, a cropping feature, and by allowing you to shoot video with compatible lenses--such as macro or fish-eye--to employ fun effects.
What's in the box? Everything you need! You'll receive Rebel T2i DSLR camera body, EF-S 18-55mm lens, EF 75-300mm lens, eyecup, USB cable, A/V cable, battery pack, battery charger, EOS Digital Solution disc, EOS Digital Software Instruction disc, camera strap, camera bag, 8GB SD memory card, and manual
From Canon.
For your own protection, this order will require an adult signature upon delivery. If an adult is not at home, we would require an alternative ship-to address for proper signature or an authorized adult to sign at the carrier location.
Includes Rebel T2i DSLR camera body, EF-S 18-55mm lens, EF 75-300mm lens, eyecup, USB cable, A/V cable, battery pack, charger, software discs, strap, bag, 8GB SD memory card, and manual
18 megapixels
High-sensitivity, high-resolution, single-plate CMOS sensor
3" diag. TFT color LCD monitor with 7-level brightness control
Eye-level pentamirror viewfinder
Dust deletion
DIGIC 4 image processor
3:2 aspect ratio
RGB primary color filters
9-point TTL-CT-SIR auto focus
5 focus modes
AF assist beam
63-zone TTL full-aperture metering
ISO sensitivity to 6400
9 picture style modes
12 custom modes
Continuous shooting (3.7 fps)
Built-in flash
Multiple self-timers
1080p Full HD video mode with 30fps
PictBridge-enabled
SD/SDHC/SDXC card slot
USB 2.0 interface
Mini HDMI output/Video output
Approx. measurements: camera body 5"W x 2-1/2"L x 3-3/4"H; 18-55mm lens 3-1/2"Lx 2-3/4"Diam; 75-300mm lens 5-1/2"L x 3"Diam
UL listed charger; 1-year LMW
Camera made in Japan; lenses made in Taiwan/Malaysia
Reviews & Community QA
E222267 - Canon Rebel T2i DSLR 18MP Camera with 2 Lens Kit,Camera Bag
19
19
Awesome camera
I have been looking for the ideal camera for awhile, and I have finally found it. The pictures are fantastic, but all the bells and whistles are a little scary. It will take some time to learn all of what this camera can do, and since I recently retired, I have time. Glad I made this purchase.
06-11-12
Amazing Purchase Ever
I purchased this camera for my upcoming trip to Europe but wanted to test it out on my first stop in getting there "Puerto Rico". I wanted to make sure I didn't miss a beat when it came to capturing the Art of each country And having a camera that will tell my story. I have read many reviews and went over the specs and details of other competitors and found that this camera was one I couldn't resist. I am a new proud owner to a DSLR and i will never return to a regular point and shoot camera. The camera makes it way to easy to shoot perfection!!! Thank you for helping me start my hobby into photography.
06-10-12
Great Camera
I purchased this as a birthday gift to myself. I've taken a few shots which have proven to be extroadinary given that I don';t know how to use it 100%, but I am signing up for a quick course to get to know the ins and outs of using this great camera. Delivery was fast. Thanks qvc.
06-04-12
another great camera from canon
First and foremost I now swear by canon products, and the T2i is the perfect example of why. I bought it it mostly for shooting video, but have found myself enjoying the photo aspect as well. granted it doesn't have the tilt screen of the T3i, but you can easily attach an external monitor(which you'd have to do do anyway to use with a crane/jib.) the T2i shares some of the same specs as some of canons best cameras at a price that beginners and novice can afford. Bottom line: Great camera, Great specs & a blast to use!!!!!
05-31-12
Awesome Awesome Awesome
I received this camera as a Christmas gift from my awesome hubby. I can't even say how great it is. The picture quality is just simply beyond. The ease of use is perfect. The battery life lasts forever. There is absolutely not one complaint about this camera. Not one. My pictures look professional. I am amazed. I can even take pix of the chipmunks playing in my yard and you can see every detail! Some of my scenery pix are so good that I can frame them and give them as gifts. Everyone loves them. I have no training. Anyone can use this camera and have amazing pix. Highly recommend it for anyone who loves to take photos.
05-25-12
Amazing Camera
I've been working for a local magazine as an event photographer for a while now using a GE Power pro X5, not exactly a pro-level camera, and I finally scrounged up enough to purchase the Canon Rebel T2i. The Rebel series are great cameras and an excellent stepping stone towards a real pro camera like Canon's Mark series cameras. This one comes with a standard lens as well as the 75-300mm telephoto lens. Both take excellent photos. I've used most of the settings so far on the camera with the standard lens and the photos come out better than I could ever have imagined. The telephoto lens works wonders for photos from far away, I love photographing surfers and have always struggled with sub-standard zoom lenses but this one does a fabulous job, the pictures are crisp and clear and it looks as though I'm out in the water with them. Amazing! Also, the fabulous carrying case that comes with this purchase has more than enough room for all the included accessories as well as all the fun new accessories I ordered, and it is a thing of beauty. Best purchase I've made in years!!! Highly recommend this camera if you're looking for an easy to use, more professional level camera.... BUT remember, a big fancy camera does not a photographer make ;-)
05-24-12
Awesome Camera
So far I've shot my daughter's senior prom and and air show. I must say the photos are incredibly clear. I'm a novice when it comes to shooting pictures, but this camera makes you look like an expert.
05-23-12
Awesome Camera!!
I used a film camera for many many years (since 1974) and was finding that film was getting harder and harder to find. My girlfriend bought me this camera when it was the TSV and i LOVE it!! I did not have any experience with a digital camera but found that i learned a lot just by watching the presentation and reading the manual. Thank you QVC for a great bundle package.
05-17-12
Best Purchase value for money... :)
I am delighted to have very useful camera bundle. This is really exiciting.
05-13-12
Best DSLR
I had it for about 2 weeks now and is the best purchase I've made in a long time. Great quality pics. Very easy to use. Zoom lens works just fine. Love it. If you're on the ropes about it, be like Nike and Just Do It!
05-02-12
BIG GIRL CAMERA
I've hesitated buying a digital SLR due to the size and weight and having to change lenses. BUT, I bought this camera and I love it. I love the rapid shoot capability as I photograph dogs doing obedience. I shoot like a pro now!
04-23-12
Awesome Camera
I purchased this item for my husband and he loves it! He is not very good with technology, but he is learning how to use this without a lot of difficulty. It takes great pictures and the zoom feature on the review is absolutely amazing. My kids were taking pictures and using the zoom to see what things look like up close. It is so good you would have a hard time seeing things with your eye that you can with the camera. The bag is sturdy and has separate compartments for the different parts of the camera which helps protect everything. The accesories that come with the camera are great and make this a good deal.
04-23-12