About Candle Impressions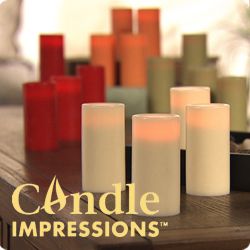 Enjoy the flicker and glow of real candlelight without the worries of an open flame, melted wax, or soot. Candle Impressions candles feature patented embedded LED technology, eliminating the appearance of blinking bulbs or an exposed light source, all while maintaining a realistic flicker. Candle Impressions has been leading the way for 15 years, with the longest battery-run times and top-notch technology. This authentically worry-free candle earned Candle Impressions the Home Safety Council Award for Product Innovation for Consumer Safety in 2006.
Information provided by Candle Impressions.