Camrose & Kross John F Kennedy Classic Sunglasses
In Stock
Sold Out
We're sorry. This item is not available at this time.
Pre Order Possible .
Low Stock
Description
Iconic inspiration. Evoke the cool confidence embodied by JFK when you sport these classic shades. Fashioned after the look made famous by President John F. Kennedy and embraced by style makers both past and present, these sunglasses are a timeless pick. From Camrose & Kross.
Includes sunglasses, cleaning cloth, and faux leather, semi-hard protective case
100% UV400 protection and bluelight 400nm protection
Spring hinges for added comfort
Gradient smoke lenses
Unisex
Each lens measures 2-1/4"W x 1-1/2"L
Romance card, Manufacturer's Certificate of Authenticity
Made in China
Important Details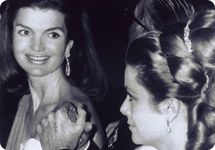 End of an Era
For the past 10 years, we've had the honor & privilege of sharing Jacqueline Kennedy's story with you through the romance of her jewelry & accessories collection. From the start, we always knew that the pieces would be limited in availability & duration. Due to your amazing support & loyalty, we've enjoyed extending the timeline far beyond our original intentions. Now we feel it's time to bring this fabulous chapter to a close. We've rendered all the pieces in her collection that are currently available to us, and we'll continue to offer the line only as long as inventory exists.
Information provided by On-Air Guest Phil Katz.
Reviews & Community QA
Camrose & Kross John F Kennedy Classic Sunglasses
22
22
I love mine
I love these sunglasses. They fit great and are very classic. I have the black ones and they are very Breakfast at Tiffany's.
06-14-14
Nice dark lens. Fits my face nicely
I have a terrible time finding glasses for my face shape. These fit so nicely! I especially like how dark the lens is. I live where the sun is bright most days and finding a nice dark lens is hard. I bought the black which is very shiek. I have kind of a round face. Would look great on men or women.
05-22-14
Love Love Love!
I have these in the tortoise, and love them, so I ordered the black. Super chic and crisp. I know they are part of the Kennedy line, but in the black, they are very Audrey/Breakfast at Tiffany's. Jackie AND Audrey...could it get any better or more iconic than that? PS. I adore the stories and photos that are provided in the presentations for this line. Mr. Katz, conveys a scholar's enthusiasm and clear respect and fondness for the Kennedy legacy. It's a pleasure to watch, and to share the stories with people who ask me about my numerous pieces from the collection. Thank you!
06-26-13
Ok, but not a terrific value
I got the black and they are pretty comfortable. The lenses are about 1/4" longer than as described, but I don't find that to be a problem. Still doesn't look like some goofy glasses from the 80's. Although they fit me OK, I do think they are kinda narrow across the face. Its not that a guy couldn't wear them or they wouldn't look OK, but it seems like they wouldn't get enough coverage or sun protection. The lenses are very dark, but for some reason mine make things more blurry than when I don't wear them. Not sure why. I agree with other reviewers that the frame is light weight, which makes them more comfortable, but not particularly sturdy. I also like the lighter case, those large, hard cases take up too much room in my handbag. Overall, its an OK purchase, but not one I would make again.
06-20-13
Terrific Classic
I don't understand any of the negative reviews for these glasses. I'm an adult male with a big gorgeous head and the glasses fit me ideally. I hesitated to make the purchase because of the reviews stating these are small or for a woman (or even a child). They are not. They are completely of quality size rivaling my pair of $200 Ray-Ban Wayfarers in terms of overall dimension. They are NOT Ray-Bans. These are lighter, narrower frames but very nice in their own different right. These have long stems which are great for comfort and added security if wearing atop one's head. I got the tortoise and they look terrific. Wayfarers, by the way, are a style. MANY companies make the style. Wayfarer is not interchangeable a term for Ray-Bans. They are just the general shape/style. I'm glad to own both - my Ray-Bans and now these - as they each serve a different use.
05-03-13
LOVE, LOVE, LOVE THEM
I purchased these in the tiger stripe and couldn't be happier. Ironically, I hoped they would be like my Rayban wayfarers-they are not, and that's WHY I love them. They are a little smaller than wayfarers, and much lighter. In fact my wayfarers start to feel quite heavy on the bridge of my nose after a few hours, whereas I can honestly say these Camrose & Kross are the most comfortable sunglasses I've ever worn. You can wear them all day long and forget you have them on. The spring hinges are great, you can put them on top of your head and not worry about stretching them out. I also like the case; it, too, is sturdy enough without being bulky or heavy. One point I would like to make clear: even though they were worn by JFK, they are not mansize-definitely for a woman.
04-14-13
Happy Birthday to Me!!!!!
I love these sunglasses. I ordered them in Tortoise. They are beautiful. I love The Kennedy's and had to have these. I bought them for myself for my birthday.
04-08-13
Not the same
I received these today and sadly, the pair I got is a different shape than pictured and shown on TV . It's similar, but it comes down about 1/2" further on my cheek. I even measured the lens and it's definitely a different style. I didn't care for the shape, but the quality is very nice.
04-05-13
Great look
The host did not say these are RayBan look-alikes. He said JFK worn Raybans and these Wayfarers by American Optical look-alikes. If you will look at the pictures of JFK the glasses are not large on his face in fact they are almost too small. It was JBK whowore the face covering glasses. Don't purchase these if you are looking for the big look.These are one of the looks of the '50s. If an item falls apart, write a bad review. But if you just haven't done your research and looked at the photos with a critical eye don't cut down the item.
03-30-13
in a word: PERFECT!!!!!!!!!!
fabulous, classic, timeless style you will wear forever. fit perfect, feel perfect, price perfect, would have gladly paid twice as much. on waitlist for the tiger-stripe/tortoise. will purchase a second pair of black as a "back-up" and two pair of the tortoise as well. been a QVC customer since the beginning and this is my first review. i do agree, however, these are not for everyone...carefully consider your face-shape and size.
01-07-13
Coooool sunglasses
I absolutely love the way I look in these sunglasses.They are so flattering.They feel good on and are neither too light or too heavy. I like the springs in them.I think they look good on both women and men.
12-04-12
Pretty, Classic & Sophisticated.
I purchased these sunglasses in the tortoiseshell color. These are very pretty, classic and sophisticated. I like the contrast of the lens color against the tortoiseshell. The sunglasses are very comfortable as well.
11-28-12