Calista Tools Set of Six Blowout Detachable Styling Brushes
Achieve salon styling at home - watch a video now
In Stock
Sold Out
We're sorry. This item is not available at this time.
Pre Order Possible .
Low Stock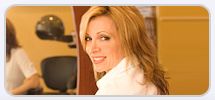 Description
What is it: An innovative way for you to achieve salon styling at home or while you travel. The detachable styling brushes in this Blowout set offer lift, body, and shine in less time--with less effort. Best of all, the set comes in a travel case--so achieving gorgeous hair is easy anywhere you go.
Who is it for: All hair types--fine, coarse, thin, thick, short, long, layered, or one length.
Why is it different: The Blowout Brush set allows you to dry your hair evenly and thoroughly without the constant pulling and tugging of a brush. It can even be used on days when you don't shampoo. The ceramic barrels of the brushes create equal heat delivery. Ionic technology promotes healthy-looking hair, while the superior boar and nylon bristles help reduce static and frizz. The comfort-grasp brush handle is equipped with a barrel release button, so styling your hair is easier than ever before.
How do I use it: Use when your hair is at least 85% dry. Connect a brush barrel to the brush handle. Style a section of your hair with the brush, heating the entire hair length with a blow dryer. Make sure your section of hair is not wider than the brush. Roll same section around brush. Release handle and secure with butterfly clip; repeat on all sections. Allow hair to set and cool for at least five minutes. When taking out the brush barrels, be sure to unroll it the same way you rolled it in, without pulling down on the hair. Style as desired.
From Calista.
Includes:
Six 2" barrel brushes
Six butterfly clips
One brush handle
Travel pouch
Style guide with photos
Made in China
Reviews & Community QA
A225136 - Calista Tools Set of Six Blowout Detachable Styling Brushes
47
47
Great Styling Product Ever
I have fine shoulder length. I am good at styling my hair but it is quiet timely for me to acheive some fullness. This is the best hair styling tool I have every used. It was so simple. No tangles, no brushes stuck in hair, and the results are wonderful. PLEASE BRING THEM BACK!!!! I love them
04-13-12
I LOVE THESE PLEASE BRING THESE BACK
These are the best hair accessories I have ever owned. I have so much body and bounce in my hair that I never had before. PLEASE BRING THESE BACK I want to order another set.
04-12-12
could be good if brushes were smaller
too hard to use with short, fine hair. would like smaller brushes and more of them. Sending this set back
03-22-12
Great Idea
I love these! I have shoulder length, fine hair. It is hard to have body and lift and these brushes give it. I find if I brush the group of hair a couple of times and then pull the brush to the ends, then roll, and gently clip. I don't have a problem with it tangling or breaking the hair. Would also like a larger size brush to choose from.
03-16-12
NO LONGER AVAILABLE?!!! WHY?
I love these blowout detachable brushes!!! They are easy and quick and result in just a great look!!! Only disappointment was that there are only six brushes. . . would have loved eight brushes. I was even more disappointed when I tried to reorder another set and was told they are no longer available. PLEASE PLEASE BRING THEM BACK.
03-14-12
Fluffy Hair
Love the brush/roller combo. My hair is stick straight. When using the brush, it makes my hair volume almost triple in appearance. Everyone in the office has commented. Love the brush - an easy way to make yourself look glamorous - every day of the week.
03-14-12
GREAT IDEA
These brushes work great. The system needs a little tweaking. You should offer more sizes of the brush, and definately more brushes to the set.
03-04-12
Time Saver
Love these brushes. So much easier than standing there, waiting for your brush to cool before you move on to the next strand of hair They give my hair great body!!
03-02-12
Absolutely GENIUS!!! Best Styling Tool EVER used!
This Calista Tools Set is the most genius idea and it has blown everything else I have ever used out of the water! I always use a hair dryer and a round brush to style my hair, so when I saw these, I thought this was such a creative idea and had to try them. Oh my gosh! These performed exactly as presented and my hair was so full and bouncy ALL day! I have a LOT of very fine and straight shoulder length layered hair. My hair normally does not hold curl or have volume, in fact, it is usually very flat. I have tried numerous styling tools from curling irons to hot rollers to just drying with round brushes. My hair is so fine that most rollers won't stay in my hair and just slide out. My hair might start out looking "okay - and definately not wow" but then quickly looses any volume or curl. After seeing these presented, I immediately ordered them. I had never seen this method of leaving the brushes in the hair while styling. The next day I decided to "just try this" with a couple of my regular handled brushes. It worked great, however, I had to try to hold two brushes in my hair at the same time (which was awkward) but it worked and I actually said out loud, "Oh My Gosh!" My husband asked me what I was "oh mying" about and I said "LOOK AT MY HAIR, it is so full and bouncy!" I could not wait to get this set in the mail because I new they were going to be wonderful and they did not let me down! Being able to remove the brush handle and clip the brush in the hair is "once again" GENIUS!!! I wash my hair in the mornings and before I dry my hair, I do my skin care and foundation, then I dry my hair and use these brushes & clips and leave them in while I put the rest of my makeup on. This method has not created any additional styling time for me and by the time I have put the rest of my makeup on, I take these out (exactly the direction in which I put them in) and my hair is full of volume and I could not be happier! Thank you Calista Tools for such a wonderful product!
02-29-12
Could be great!
My hair is short and the brushes are too large. How about smaller brushes and more of them. Needs fine tuning, great idea!
02-28-12
Great idea but poor execution.
The idea for this product is right on!! However, it does not work as it should. I found that the barrels of the brushes weren't large enough and added a lot of static to the hair. Also, the bristles don't grab the hair like my normal styling brushes do. On the plus side, the brush head released easily from the handle and the clips worked great. I think a little more tweaking could make this product a great one. Returned.
02-28-12
CALISTA THERMAL STYLING BRUSHES R AWESOME!!!!!
I VERY RARELY WRITE A REVIEW BUT ONCE I TRIED THESE I HAD TO TELL EVERYONE HOW GREAT THIS SYSTEM IS. I NO LONGER HAVE TO USE A FLAT IRON OR CURLERS, THESE BRUSHES DO A WONDERFUL JOB ALL ON THEIR OWN. MY HAIR HAS NEVER LOOKED BETTER. I HAVE THE VOLUME THAT I HAVE ALWAYS WANTED IN ONE SIMPLE STEP. IT USED TO TAKE ME 4 EVER TO DO MY HAIR AND THESE BRUSHES HAVE CUT THAT TIME IN HALF SO LADIES IF YOU ARE ON THE FENCE BUY THESE STYLING BRUSHES YOU WILL BE AMAZED AT THE RESULTS I AM A HAIR STYLIST AND AM VERY PICKY ABOUT MY HAIR, I NOW HAVE THE PERFECT SYSTEM THESE BRUSHES AND WEN HAIR PRODUCTS. MY HAIR HAS NEVER LOOKED BETTER!!!!!!!!!!!!!!!!!!!!!!!!!IF I COULD GIVE THESE 10 STARS I WOULD!!!
02-20-12