Calista Tools Achieve10 Styling Cream with Argan Oil 4 oz.
In Stock
Sold Out
We're sorry. This item is not available at this time.
Pre Order Possible .
Low Stock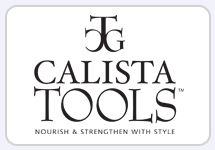 Check out this Before & After photo to see the results you can achieve.
Learn how to get the look you want.
Watch a video to learn how to use this must-have styling cream.
Description
What is it: A hair-nourishing styling cream that delivers important ingredients for healthy hair. Help your hair be a perfect 10 every day.
Who is it for: All hair types, whether frizzy, curly, straight, fine, damaged, or dry. It's ideal for anyone looking for healthy-looking hair with volume and shine.
Why is it different: This is one product that delivers what previously took several separate products to deliver. It helps protect your hair, making it easier to style. It's formulated with argan oil, a natural, potent source of vitamin E. Argan oil is a greaseless oil because the kernels found in the nut are dry-roasted and made into a paste. The paste is then cold-pressed to remove the grease, resulting in a greaseless oil full of vitamins and antioxidants. Achieve 10 also deeply infuses the hair with volumizers, which help give hair more body and fullness. Your hair is healthier looking with shine and a glossy, smooth luster. This styling cream is proactive hair care that provides younger-looking hair.
How do I use it: The amount needed depends on your hair's texture, volume, and length. For damaged, dry, highlighted, frizzy, or curly hair, use approximately a dime-sized amount. For damaged or dry hair, this is an effective daily hair treatment. For untreated, straight, fine, or oily hair, use less than a dime-sized amount.
Achieve 10 can be used on damp or dry hair. For use on damp hair, rub the appropriate amount into the palms of your hands and apply directly to your hair. It can even detangle hair. For dry hair, rub the appropriate amount into the palms of your hands and apply directly to your hair. Repeat if you prefer more conditioning. Style your hair as usual.
Hairstylist tip: Get in the early habit of using a hair cream daily, like you would use a cream on your skin every day, to restore, maintain and protect the healthy and youthful condition of your hair. Always apply only a dime-sized amount at a time.
From Calista.
Net weight 4 oz
Made in USA
Reviews & Community QA
A200749 - Calista Tools Achieve10 Styling Cream w/Argan Oil, 4 oz.
158
158
love this product
I am so disappointed that this is no longer available on QVC. I enjoyed using this and it did a great job on my hair
03-28-13
GREAT PRODUCT!!!!
I just bought my second bottle of Achieve 10! A little dab will do fine! It lasts a LOOONG time. I have fine thin hair so when I use other products they dry out my hair. Since I have been using this product, I don't have that problem anymore. It also helps with humidity hair. Hope this helps. At least try it. I smells good to!
06-10-12
Bigger Bottle Please!
Great product, but could you offer this in a larger bottle??? My husband and I both use it so we run out quickly unless we order multiples at a time!
06-08-12
This stuff is great!
The atmosphere in Nevada is very dry, leaving my normally manageble, silky hair frizzy. I put this on my hair thinking it would be just another product that left my hair feeling oily and limp. To my surprise Calista Tools took out the frizz and left my baby fine hair manageble, shiny and even brought my light natural curl back. This product leaves no oily feel on the hair yet it takes out the frizz . It is the best product I have found for dry, frizzy hair. Judy in Nevada
06-07-12
Buying 3rd bottle...Tremendous
I have dry, processed, curly hair and Achieve 10 makes it soft and shiny . Girls, this is my 3rd bottle so I highly recommend!!
05-29-12
The Best!
I have tried more styling creams than I can count. I always fall victim to the hype and I would have never tried this one, but it was in the Beauty Test Tube. Have now ordered a full size and I reccommend to give it a try!
05-15-12
THE Best Styling Cream
I have a big plastic bin full of used styling creams, mousses, gels, you name it. This one beats them ALL. I got my sample in the Test Tube and I now can't live without it. I put this on before hot rolling my hair, and my hair comes out so va-va-voom perfect! AND It stays perfect until I wash it again, even after the 2nd day! ALL the other products I've used leaves my hair either flat, dry, crunchy, or oily. This is worth every penny.
05-10-12
PERFECT toManage Crazy Hair
AWESOME! Please don't change a thing. This product is perfect. A little goes a long way. It is the only thing I've found to manage long grey color treated hair. After applying my hair looks ten years younger.
05-02-12
Great Product!!!
Best styling cream I've ever used. Leaves my baby fine, thin hair with lots of shine and manageability. I use either on wet or dry hair, same results. I can't stop touching my hair when I use this!! Thanks!
04-26-12
FANTASTIC PRODUCT
There is nothing like this it is GREAT!!!! My hair is in the best shape it's been in in years because of this. Try it you'll love it, just alittle bit will do you.
04-17-12
A Product That Delivers
I received a trial size of Achieve 10 in my Beauty Test Tube a few months ago. I don't usually put ANY kind of conditioner on my oily hair. But I decided to see if this would help with styling and volume--without weighing my hair down. I AM IMPRESSED WITH THE RESULTS! I followed the directions, and to my amazement, my hair was full, not greasy or in strands. And it also withstands the awful humidity here in the Ohio Valley. I will be buying the full size and recommending it everyone.
04-03-12
nice product
this is a nice product but I can't quite get the results they showed on TV. It does give my hair a nice tecture when it's curled and does away with fly aways and frizzy ends.
03-29-12