CHI Smart Volumizing Styling Iron & Travel Iron Set
In Stock
Sold Out
We're sorry. This item is not available at this time.
Pre Order Possible .
Low Stock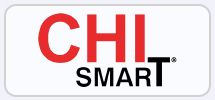 Description
What is it: Full- and- travel-sized irons from CHI Smart, a leader in hair tool technology, that combine the superior glide and even heating of titanium plates with the hair-smoothing benefits of ceramic heating technology, which helps to seal the hair cuticle for soft, shiny, silky results. Its curved edges help achieve a multitude of glamorous styles. Straighten and smooth, create curls, waves, and flips, even add beautiful volume, either at home or on the go.
Who is it for: All hair types--from thin to thick/coarse.
Why is it different: An easy-to-use digital control allows you to set the correct temperature for straight hair in one pass based on your hair type--lower heat settings for fine hair; higher heat settings for thick hair. The iron keeps a consistent temperature with a 15-second recovery time for added ease of use. In a clinical study comparing CHI Smart titanium plates to another popular styling iron that uses ceramic plates, the CHI Smart titanium plates were found to be more scratch-resistant and durable.
How do I use it:
To straighten, divide hair into 1" sections. Place your CHI Smart iron at the root of your hair, closing it lightly. Glide the iron slowly from roots to ends. Repeat for each section.
To flip, place your CHI Smart iron at mid-shaft and slowly rotate iron away from your body. Repeat for remaining sections. Comb or brush gently to blend sections together.
To ribbon or curl: the size of hair section determines the tightness of the curl. For loose curls use larger sections and for tighter curls use smaller sections. Place the iron at the root of hair, lightly close, pull iron two inches from scalp. Take the end of your hair strand and wrap it under and around the iron. Gently pull and rotate the iron until you have reached the end of your sectioned hair to create a ribboning effect. The slower the pull, the better the result. Repeat for remaining sections. For looser curls, gently brush through. Start at the root and brush backwards.
From CHI Smart.
Includes styling iron, travel iron, heat-resistant bag, and three hair clips
Lock mechanism
Auto shutoff
To avoid turning the iron off or accidentally changing the temperature setting during usage, simply hold down the Power Button until a lock icon appears on the screen; to unlock, repeat the same process until the icon disappears from the screen; after one hour of non-use, the iron will shut off automatically
Measurements: Volumizing Iron 10-1/4"L, 1" plate; Travel Iron 8-1/4"L, 3/4" plate
ETL listed; 1-year Limited Manufacturer's Warranty
Made in China
Reviews & Community QA
CHI Smart Volumizing Styling Iron & Travel Iron Set
45
45
BEST FLAT IRON!
Hands down the best iron I have ever used. My naturally curly hair stays straight for days.
02-18-14
Amazing until it stopped working!!!
This product worked extremely well on my thick wavy hair! I am only giving it three stars because after a year and a half it stopped working, it just keeps shutting off. For the price of this it should last longer than it did. The warranty is only good for a year so now I have to buy another one.
10-23-13
Best Flat Iron Ever
This by far is the best flat iron ever. I've had it over a year and use both the regular size and the travel size. I keep the travel size at work, and it still works perfectly for over a year and a half. I wish Chi made curling irons and hot curlers. Great quality product. Thank you QVC!
10-13-13
Not for me
I tried this product and it did not work for me. I ended up giving it to a friend who likes using this type hair styling product. I should have sent it back but you have s/h deducted from your reimbursement and I waited too late as I tried to make it work for me. I am real hesitant to buy another styling product on line. This is an expensive item and I am on a fixed income.
10-04-13
Stopped Turning on In 1 year mark
Got this for my daughter who has crazy curly hair, she uses it very often. The Chi stopped turning on at a week before the warranty ended. Thankfully, when I emailed QVC for the Manufacturer's information, they kindly asked for it to be sent back, paid the shipping fee both ways and sent us a new one! This is why I love QVC.!! The item itself works great on my daughter's unruly curly hair (it's beautiful, but of course she wants it straight) . This is not her first CHI, but the titanium plates do make a difference on her hair as far as keeping it straight all day. I would just say, watch the heat settings for fine/thin hair, it singed mine but I probably had it up way to high.
05-31-13
Unable to turn off manually
Because this iron is programmed to hold the temperature when you press the power button, you are unable to turn off the iron manually. You have to leave it turned on, and wait an hour for the unit to turn off automatically. Because of this I can only unplug the unit to turn it off. If I have used it and need to leave to get to work, I do not want to leave the unit turned on.
05-21-13
Awesome & Effective
I have been using flat iron for years, the Chi is the best one yet. My hair always looks amazing. I only have to run the iron once through the section, other irons I wold find myself going over spots 2 or 3 times before I got it straight. I can go from Curly to straight in less than 10 minutes with my below shoulder length hair.
05-06-13
Proven Wrong & Still Works great
Well, I bought 2 of these kits a year ago for my daughter and Wife. I have always been cheap on certain things like this. I guess these things are much like my tool collection. Your only as good as your tools allow you to be. So after going through at least 6 flat irons of the (cheap junk ) my daughter likes to put it. I remember her mentioning the CHI was a good brand to have one day in a store. I of course saw the price tag and I kept walking thinking they are crazy. So i bought these and i have to say they are still doing the job well even after a year of abuse. My Wife, daughter along with her friends use these things everyday and am surprised one has not died yet. So i decided to post a review to commend these hair wands and say my 2 girls have proven me wrong and for the dads out there to just spend the money here. It will save you money in the long run.
04-17-13
GOOD WHEN IT WORKS
I loved this product when it worked. I used it for only 3 months and now it doesnt work. It keeps shutting off on its own when in use and for the money i paid for this it's a waste.
12-27-12
Love IT!!!!
Always wanted to try the CHI but never wanted to spend the money...glad I did! It doesn't burn the hair and makes it feel silky. My hair is thinning and I am so glad I got this. I've had it for about 6 months now and I have noticed a huge difference. I gave the little travel size as a gift and they are using it daily and now their friends and family want one! Great product!
09-27-12
Not Worth The Money
I expected this flat iron to be a miracle worker,considering the price,I was wrong, my flat iron that cost $15 :99 from target works better.
09-16-12
great purchase
I purchased this styling iron set a while back and I am very pleased with the results. I do have short hair and it works just fine. It gives my hair a smoother look then my own curling iron. Its a keeper.
08-18-12