CHI Smart Gemstone Collection Volumizing Styling Iron
In Stock
Sold Out
We're sorry. This item is not available at this time.
Pre Order Possible .
Low Stock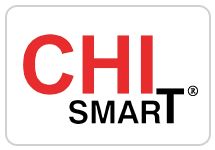 Achieve a Multitude of Styles!
Watch the videos below for tips on how to use your CHI Styling Iron.
Description
What is it: A styling iron from CHI Smart, a leader in hair tool technology, that combines the superior glide and even heating of titanium plates with the hair-smoothing benefits of ceramic heating technology for soft, shiny, silky results. Offered in a selection of gemstone-inspired colors with a stylish soft-touch finish, the iron makes a great gift for yourself or a friend.
With curved edges, this iron helps you easily achieve a multitude of glamorous styles--use it to straighten and smooth; create curls, waves, and flips; and add beautiful volume.
The included thermal clutch serves as a convenient storage bag. The iron can be placed inside while still warm, but do not place it inside while still on. A set of three professional hair styling clips make sectioning and styling hair easy.
Who is it for: People of all hair types looking for smooth, shiny, amazing results at home.
Why is it different: A digital temperature control allows you to easily set the correct temperature for straight hair in one pass based on your hair type--lower heat settings for fine hair; higher heat settings for thick hair. The iron keeps a consistent temperature with a 15-second recovery time for added ease of use, and a locking feature prevents shutoff or temperature change during use. And, it's incredibly durable. In a clinical study comparing CHI Smart titanium plates to another popular styling iron that uses ceramic plates, the CHI Smart titanium plates were found to be more scratch-resistant and durable.
How do I use it: To hold your iron correctly and comfortably, place your thumb on the digital display. Grip the bottom part of the iron with other fingers and lightly close.
To straighten, section your hair into 1" sections. Clamp the iron near the root and glide through each section. Continue with each section until your hair is perfectly straight.
For additional tips and detailed instructions on how to straighten, flip, and curl hair, check out the videos and PDFs provided above!
From CHI.
Includes flat iron, thermal accessory bag, and three hair clips
Digital temperature controls heat from 176 to 410 degrees based on hair type
Auto shut-off
Locking mechanism prevents iron from shutting off or changing temperature during use
Plastic/ceramic/titanium construction
Approximate measurements: flat iron 10"L x 1-1/4"W x 1-1/2"H with 9'L cord; accessory bag 12"L x 5"H x 2"W
ETL listed; 1-year Limited Manufacturer's Warranty
Made in China
Reviews & Community QA
A228267 - CHI Smart Gemstone Collection Volumizing Styling Iron
273
273
Excellent product
I wasnt sure with the reviews, however, with everyone having different hair types I thought I give this try. I understand that some hair types may not work, and some may. I bought this for my teenage daughter for christmas, and she loves it. She has mixed (with curly hair) so I wanted to find a good flat iron for her. When she uses it makes her hair so soft and stright as she wants it. One feature I love about this product that it has automactic shut off button on it.Its definitley worth the money for this product, and will most likely buy this for my other daughter. Thanks for QVC for making this happen for allowing me to purchase this product on flex pay!
03-10-13
My search for "easy" hair continues
Having never been blessed with the "hair gene," I have been systematically trying various ways to learn to style my own hair. I purchased this item in RUBY. I figured that if it was bright and fun, it might style my hair by itself! Well, of course, that is not the case. But I am getting some remarkable results so far and I am very pleased with this product and would definitely recommend this to others to purchase.
02-19-13
Not As Useful As Advertized
i've always had thin wavy hair, that for some reason would never stay straight but could easily be damaged. after using countless drugstore flat irons i decided to commit to a chi, and thought this would be a great value. it works very well, the flexible plates are great and my hair stays straight up until i decide to wash or curl it. however, it doesn't work easily as a curling or volumizing iron as advertized, and there are definately other less pricey chi's i could have purchased for the same effect.
02-16-13
Works great for me
I bought this product in November on Easy Pay. This was great, because I didn't want to fully commit to an expensive product without trying it first, seeing if I liked it and then if I didn't, enjoying the hassle free return service that QVC offers. I saw this product in stores and it was more expensive and again no easy pay option. So I purchased it through QVC and I love it. I have fine strand, shoulder length, blonde, high-lighted hair. This product works great for my hair type. The temperature setting is fantastic. In the time it takes me to prepare a cup of coffee in the morning, this hairstraightner is ready to go. The heat qaulity and the even heat distribution is fantastic. I have had no problems with the control settings / functions. I use this every other day to flat iron my side swept bangs...works great. I use a heat protecting product in my hair and this straightening iron has not damaged my hair at all. I don't always flat iron my entire head but when I do, this makes me layered hair look great. I am looking forward to using it in the summer time. I think it will be nice to help smooth my hair when it is humid and provide me with an easy care free style. I have used other CHI products in the past, and just like them, this product is fantastic. Given the choice I would purchase again.
01-27-13
Also Defective
I had the same issue as the previous reviewer - the flat iron turned on but the controls did not work. I had to return the iron and there are no replacements available. Very disappointing as this was a Christmas gift.
01-26-13
Overrated "Styling" Iron
This is the first CHI purchase I have made. I had used a friend's CHI flat iron previously and loved the brand. Her CHI had gold plates and gave my hair incredible shine, so when I saw that this one had silver plates I was a little concerned that it would not work the same. I orderered it anyway hoping I was wrong. I found that my hair did not flow smoothly through the plates, like it did when using hers. And my hair (relaxed African American hair) kept getting caught in the iron (I think that's because the plates move- or float, as they called it on air). Needless to say, I was very disappointed in this product because I was very excited when I ordered it. This product was overrated during the presentation, particularly since it didn't add volume to my air, nor is it a 'next-generation' product like they tried to portray. ...love QVC, but was disappointed in this purchase.
01-26-13
Not Impressed
II have medium length flip or bob layered hair. Could not get wand to stay on hair when trying to flip. Always slipped out of appliance since its so slippery and does not have a good clamp to hold hair like a curling iron. You have to hold so tightly to keep clamp together. Did not feel this product is that great or is worth the exorbitant price. Have no idea what temperature to use either. Tried several and none seemed right. Too many choices for the average non-hairdresser!
01-26-13
DOESN'T PULL ON MY HAIR
OK LADIES WE HAVE ALL TRIED MANY PRODUCTS AND KNOW WHAT IS GOOD AND WHAT'S NOT AFTER ONE USE. I HAVE LONG LAYERED HAIR AND I WAS STUCK IN MY OLD WAYS OF CURLING IT EVERYDAY . . . NOT ANYMORE. I DIDN'T LIKE USING STRAIGHTENERS UNTIL NOW AND I LOVE THIS ONE ! ! ! HIGHLY RECOMMEND
01-25-13
DEFECTIVE
The digital display on my flat iron is defective. It is unusable because I have no idea what temperature it is set at (because the numbers do not display). I'm very disappointed and would not recommend this product to anyone. Chi needs better quality control.
01-22-13
Gives me model hair
I have long thick coarse hair. This goes through my hair like butter. I followed the directions and I get great curls that last 3 days. I take it with me to the hair dressers. My chi is better than hers. She even says it goes through my hair so smoothly.
01-19-13
Worse Item Ever
I received mine for Christmas from my daughter and was so excited. But the digital screen doesn't show any temps. So disappointed. Never had to return anything before but it has to go back!
01-19-13
DEFECTIVE
Like some of the other reviews, mine too had a problem. The on and off switch would not turn off. I would have to pull it out of the electrical socket to turn it offf. Back it goes.
01-19-13