Brazil ButtLift Lower Body Workout with 3 DVD & 3 Booty Bands
In Stock
Sold Out
We're sorry. This item is not available at this time.
Pre Order Possible .
Low Stock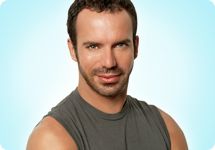 "Inspired to help women all over the world get the taut tush of gorgeous girls on the beaches of Rio de Janeiro, I'm showing you the very same moves I've used for years to help models and clients get red-carpet ready results."
—Leandro Carvalho
Description
Falling behind? It's inevitable. But it's not irreversible, according to trainer Leandro Carvalho. Just let Leandro lead you in this Brazil Butt Lift Workout, and you'll do cardio dance plus moves like plies and lunges to burn calories while sculpting and toning your lower body. This set includes six workouts on three DVDs. After your workouts, use the other included materials like the workout cards, nutrition guide, and measurement tracker to help maximize your results.
As always, please consult your personal physician before beginning any diet or exercise program.
Take a realistic approach: If you work consistently and follow the program, you maximize your results.
Includes three DVDs, Triangle Training workout cards, makeover and nutrition guides, measurement tracker, tape measure, and three bands
DVD 1: Basics, Bum Bum, and Bum Bum Rapido; run time approximately 1:30
DVD 2: High & Tight and Sculpt; run time approximately 1:40
DVD 3: Cardio Axe and Tummy Tuck; run time approximately 1:00
Tape measure/bands made in China; DVDs made in USA
Reviews & Community QA
Brazil ButtLift Lower Body Workout with 3 DVD & 3 Booty Bands
71
71
Brazil Buttlift lower body workout
I love this workout system it is amazing and the results are mind blowing I can't believe my eyes
09-08-13
Intense
Overall I think this is a great workout, I'm sitting here sweating after doing the bum bum dvd and trust me I can feel it! Just a word to the wise, however, this is not for people that are just starting to workout, it is definitely made for people that are already in shape and want to tighten up their bums. I run everyday, and still had a pretty tough time. Again, you have to already be in pretty good shape to start this program, and if that's you, I highly recommend this to you!
08-17-13
A Dream Come True!!!!
Finally a workout that delivers awesome results-fast! I have been exercising 3 to 6 days a week for 23 years, so it's really hard to find something that does anything that is noticeably different to my body. I have ran 4-6 miles a day, I've done P90X-1 and 2, numerous exercise DVD's, Kettle bells, Pilates-including Malibu and the Reformer, Yoga etc.., to name a few. So after reading ALL of the reviews, I decided to give it a try-if anything, it will break up the boredom that can happen after so many years of working out. OMG!!! After only one week of working out I have lost 1/2 an inch in my waist! My butt is noticeably a little firmer AND lifted!! I can hardly wait to see what I'm going to look like in a month!! My boyfriend even said he definitely sees a difference-and he sees me every day! If you are wondering if this is going to be one more set of DVD's that will end up sitting on a shelf somewhere, I can honestly tell you it won't!! I have never gotten these kind of results with anything I have EVER done. Absolutely amazing!!!! I finally am firming the parts of my body that gives you that sexiness we all want!! And it's fun!! What are you waiting for! Get it, you won't be sorry!! P.S-I'm 52 and I look better than I ever have!!
07-30-13
Excellent workout
This isn't just about the "booty". It provides an overall fitness program for anyone who wants to really work out. I don't care too much for the "dancey" part of the program, but the toning and other parts is excellent. Would highly recommend.
05-02-13
It kills your butt!
Just about any exercise works, you just have to do it! This is no exception. The cardio workout is fun and does get your heart rate up. The DVDs that target your butt, really target your butt..ouch! You feel the burn! Too early to evaluate the end results but as I mentioned earlier, exercise works, you just have to do it CONSISTENLY!
03-15-13
Fantastic all around workout for women
The name of the product makes you think it only works on your butt... not a bad thing... but it does much more than that. Set of 5 different workouts put together in a schedule to suit different user needs. The variety of the schedule keeps it from getting boring The workouts go beyond just the butt and target the entire body as well as cardio The timer for the full workout as well as the short timer for the current set help you persevere through the tough parts. The teacher is very clearly trained in different exercise techniques and enforces proper form and breathing throughout. And BEST of all, it works! You will begin to see results almost immediately!
03-02-13
Tape Measure Does Not Lie
I got this program at the end of January 2013. I am on day 6, of week 3, in the Lift and Shape Program. I measured myself on day 1 and again today. I have lost over 12 inches in less than 3 weeks. Just try the program. Leandro is adorable and the exercises are challenging, but lots of fun.
02-18-13
Excellent Quality
Excellent quality with the packaging and the content. Excited to try it out in a couple of weeks! I've heard it's a really great workout from fellow gals at the gym.
02-10-13
My review is based on impressive customer service.
I received my workout and to my disappointment, the I feel, most important DVD, was defective, the 1st one that shows how to do the exercises properly, etc. I called QVC, explained what had happened (this was the second time...the 1st time I ordered it, I just returned it)..........and within 7 days or so,I received a new set of the DVD's. I had only asked for that one defective one. QVC and Butt Lift...........I am impressed on the quality of your customer service....and of course, cannot wait to get started!!!!! :)
02-03-13
Love this workout video
Love this workout video. Leondro makes it fun to watch & follow along. Of course at 55 I have a hard time keeping up, but I just do the easier modifications. I've seen improvement in being able to keep up with the workouts in just a few weeks. Can see myself using this workout vieo for many years.
01-27-13
Great
Love had p 90 way to difficult it's fun I felt a difference in a week my husband even said my bums looking good who could ask for more 45 yrs old this is a perfect work out I had cardio this is a perfect work out
01-26-13
good workout
I've been doing the workouts for a while, though not as consistantly as I should because I have a 9 month old but I do feel and see a difference. If at first you get sore by the second or third workout the soreness will be gone so no one should get discouraged!!
10-29-12