Bose MIE2 Mobile Headset with StayHear Tips & In-Line Microphone
In Stock
Sold Out
We're sorry. This item is not available at this time.
Pre Order Possible .
Low Stock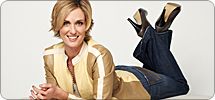 Host Pick
"These are my husband's saving grace on business trips. They make air travel and nights in hotels bearable. Plus, he can transport himself somewhere else. There's no better sound than Bose. I really love them because my husband can experience a movie how it should sound, but I don't have to hear it! He throws them on and I can enjoy my peaceful book while in the same room."
—Host Kerstin Lindquist
Description
And the music plays on. Your daily workout routine just got a little easier thanks to the exceptional sound quality and customized fit of the Bose(R) MIE2 mobile headset. Each earpiece sits just inside the bowl of your ear and comfortably conforms to the upper ridge, so you get unmatched stability, even at the peak of your workouts. It also comes equipped with an enhanced acoustic design and a new port to give you the kind of smooth audio experience you'd expect from a name like Bose. And for convenience, you can even use these with your compatible phone and take calls at the touch of a button. From Bose.
Includes Bose MIE2 mobile headset; small, medium, and large StayHear tips; and carrying case
Ships in Bose retail box
1-year Limited Manufacturer's Warranty
Made in Mexico
Reviews & Community QA
Bose MIE2 Mobile Headset with StayHear Tips & In-Line Microphone
41
41
Awesome
I am usually not a big fan of ear buds but thought that I would give them a try. These are awesome !!!!!! As always the sound quality is Bose !!!! These ear buds are very comfortable and stay in your ears !!!! Keep up the awesome products Bose !!!!
03-07-14
Bose MIE2 Ear Buds
Great monitor/earbuds. As always Bos is phenomenal with their engineering and sound. Highly recommend!
01-01-14
All the others were a waste of money!
None of the others have the incredible Bose sound or fit or durability. I should have saved my sanity (and $$$) and bought this one first.
12-26-13
Fell apart
I bought two of these headphones, the sound is great and the comfort was good, but both pairs came apart right at the earpiece and shorted out. There needs to be some reinforcement around the ear pieces.
11-06-13
FABULOUS!!!!
I saw the earlier reviews and just had to say something. There is a version for IPHONES it is the "MIE2i". I know because I bought 2 of them for gifts. Because I have a Blackberry, I use the "MIE2'. Because I KNOW there can be differences with connections ie..IPHONE vs BLACKBERRIES OR ANDROID..I called BOSE to be sure I was ordering the appropriate items. Before they picked up the phone the answer was right in front of me on the product page. Sometimes it pays to do our due diligence as customers, when buying products. NO ONE is perfect... As far as quality goes..well BOSE to me is the best!! I have the Cinemate (5 years not a prob) The GSX ( 6 years not one problem) Lifestyle (4 years... you get my point...) I have thoroughly enjoyed my MIE2 headset for 2 1/2 years now, again... no problems! For those that had a problem with the mobile headset (other than incompatibility) did you reach out to QVC or BOSE? They both have great customer support....
06-12-13
Not worth the price
I had a pair of "Beats" earphones before and they were great but I always wanted to get a Bose because I know they have great products. I love the way earphones stay in my ears but the cord keeps coming one and sometimes the music plays on one side of the ear. I made sure to get the earphones that work with Android phones... but it doesn't seem to work properly. I wish they had a "last" and "next" button to skip songs. Unfortunately I will need to return it and will hope that the new "Noise cancelling" in-ear phones will be better.
06-11-13
Bose MIE2
I am very disappointed. When I ordered this item, the description made it seem it was compatible with all smartphones. The product detail does not specify that the headset only work with Android, Windows, and Blackberry. I only found out when I went to wrap the gift and I looked at the box closely. It is now the day before Christmas Eve and I have to find another gift. I will be returning them. Product description should be more clear!
12-23-12
wonderful!!!
im so happy with this headset. bose is worth the price. have the wave radio, and will be purchasing the quiet canceling headset next.
12-22-12
Cannot use on I phone
I just received this last night and was so excited to have in time to mail my son for Christmas. I noticed on the box it did not say compatible with Iphone. I went to the description and just like the other reviewer below, it is not clear. It just says Mobile. I am extremely disappointed as I called to place this order and even asked the rep if it would work with Iphone. Bose is a good product but this should be advertised more clearly that it only works with certain phones.
12-19-12
ITEM DISCRIPTION NOT TOTALLY CLEAR.
I ordered this product only to find that its NOT COMPATIBLE with my I-PHONE . I went back on your website (QVC) to re-read the discription, thinking I may have overlooked this piece information only to find that this IMPORTANT piece of information is not listed. I was under the impression that these headphones was universally compatible. Not until I opened the box to make sure the item was not damaged and the FIRST THING THE BOX SAYS IS,These headphones are ONLY COMPATIBLE with Android,and BLACKBERRY SMARTPHONES. They were a Christmas gift and here it is Dec.17th and I have to return them. For future reference, PLEASE LIST THIS IMPORTANT INFO ON YOUR DISCRIPTION OF ITEM PAGE PLEASE. For this reason is why I rated this product so low. Cant rate what I Cant use!!
12-17-12
Great sound
After ordering these earbuds, i thought they where not a good buy and tried to cancel the order. Iam so glad they shipped, my daughter LOVES them.
10-21-12
Totally Awesome!!!
Purchased one for myself and the quality and sound was exactly what I expected from Bose. Once my son tried them, he needed to order a one. Nothing comes even close to the sound. The price is well worth it!
10-12-12