Blue Clean 1600 PSI Electric Pressure Washer w 3-in-1 Nozzle
In Stock
Sold Out
We're sorry. This item is not available at this time.
Pre Order Possible .
Low Stock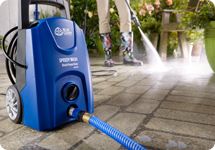 A Clean Start
Learn more about the Blue Clean 1600psi Power Washer:
Description
Wash away the dirt and grime of winter with the Speedy Wash 1600 psi Electric Pressure Washer with 3-in-1 Nozzle. From Blue Clean, one of the leading names in commercial power washer pumps , this compact unit offers the power and versatility you need to take on outdoor cleaning chores around your home.
Perfect for your siding, deck, patio, driveway, and vehicles, the Speedy Wash features a ratcheting 3-in-1 nozzle that lets you move from job to job without having to switch multiple wands and attachments.
There's a setting for every chore. The turbo nozzle has a powerful pulsating flow of water for use on hard surfaces--like sidewalks, concrete patios, and brick. The high-pressure fan spray is ideal for cleaning windows, outdoor furniture, siding, and more. The low-pressure soap setting makes it easy to apply detergents to those stubborn hard-to-clean areas. The included wash brush draws detergent automatically to help remove oil film and grease from vehicles as well as awnings, cushions, and umbrellas.
Put the pressure on mold, mildew, and dirt. With 1600 psi, the Speedy Wash provides 30 times the cleaning pressure of a standard garden hose, while using 80% less water per minute. So, you save both time and water!
There's a 35-foot power cord and 20-foot high-pressure hose, so almost everything on your property is within reach. And when you're done, on-board storage keeps all the accessories together for next time.
Start your spring cleaning today by picking up the Speedy Wash power washer! It's available in your choice of three colors.
From Blue Clean.
Includes Speedy Wash power washer with 3-in-1 nozzle, 20'L high-pressure hose, 35'L power cord, and wash brush for vehicles
Works only with V32145, the Blue Clean 25-ft Pressure Washer Extension Hose
1600 psi
Quick release 3-in-1 nozzle: Turbo, Fan, and Soap Spray settings
Quick-connect high-pressure hose and garden-hose connections means no more time-consuming twisting
On-board accessory storage
5" wheels for easy movement; wheels come assembled
Aluminum pump
Detergent suction feature: use detergents designed for power washers only
Total Stop system turns the washer on only when the spray gun trigger is pressed; automatically turns motor off to protect pump from overheating
Normal to find water in the unit due to factory quality testing
Measures approximately 14-1/2"L x 10-1/4"W x 10"H; body weighs 10.9 lbs; weighs 15.9 lbs with attachments, cord, and pressure hose stored on unit
UL listed; 1-year Limited Manufacturer's Warranty
Made in China
Reviews & Community QA
Blue Clean 1600 PSI Electric Pressure Washer w 3-in-1 Nozzle
200
200
Never Been Able To Use Mine
The only reason I did not return it is because it is too bulky for me to load it into my car & carry it to the post office. I could not get it to work so I gave up easily. Then I could not speak to its performance.
04-22-15
Great AR customer service
My wife gave this to me a couple of years ago. I have a large 3,000 PSI gas pressure washer but I use this one at least once a week to wash wheels/tires and small jobs around the house. I've had 2 Karcher pressure washers but they only last me a year before the pump dies. This AR has a longer pressure hose which will make it up both sides of the car without moving the unit and it also has a longer cord which is very flexible. I'm going to make an extension cord out of it when the washer finally dies. Well after the warranty ran out the gun developed a leak. I had no paper work on the purchase. I went to the AR website looking for a replacement gun and I could not find this "Speedy Wash" model. I sent an E-mail to their Customer Service and they ask for a copy of the receipt. I told her I had none and I just wanted to purchase a replacement. She ask for my address and the color of my unit and she sent me a new replacement gun, no charge. I guess I just had good luck with mine but needless to say, my next small pressure washer will be by AR!
04-07-15
Beyond my expectations
I really didn't think the psi was going to do the job that I bought it for.....cement driveway and walkways covered with black moss.....I was ever so pleased that it cleaned all of it up and driveways look like new.......the only negative was I have a 100' hose and the electric wire and trigger hose all kept getting tangled up as I moved from place to place........I did have trouble assembling it as the pictures were so small I couldn't be sure I was identifying the pieces properly, but used common sense and finally got it up and running........I am 75 so maybe that was the problem.......? nice little machine.
04-03-15
BC1600 is Awesome
We assembled our Blue Clean 1600 without issue. First tried it out cleaning winter debris from a 12 X 40 concrete pad. Awesome! Next I cleaned 4 X 5 sheets of green house plastic covered with dirt and dried on grass from last summer, even the channels within the plastic. Again, without fail, the water pressure stayed the course and the plastic cleaned beautifully. We are on well water, and this unit saved me time and water. I would recommend this product to my friends and viewers of QVC. I only wish it had a long handle for moving around like suitcases have.
03-08-15
POWERFUL! wow!
great pressure washer for the price. right out of the box I attached everything quickly and got right to work on my patio and driveway with ease ~ everything looks amazing! couldn't be happier with this purchase. Love the blue color too!
03-01-15
WILL NEVER BE WITHOUT THIS!
Used this machine to clean all of the 8ft white vinyl privacy fencing covering entire back yard. Power washed the vinyl picnic benches, white vinyl chairs, that sat over the winter last year, and was covered with a grey film. Everything came out sparkling white. Excellent on the siding as well. We did not have any problems setting up and using this was very easy.
11-03-14
Electric Pressure Washer
This product looks good on TV, but every year I have to get a new hose, because any water pressure will puncher a hole in the hose. It's good when everything is working okay, but when it doesn't the hose has to be replaced, at no cost to me, but an inconvenience.
10-28-14
So Easy to Use
So easy to use. Don't have to have gas and all that entails. Wonderful product.
09-04-14
Awesome
This pressure washer is awesome. I cleaned the whole outside of my home, especially the north side that no matter where you live always gets moldy. It cleaned right up and I also did my wood decks on the front and back of my home and they turned out great too! Then I did my sidewalks and they turned our completely white. This pressure washer is great for the price. I love it and recommend it to anyone!!
07-31-14
Best Little Machine Ever
You will not go wrong by purchasing this pressure washer, we were really impressed with it's performance. It will clean anything and everything....Couldn't be happier!
07-31-14
MONEY WASTED
BROUGHT 1 YEAR AGO..... USED ONCE... STORED ITEM.... USED YESTERDAY..WORK JUST OK..... WANTED TO FINISH UP TODAY.. MACHINE WOULD NOT TURN ON.... DIDN'T BOTHER TO PUT IN BOX... THREW IT IN THE TRASH CAN..
07-28-14
Stopped Working
I too bought this a little over a year ago. It stopped working and although we have tried contacting the manufacturer, they will not return calls or try to help us get the part that we believe might get it working again. Bad quality, but even worse customer service.
07-17-14