BlissLights Outdoor Firefly Light Projector
In Stock
Sold Out
We're sorry. This item is not available at this time.
Pre Order Possible .
Low Stock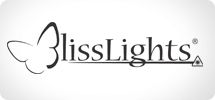 Learn more about this Outdoor Projector from BlissLights.
View
customer ratings & reviews of this product.
Description
Light Spright, Light Spright--turn on the magical outdoor lights! Save time and energy on outdoor decorations, thanks to the laser and holographic technology of this light projector. Thousands of pinpoints of light resemble traditional holiday rope lights. Simply plug in the Spright and point it in the right direction for a festive touch to your holiday home! From BlissLights.
Includes:
Spright light projector and AC adapter
Laser and holographic technology
Covers a 25' x 25' area
Measures 14"L x 6-1/2"W
UL listed adapter; 1-year Limited Manufacturer's Warranty
Made in USA
Reviews & Community QA
H198507 - BlissLights Outdoor Firefly Light Projector
18
18
Nothing Short of Magical
I've just gotten it --- so I can't make any statements related to how well it lasts over time, but just out of the box it creates a magical environment. I'll get a second to cover the area I'm looking to enliven with this product.
04-05-13
Amazing
This light is wonderful. It drenches the yard in crystal effects. Absolutely beautiful.
04-04-13
Magical !
I love my BlissLight! Ours is illuminating the center garden in our front yard and we use it all year. The effect on both leaves and snow is lovely. I get so many comments and questions about the effect it gives.
04-04-13
Magical
LOVE LOVE LOVE these fairy lights, makes our yard magical
04-01-13
Bliss Lights, what a magical effect
Bliss Lights, what a magical effect. I love this product !!! I will be ordering again . Wish they came in clear ...
04-01-13
First On My Block
I am reluctant to say how much I love this because I want to be the only one on my block. The light is heavy and well made. I think its worth every dime. I have it lighting a redwood tree and when a breeze comes up the branches move and the whole tree twinkles. It is amazing.
03-30-13
Awesome!!!
Would love to have this in clear please!!!!!!! The green is also beautiful..
03-30-13
Bliss At Its Best
Purchased this last October. Stored it in front bedroom and forgot about it. Wow! Got it out to decorate the front of the house and you can't image how beautiful! No one in our area had this! Everyone who came to our home absolutely loved it! I purchased another two months later cause we really needed two for the front of our home! I'm getting another one too! Highly recommend these...when you first turn them on, the lights are dull but they just need to warm up! Beautiful!!!
03-30-13
Absolutely Beautiful!!!
We decorate the outside of our house each year with several thousand colored LED lights. We outline our 2 story house, hand rails, porch pillars, shrubs, etc. with them. I decided to try adding Bliss Lights this past Christmas Season, not knowing, for sure, if they would work with all the other lights. We mounted one to a tree, & aimed it at our upstairs, and the other we mounted on a milk crate & aimed it on the bottom of our house. The result was absolutely breathtaking. Even with all of the LED lights, the Bliss Lights worked beautifully. It looked like we had thousands of tiny lights covering our house. Cars were stopping in front of our house every night. My son & daughter-in-law liked them so much, I'm hoping to get them a pair before next Christmas (as soon as I can catch them on easy pay). They are DEFINITELY worth the price.
03-13-13
Blissful Light!
LOVE THIS ITEM! My husband doesn't like to hang Christmas lights so this was the perfect solution. One projector lights up the entire front of our house. I wanted to purchase another one, but they were sold out quickly this fall. I was delighted to see them back today for spring and ordered another one for our pool. Added bonus- We live in PACKER COUNTRY and green is always in season! We would love to see this projector in more colors, like gold.
03-12-13
Copy Cat!
Love this! No one had this in my neighborhood of 300 homes at Christmas. The presenter was right...a neighbor I never spoke to knocks on my door 2 days before Christmas at 830pm and asks me ...where did I get that? MY MISTAKE...is I shared where and the next day he had 2 on his house! Grrrr!!!! So much for individuality ...guess admired it that much but he could have waited til next season! Bought a second because now .....it's on next season! Plan to use it by the pool in the summer too! Weatherproof and easy . Well worth it.
03-12-13
Loved It!
We were so happy with the way this light looked on the front of our house at Christmas that we want to get a second one for the back yard for this year. Many of the people driving by stopped to ask what kind of light we were using and where we got it. Great product!
03-12-13