Bliss Hammocks 2-person Gravity Free Recliner with Pillow
In Stock
Sold Out
We're sorry. This item is not available at this time.
Pre Order Possible .
Low Stock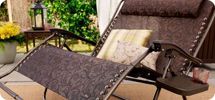 Description
Summertime is synonymous with relaxation. And with this two-person recliner, you and a friend can put your feet up in ultimate comfort and style. Two cup holders and two pillows ensure a refreshing respite. And an advanced, anti-locking system with tension control lets you position the recliner from upright to "zero gravity" and everywhere in between. From Bliss Hammocks.
Two-person recliner with one hook-and-loop attached pillow and one cup holder on each side
Woven PVC-coated polyester fabric
Non-stretch yarn
Powder-coated steel frame
Measures approximately 63-3/4"D x 45"W x 45"H
1-year Limited Manufacturer's Warranty
Made in China
Reviews & Community QA
Bliss Hammocks 2-person Gravity Free Recliner with Pillow
118
118
Camping Companion
Love my gravity chairs but this two person one is good alone or with a friend, significant other, even shared with your dog! Love it!!!
02-10-15
disappointed
This product was a disappointment.looked and performed better on tv.
10-24-14
Love this chair!!!!
I've had this chair for over a year and I love it! I have left it out, in the sun, for two summers and it still looks great. It is so comfortable. Everyone that sits in it, loves it...including my 100lb pup!!!
09-24-14
BLISS......Blissful!
I would recommend this chair it is so cozy and comfortable with enough room to share with my grandsons. The only part I would tell the makers is please consider having locks of reclining positions made stronger or better material. This is my only complaint. Mine broke and came off but before that they were not as reliable as I feel they should have been. It is a well made chair other than the locks and way way super comfortable. I would have given this chair a HIGH FIVE except for the position piece on each side.
07-26-14
Party of 2- Recliner with Pillow
I love my blue Bliss Hammock Recliner with Pillow- we can relax and enjoy the great out doors.-- Recommendation: Accessories - I would like to buy a blue canopy for this recliner.
06-29-14
Very Comfortable
My husband and I love this recliner. Everyone that visits us wants to know where we got it. They don't get off of the chair for fear that someone may take their spot. I would definitely recommend this. It is a little bit expensive but I still enjoy it.
05-19-14
Perfect for a herniated disk
I have a surgically-repaired disk in my lower vac. For 4 years, the only place I can sit has been in expensive desk chairs. I can't sit on couches at AT&T. This has been a godsend. It's in my living room. Doesn't look great there, but I can actually recline to watch tv. This is one one the best purchases I've ever made! If you have back pain, you have to try this chair!
05-12-14
Not impressed
Purchased this for my husband last Father's day, did not use for the first time until the day before Easter this year. This chair broke the first day it was used. There is a high weight limit and we had two average sized people in the chair and the back leg completely collapsed, the chair is ruined and cannot be fixed. Our bad for not using the chair before the return policy expired. Ordered the single gravity chair and it did the same thing a few years ago, maybe got two uses out of that one. NOT IMPRESSED WITH THIS BRAND OF CHAIR!!!! Did not want to give it any stars, must give it at least one for the review to go through.
05-08-14
So Comfortable I Fell To Sleep Like A Baby
I purchased the Bliss Hammock 2 Person Zero Gravity Recliner from another retailer and I'm so happy to have it. I threw my back out and I have been in so much pain that I could not even find comfort sitting on my living room furniture or even laying in my bed. I just couldn't find a place that gave my back support and worse yet, trying to get off of my furniture only caused more excruciating lower back pain. I had ordered the Bliss Hammocks chair in the winter and hadn't even unboxed it yet as I was saving it for the deck this summer but decided to bring it into the house to see if it offered my back better support and relief than my indoor furniture. Thankfully it did. The fabric is pulled just taught enough to give a little for comfort while also offering great back support. When I tilted the chair back into the recline position I immediately felt relief in my lower back. I actually slept in this chair for 1 week until my back was well enough to go back to the bed. This is a great chair and I would highly recommend it. The only concerns some people may have with this chair is: 1) If you are very tall, possibly over 6' or very short, possibly under 5'3 it may be awkward for you. For tall people I can see how the footrest (a metal bar) might dig into the back of your calves and become uncomfortable. For a short person, if your feet dont reach the footrest, it may be difficult if not impossible for you to put the chair in the recline position. 2) It is a bit difficult to get the chair out of the recline position. Other than that I have only positive things to say about this chair. Wish it came with a cover though.
04-15-14
not for tall people
I was so excited to get this chair. When UPS delivered it, the box was completely ripped apart and had been shabbily re-taped up. I kept a positive attitude and took it out. It looks like it did on TV but in my opinion, a $150 chair should be better built. It doesn't seem sturdy enough. Also, I'm 6' tall and this chair is probably great for someone around 5'8" or less. My head is above the pillow, and my feet hang way over the bottom rail. Since the box is beyond repair, I priced out what it would cost to repackage it and the packaging and shipping would almost cost me $100.. so regretfully I will keep it but I'm definitely not satisfied.
03-27-14
Best Lounge Chair EVER!
I call it my doublewide. Its super wide, comfortable, made well, and looks pretty on my deck.
03-20-14
Love this recliner....but!!
Love this recliner!! Bought it last summer, but wish Bliss would make a canopy for this size chair like they have for the single size. PLLLLEEEEEAAAASE Bliss make a canopy that we can attach to this 2 person recliner. I will purchase IMMEDIATELY!!!
03-08-14