Blendtec 90 oz. Signature Series Blender with 32 oz. Twister Jar
In Stock
Sold Out
We're sorry. This item is not available at this time.
Pre Order Possible .
Low Stock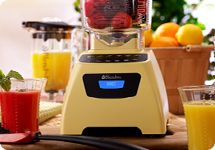 Description
Power at your fingertips. Boasting an impressive 3.0 peak HP motor, the Blendtec Blender has enough concentrated force to turn whole fruits, vegetables, and more into delicious smoothies, soups, and juices you'll love. And it's offered in a variety of fun, fabulous colors designed to blend well with any kitchen!
Mix it up. Starting with its large 90-oz capacity WildSide jar, the Blendtec Blender whips up frozen treats, margaritas, daquiris, and more for the whole family to enjoy. Toss in the pulverizing 32-oz Twister jar--designed for thick recipes such as nut butters, hummus, baby food, dips, shakes, and more--and you've got a recipe for success in the kitchen!
How does it work? Say you want to make a fruit smoothie before your morning workout, or treat yourself to some frozen yogurt for dessert. Just place the ingredients inside the WildSide blending jar and press any one of the five pre-programmed buttons on the unit--each button clearly indicates its level of blending. The jar's special five-sided design, paired with the blender's impressive motor strength, creates a blending vortex that thoroughly mixes in a matter of seconds.
Go beyond smoothies with the innovative 32-oz Twister Jar. Simply add your ingredients and twist the lid counter-clockwise while the blend cycle is running. The twisting motion forces the ingredients from the sides of the jar back into the blade, allowing you to achieve a perfect blend every time.
With its versatile blending jars and powerful motor, this unit is the perfect choice for so many of your culinary needs. You'll also get a silicone spoonula designed for easy scraping, plus three cookbooks chock-full of recipes to show you everything the Blendtec can do. Don't miss your chance to bring home the Blendtec Blender for a fantastic value. It's so convenient and easy to use, you'll wonder how you ever did without it!
From Blendtec.
Includes:
Blender base, 90-oz BPA-free WildSide blending container, 32-oz BPA-free Twister jar, silicone spoonula, Fresh Blends cookbook with 215 recipes, WildSide jar recipe book with 40 recipes, Twister jar recipe book with 16 recipes, and instructional DVD
3.0 peak horsepower motor
1560W/13 amp
Five pre-programmed cycles with push-button operation--Batter, Smoothie, Ice Cream, Whole Juice, Soup
Pulse feature
Quick-touch adjustable speed
Compact 15"H design fits under most standard kitchen cabinets
Approximate measurements: Base 6-7/8"W x 7-7/8"L x 5-3/4"H; 90-oz container, including lid 5-3/8"W x 9-3/4"H x 6-3/4"D; 32-oz jar, including handle 7-1/2"H x 7-1/4"W; Cord 34"L; weighs 7 lbs
Both containers are top-rack dishwasher safe, however, handwashing is recommended to prolong the life of the jars; spoonula is handwash only
ETL listed; 7-year LMW
Reviews & Community QA
Blendtec 90 oz. Signature Series Blender with 32 oz. Twister Jar
50
50
Best Christmas present!
I had been trying to decide between the Blendtec and the Vitamix for a while. When I saw the Blentec was on easy pay, I told my hubby and he got it for me for Christmas. I have used it every single day since then...usually 2 or 3 times a day and I absolutely LOVE it! It produces the smoothest sauces, smoothies and soups and the recipes in the accompanying books are amazing! My teenagers even love the green smoothies! For those who have concerns about the noise level, it really isn't much louder than other blenders I have used and is quieter than my food processor. Besides, it's not as if you keep it running enough to create create real disturbance. The longest setting is for soup which is all of 90 seconds, so I don't really understand the level of concern some have shown over the noise level. All is all, my favorite kitchen tool ever...especially for those who are Paleo or who cook a lot from scratch. Could never do without it now!
01-02-14
Love this!
Love this product! It works so well, blending things quickly and easily. I had a smaller appliance and was making 3 batches of smoothies that I mixed together. I can do it all at one time with this appliance. It is a little on the noisy side, which is why I gave it 4 stars and not 5. But it works like a champ. I've used the Twister Jar to make Guacamole and it's also fabulous. Can't say enough good about it.
11-13-13
Blendtec signature series
I love the blender so far; I've been using it for less than a month. The smoothies are amazing compared to my cheap blender. Much more flavorful and smooth. I've tried 2 soup recipes and they come out fine; simple to make but need a little more heating up. Not as noisy as I expected after reading some of the other reviews and I put a thin pot holder under it to prevent the black marks on counter from the rubber base. I have not had time to try the nut butters but am excited to try that soon. Very happy with purchase.
11-13-13
Like it, but......
I've had a blentec for nine years, it's been a good blender, except for two things that buyer should be aware of. 1. the base is pretty light, which makes it great for taking it to parties or out of the house, also for keeping it hidden out of sight, however, when blending at home the base dances all over your counter. I'm afraid to leave it while blending, that it might tip over. 2.. the blending jar needs to be replaced yearly, it starts making a crunching noise when expired, at 70.00 a pop, not cheap. It's also much noisier than the vitamix, or any other blender.
10-31-13
Blendtec 90 oz. Signature Series w/ 32 oz. Twister
I love, love, love, this Blender!...I had a Vitamix, i had purchased and i constantly had to use the tamper, it was so hard to get the stuff out and did not fit under the cabinets. This Blendtec is absolutely wonderful, it fits under my cabinets, it makes my smoothie first time around, with out having to start and stop it!.....Which i could not do with the Vitamix! I am so glad i decided to give this one a try, the wide mouth jar is an absolute MUST. I have not had a chance to try anything else besides smoothies, but i am sure it will all work just as wonderful!..
10-28-13
Absolutely Fabuous!!!
I've owned both the Vitamix and now the Blendtec and can honestly say I prefer the Blendtec. It does everything I ask of it perfectly. Love the preset buttons, it fits under my counter and the fact that I don't have to use a pusher to mix everything to a smooth, creamy consistency and believe me I've really loaded that large pitcher up to the top.. I've owned mine now for 3 months, using it every day, so I feel I have given it a fair try. It's loud and expensive but I love it and think it is worth every penny.
10-25-13
Simply the best blender ever!!!!!!
I waited a long time for the Blendtec to be a Today Special and it was worth the wait. I had bought the Vitamix but returned as I found it awkward and not user friendly. I absolutely love my Blendtec, especially the twister jar and the pre programmed functions. I use it almost everyday for everything.
10-15-13
My Blendtec is AWESOME!!
I purchased the Blendtec after much research. I weighed the pros and cons, and for me the Blendtec was the clear winner. I make ice cream, soup, shakes, pizza dough, brownie batter and nut butters in seconds. It continues to amaze me!!
10-14-13
Love it! Love it! Love it!!!
We received our Blendtec about two weeks ago. So far we have used it mainly for whole food (green) smoothies. It is wonderful!! It takes on everything,(beets, apples, carrots nuts, frozen fruit, greens...) without any trouble. What an upgrade from our previous blender! Our smoothies are now actually smooth. Clean up is easy and I love the function buttons (can't wait to try the soup and ice cream presets)! We are very happy with this purchase!
10-14-13
A blender with power
I decided to buy one after thinking of all the $ I have spent on replacing regular blenders through the years. I make a lot of smoothies and also have the "bullet" which I do like but it has some leak issues and the large jar doesn't hold as much as I wanted. I should have purchased the Blendtec a long time ago. It fits under my cabinet and I like the pitcher is not heavy glass. I like the size since it seems more compact that the other power blender on the market. It has power and I expected it to be louder than ordinary blenders but it's not that loud. I am counting on that this will be the last blender I ever need to buy.
09-13-13
Really love this!!
I debated whether to get this one or a Vitamix. I watched some videos on the internet comparing the 2 which had about the same ratings. I went for the Blendtec as a TSV and love it. I love the giant jar. My husband complains about the noise level, but he has much louder tools in his garage. Makes a great smoothie. Cant wait to try making soup in the winter.
09-10-13
Sounds like an airplane engine
Machine works great for Smoothies. I was looking for a replacement for my Nutribullet. I did not care for the fact that the seal would trap food particles under it. So, I was very excited to get my Blendtec. When I selected the Smoothie option, the sound was tolerable at loa speed but once it hit high speed it was LOUD. Sounded like a jet engine and the machine shakes in the process. The plastic housing also vibrates which produces another sound. I tried placing a towel underneath and inverting a mouse pad to help control the sound. I live in a 3000 square foot 2 story house and it easily wakes up all in the house. Then I was at Costco and ran across the Vitamix 6300. I initially wanted the Vitamix Creations Elite but the price was comparable at Costco. I had them make a smoothie using the Smoothie setting. The machine was WAY more quieter. I figured that there was some sound deadening that they used to quiet the motor so, I took it home. It was just as quiet at home. BY the way, my Iphone has a decibel tool. The Blendtec in high speed was between 100-104 db and would occasionally spike to 110. The Vitamix was right around 100db. Done deal, I am going iwth Vitamix. Sorry Blendtec, i really liked the blender and would have liekd to keep it. The sound was way too loud for me. By the way, the sound from the Blendtec is quieter than the Ninja. The Ninja seems to be the loudest I had ever used.
08-30-13