About the Manufacturer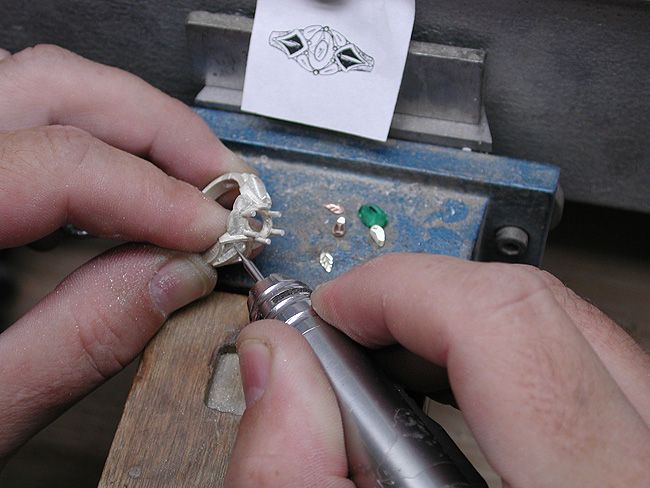 Although many people think of Black Hills Gold as mined gold, it's actually a type of design. The green and rose gold you see in every piece is created by adding silver and copper alloys to yellow gold. By federal mandate, this jewelry style must be manufactured in the Black Hills of South Dakota in order to carry the namesake.
The process begins with artisans transforming sketches into master wax models. Other types of molds are created as well. Pressure injected with hot molten wax, the molds are then placed into a stainless steel can. Liquid plaster of Paris is poured into the can. Once the plaster is set, the can is placed in a kiln for an overnight burnout cycle.
Next, cavities in the plaster are filled with melted gold and alloy. Once the gold cools and hardens, the plaster is knocked away and cast gold designs are cut from the tree. Then, they're tumbled for an initial polishing. The component leaves are shimmied in a special way to create a frosty finish and engraved with cuts for a shimmering look. Leaves, grapes, and other elements are soldered onto the cast. Once all of the components are in place, the jewelry is tumbled again for polishing.
No jewelry is flashed with gold plating, and multiple polishing and buffing stages help enhance the natural sheen. All pieces are meticulously cleaned and coated with a special solution and undergo thorough inspection.
Information provided by Black Hills Gold by Coleman.