BethlehemLights 6.5' Balsam Fir Tree with LED Lights, Instant Power & 5yr.LMW
In Stock
Sold Out
We're sorry. This item is not available at this time.
Pre Order Possible .
Low Stock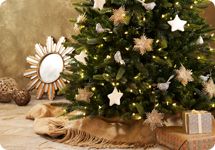 Brighten Up
Learn more about your brilliantly prelit Balsam Fir tree from Bethlehem Lights.
Description
All is bright on this shiny-new Balsam Fir tree from Bethlehem Lights. Updated with cutting-edge convenience and brilliantly prelit with warm, long-lasting LED lights, the beautifully lifelike beauty makes holiday hassle a thing of Christmas past.
It brings the natural beauty of the outdoors in--minus the hassle and messy maintenance. Full, tapered tips with natural colors create a bevy of believable branches, and thanks to the Ready Shape design, the tree is fabulously fluffed right out of the box. Memory wire branches open instantly without losing their form in storage, minimizing the need to shape and shift. You'll enjoy quick, easy set-up year after year.
Best of all? Instant Power Technology really lightens your seasonal setup. All the wires are hidden and housed in the center of the tree's pole--no more tangled cords. Each section of the tree has a plug in the bottom section; as you assemble the tree and add a section, the new section lights automatically--talk about easy! The warm, long-lasting LED glow is energy efficient--all together, you get the traditional Christmas look without the typical chaos.
Easy to use and elegant as ever, this timeless tree will make a grand statement in any room of your home. And with its generous 5-year Limited Manufacturer's Warranty, you're ensured trusty reliability for seasons to come. From Bethlehem Lights.
Includes tree, stand, and replacement bulbs
Comes in three Ready Shape sections for easy setup and storage
Instant Power technology lights each section instantly
Prelit with 350 LED lights
1354 tips
Mix of polyethylene and PVC branches for fresh-cut look
On/off foot switch
Do not plug items into the open strand socket; no other products should be plugged into the tree
Measures 6-1/2'H x 46"Diam
ETL listed; 5-year Limited Manufacturer's Warranty
Made in China
Reviews & Community QA
H196925 - Bethlehem Lights 6.5' Balsam Fir w/ LED Lights & Instant Power
20
20
Such a disappointment.
I was so happy with my Christmas tree. It is beautiful and I love the greenery it is made out of until an area of lights went out and it was just two days after Christmas. I thought I had the perfect tree and I have always been so please with anything else I purchased from Bethlehem Lights. Will be returning it.
01-04-13
Disappointing
I got this this year and after only 3 weeks of use all the center lights went out. Tried checking the bulbs but can find no reason for this. If not for the fact it would be such a hassel to do, I would send it back. Will have to pick up some lights to fill in the center for next year. Will never purchase anything from Bethlehem Lights again. Very disappointed.
12-29-12
Very Dissapointed
This the the second year in a row that we have gotten a tree from this company and it will be the last. The lights go out and did the same on the tree we got last year. It is a beautiful tree but they need to perfect their lighting. We will be sending this tree back also.
12-23-12
So Disappointed...Again!!!
Last year we purchased a Bethlehem Lights pre-lit tree where the entire bottom portion was lit for 2 days and then went out. We had to string more lights on to make it through the Christmas season and then returned the tree to QVC. So many people had the same problems last year that I expected that bug had been worked out in the new trees this year. I thought it had until last night....when once again lights went out. This time it is the top portion of the tree. We checked all the lights and changed the fuses but it still won't light. We will have to buy additional lights to fix the tree since we have the Christimas celebration at our home tomorrow. Then this piece of junk tree is going back to QVC. We will not purchase anything from Bethlehem Lights ever again. It is so disappointing....for the second year in a row.
12-23-12
What a disappointment
I was so excited to get this tree. Presentation said it was easy to assemble.........horrible, seemed very cheap and a pain to assemble. Finally we get it up and lights don't work! So no tree this Christmas!!! Back it goes!
12-19-12
Smells
This tree has very strong odor. Not a very full tree (slim) Not happy with this xmas tree
12-18-12
Very Disappointed
We were very excited about this tree because of the ease of setup according to the description when it was being sold on QVC. We just opened it to set it up and we are so very disappointed. There is a noticeable odor, the tree contains many plastic branches and the branches are not easily fluffed which leaves a lot of bare spots where you can see the center pole which does not have any covering on it so when lit it is clearly seen. The bottome does not seem to be full in proportion with the rest of the tree. We must say that the ease of putting it together was what we expected, it lit immediately but the bottom went out and then flickered and came back on only to go out again and come on again. Unfortunately I have called QVC and will be arranging a pick up to send this back. I consider this tree very poor quality for a Bethlehem lights product and defective in the lights. And to top it off I have to pay 10.95 to have it picked up by UPS.
12-17-12
So Far, So Good
We recieved this tree several weeks ago and set it up immediately to test the ease and look of the tree. We were pleased. Now we have set it up for the holiday and it is still very impressive. The lights are very vibrant. My husband set the tree up in literally about 5 minutes with no injuries. After we fiddled with some of the branches just a touch, and added our ornaments, it is absolutely captivating. For the area where it is displayed in our home, it is just the right size and fullness. No problems with the instant power feature either. So, I am pleased and hoping we will be able to use this tree for many years to come. It is our first artificial tree in our 24 yrs. of marriage.
12-10-12
EXCELLENT Classroom Tree
I purchased this for my clasroom! ABSOLUTELY LOVE IT! The lights (multi-colored) are bright. The tree is VERY sturdy - assembly was easy and the light stepper is the best! My Y5 students have made ornaments to decorate the tree and the branches are very sturdy and spaced out very nicely! We LOVE our new tree! Will serve this teacher for YEARS to come! :) :) :) THANK YOU Bethleham Lights! :)
12-09-12
Perfect!!!
This tree was everything I had hoped for. It was super easy to set up, 3 steps and you're done! The LED lights are beautiful and bright. It's the perfect size and full enough for its height. My kids are crazy about this tree!
12-06-12
Ver Dissatisfied
I am very disappointed with this tree that I purchased, I think the tree was very small and skinny in size. Not fluffy at all. I hate to say that his tree will be returned. The tree was very easy to put up and the lights were bright and pretty. But I am not very happy with size. I have an old tree that is 6.5ft which is much bigger and fluffy.
12-04-12
unimpressive
tree is very plasticky? diameter is too narrow at bottom
12-02-12