Barnes & Noble NOOK HD 9" 32GB Tablet w/ 2 Chargers & More
In Stock
Sold Out
We're sorry. This item is not available at this time.
Pre Order Possible .
Low Stock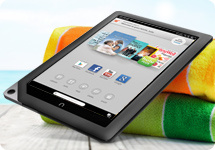 Take a look at the NOOK!
Learn more about this Barnes & Noble NOOK HD+ 9" 32GB Tablet offer:
Description
Endless entertainment. The NOOK(R) HD+ tablet by Barnes & Noble lets you savor all your books, movies, TV shows, apps, and more on a stunning 8.9" diagonal 1080p Full HD touchscreen--so all your favorites look brilliant and glare-free from almost any angle.
What makes the NOOK HD+ special? This sleek lightweight device offers access to all the coolest online media: millions of books, magazines, newspapers, catalogs, movies, TV shows, apps, and more. And now with Google Play, you'll have all the best Android entertainment and apps at your fingertips, including must-haves like YouTube, Google Maps, and Gmail.
The ultra-responsive 1.5GHz dual-core processor allows for lightning-quick Web access via the built-in Wi-Fi capability.
What about the storage? With a huge built-in 32GB memory, it can store thousands of books and tons of media. You can easily expand that memory with a microSD card (not included). Plus, all of your purchases can be stored for free in NOOK Cloud.
Can the whole family use it? Absolutely. Create up to six individual profiles so everybody can build their own private library. Make one for the kids so they can have their own space to enjoy interactive books, fun apps, learning tools, and games.
What's in the box? NOOK HD+ tablet, USB cable, power adapter, and Quick Start guide. With this offer, you also receive an additional charger kit.
From Barnes & Noble.
Use of the Internet may require payment of a separate fee to an Internet Service Provider, DSL line, or more.
Wireless capability and use of public wireless locations or hot spots may require a network connection, accessories, and a service connection fee.
Must have a BN.com account and a valid credit card with a US billing address to download content from Nook App store.
Please consult manufacturer's documentation regarding the safe and proper use, handling, storage, charging, and disposal of products containing lithium-ion batteries.
Includes NOOK HD+ tablet, two charging kits (each includes USB cable and power adapter), and Quick Start guide
1.5GHz dual-core processor
32GB total memory; approx. 28GB available for user content
Fully laminated 8.9" diag. 1080p Full HD touchscreen with reduced glare
1920x1280 resolution
Built-in Wi-Fi; free Wi-Fi in all Barnes & Noble stores
NOOK Scrapbook
Parental controls
Email and calendar syncing
Holds up to six user profiles
Supports MP4, M4A, 3GP, AAC, MP3, FLAC, WAV, OGG, AMR, MP4, 3GP, WEBM, JPEG, GIF, PNG, BMP, PDF, ePUB, DRP, ePIB, FOLIO, OFIP, CBZ, TXT, RTF, XLS, DOC, PPT, PPS, PPSX, DOCX, XLSX, PPTX, LOG, CSV, EML, ZIP
Dual stereo speakers
Installed rechargeable battery
Universal 3.5mm stereo headphone jack
Expandable microSD card slot (card not included)
HDMI-compatible 30-pin port for charging/downloading
Measures approx. 9-1/2"H x 6-1/2"W x 1/2"D; weighs 1.2 lbs
Cannot ship to VI, PR, Guam, P.O. boxes
UL listed adapter; 1-year LMW
Made in China
Reviews & Community QA
Barnes & Noble NOOK HD 9" 32GB Tablet w/ 2 Chargers & More
132
132
worse purchase ever
I havent had this NOOK HD+ a month and already froze up.Barnes and Noble was no help at all.DONT BUY THIS.A waste of money
07-30-13
Great Buy
I own the NOOK tablet and wanted to upgrade to the NOOK HD+ so I couldn't resist the deal at QVC. After receiving it in the mail, I tried all its features and was very happy with it as a e-reader, web browsing, etc. I decided to return the NOOK HD+ not because of it's use but because I was not ready to commit to the purchase. I have not seen a better deal even with B&N's markdowns.
07-30-13
I am "IN LOVE!!!!!!!!!"
I ordered the Nook HD as a TSV. I LOVE, LOVE, LOVE this thing! My home computer is old and extremely slow. This is fast , has beautiful clarity on pictures, light weight and just a delight! I do most all of my emails from the Nook, as well as searching the web, Facebook, Pinterest, etc. WHO NEEDS A COMPUTER WHEN YOU HAVE THE NOOK? One review complained about how slow it is to download a magazine. That part is slow, but you can download multiple magazines at once and still be playing on your Nook. I see that as no biggie. B & N have awesome tech support. I call anytime I have a question and they answer in a timely manner and are most helpful. My grand kids love it too! They love playing games. There are TONS of free games too. I email my friend daily and always say, " Have I told you lately how much I LOVE my Nook." Happy customer!!!!!!
07-26-13
Love, Love, Love my NOOK!!!
My husband and I each received the other brand of e-readers for Christmas 3-4 years ago. I used mine so much, it died a few months ago, so my husband kindly gave me his. When I saw the TSV of the NOOK, I was so excited - not only for the 9" size or the 32GB capacity of the NOOK, but the price was just unbelievable. I am one of the most technologically illiterate people (by choice) out there, so I knew it was time to "move it on up!" Once the NOOK came, my hubby and son in law gave me lessons on how to use apps that my hubby had downloaded for me, and how to use all the bells and whistles on the NOOK. I just LOVE the size of the tablet, the speed of getting around, all the apps available, etc. Getting two chargers was an added bonus too. We did buy the extended warranty that included drops and spillage, because I never know when I might fall asleep and the NOOK falls out of my hand and hits the floor OR in the morning I'm buzzing around looking thru different apps while drinking coffee and my hand hits the cup of java and......OOPS, the NOOK has taken an unexpected bath!!! This price beats the $400+ my son in law paid for a tablet for my daughter for Christmas, but while I'm sure hers can do far more than mine, my NOOK is perfect for me right now!!!!! Thank you QVC for making it so affordable!!
07-25-13
Good buy
It performs well. I used it about a month and no problems. Streams well, apps plenty of free ones. Internet search is good. Easy to play games, read books, etc. I think they should l have had a HDMI port and cameras. but can't complain.
07-24-13
love the nook hd!
Don't understand all the bad reviews! I love this Nook! It's great in every way.I have had no problems. Nice size and value!
07-23-13
Not so happy :-(
The idea was great. Good size, Great picture, quick, connected to my WiFi without problems...However, it dies at any given time. I only had 3 apps on it. When using any of them, it would just shut down right in the middle of my book or other app like Facebook. Did this almost every time I used it. Not dealing with it anymore and returning it.
07-23-13
Connection Problems
I really wanted this Nook, but it will not connect with my router, so I had to send it back. This is really annoying! When I checked into the problem, online, the recommendation was to reconfigure the router, but that means that everything that uses it has to be reconfigured, too. Forget that! Since many others don't seem to have this problem, I would recommend it to them.
07-23-13
BM Nook 10 in screen, 32g
Excellent product I had no problem setting it up, downloading my favorite apps. Great buy. Love it!
07-21-13
great deal
Love the nook. Having no problems.Doing everything I need it to do whole family loves it. Should have gotten more than one ! Support from barnes & noble has been great.
07-21-13
Great Potential Unfulfilled
The Nook has much potential that in my case may go largely unfulfilled. I have been trying for 3 weeks to connect to my secure home wireless network without success. Since the Nook does not appear to support a copy and paste function it has not been possible get the Nook to accept my password entered manually in wireless settings. The only way I can use it is to disable my router security settings and use it on an unsecured network which I prefer not to do. Not sure if I will keep it or send it back. Love what it potentially can do but it is not really worth it to me having to jump through so many hoops. Great for reading books or other downloaded content but not for anything that requires secure network. Recommended to anyone who does not mind being connected to an unsecured network.
07-19-13