Bare Escentuals Bronzed & Buff 2-pc. Faux Tan & Buffing Brush
2011 Customer Choice Award Winner
In Stock
Sold Out
We're sorry. This item is not available at this time.
Pre Order Possible .
Low Stock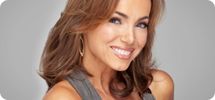 Got It, Love It
"I'm Faux Tan dependent! This self-tanner gives a color like no other, and smells better than others I've tried. I'm very pale on my own and this tan looks as though I have an olive complexion."
—Host Lisa Robertson
Description
What is it: Say "Aloha" to a healthy, natural-looking tan all year round. Within a few hours of applying this faux tan sunless tanner, your skin will become warm and luminous and last that way for up to five to seven days. And for an added warm welcoming, it moisturizes and hydrates the skin with aloe vera and emollients. Because you see the color as you're applying it, you'll know exactly where to put more, or if you've missed a spot. And thanks to the body buffing brush, you'll never have to worry about any messy, post-tan cleanup again, as it makes it easy to keep the faux tanner away from your hands.
Who is it for: Anyone who wants the most natural-looking tan. Perfect for all skin types, complexions, and ages.
Why is it different: This deluxe faux tanner offers 16 ounces of gorgeous, natural, never-orange tan in a bottle. It can be used all over your body and never looks fake or streaky. And the new body buffing brush simplifies application with its plush, fully tapered, kabuki-style brush head, which generously applies and evenly spreads the sunless tanner all over your body for a seamless, streak-free finish.
How do I use it: Prep your skin before applying. While showering, exfoliate skin to provide the smoothest surface. Using the body buffing brush, apply sunless tanner to dry skin. Buff all over your body using circular motions, swirling as you go, to smooth away any edges. Because you see the color as you're applying it, you don't have to worry about any embarrassing goofs, like rings around the ankles, elbows, and knees. Just be sure to buff more lightly over these crease-prone areas. Make sure to rinse your brush after each use. This will keep your brush in the best shape for future use.
From Bare Escentuals.
Includes:
16 fl oz faux tan sunless tanner
Pump
Body buffing brush
Brush made in China; Tanner made in USA
Reviews & Community QA
A198471 - Bare Escentuals "Bronzed & Buff" 2-pc. Faux Tan& Buffing Brush
411
411
I'm ready for my order
I love this tanning lotion. It's the best I've ever used. I really love the Brush... Please bring it back soon.
03-10-12
Best Faux Tan Ever!!!!
Ive purchased many self tanners over the years even the towelettes and this by far is my favorite. I'm as fair skinned as they come and this gives me the best color that ive ever had from a self tanner... B.E. Rocks!! I also love their makeup!! I havent tried everything but Ive tried quiet alot over the years. Keep the goods coming, Leslie!!! U guys have some of the best products ever!!! Lotsa Love from me and thanx QVC for the B.E. line and I must say the easy pay is fab... XOXO
02-28-12
Best Bronzer Ever
I love, love, love this product. Its simple to apply, smells so much better than anything else i have used and it gives me a very natural color. I am 100% Irish and have tried every tanner and bronzer available, this is by far the best. One thing though, you should apply in the day and try not to shower until the next day for best results as it will come off in the shower. If you shower the next day, it sets the tan better. The brush is good, but you do have to wash it after every other use. By the time your at the end of the bottle you definitely need another one. Great product.
09-11-11
Loved it!!!
I've tried different Faux Tan's and this is the best. I was concerned with the drying time. Not a problem. I get out of the shower, apply the faux tan and by the time I'm ready to get dressed it is dried. Will last a long time. Excellent value.
09-11-11
Best Tan Ever when used right!!
This is by far the best tanner I have ever used. I have been using this product for years now and I have a lot of experience using other tanners before this. At first, I was a little disappointed at how much washed off in the shower. Now, I know how to use this product best. I apply Faux Tan once a week. I use it in the morning, usually on the weekend when I am busy with laundry or cleaning the house, and then shower later that day or in the evening. When used weekly and left on for the day before showering, you are still left with a beautiful deep tan. The tan is even more gorgeous in the summer when a bit of real tan mixes with your faux tan. I won't use anything else. What beautiful, NATURAL, results. I have had compliments on my gorgeous tan and I live in Southern California where real tans are everywhere! Nobody can tell the difference. Thank you Faux Tan and thank you Bare Escentuals!
09-08-11
BRONZE GODDESS
Like all self-tanners, the results are determined by the formula and by the application. BE's formula is very good - no nasty self-tanner smell, bronze gel-lotion allows one to see where product has been applied, good final color. The application is the issue - the 2011 brush with the knob handle that one can hold between the fingers is the best one BE has offered. Last year's wide, flat brush was harder to use. Regardless of your application method, there is a learning curve for even results. Be careful ariund dry areas (elbows, knees, heels); always exfoliate prior to application; use a good body lotion daily.
09-05-11
Baaaad Brush
The product itself is just okay but that brush - wow! I followed the directions (even rinsing the brush and removing all color from my hands at the same time). Within 2 weeks the brush was about bald. I chalked it up to one bad in the lot. Not hardly! The second shipment (stupid stuipid me) arrived and the same thing happened. Good thing it does wash off (the palms) so easily because i've had to apply like a lotion. That has stained my nails. Nice.
09-03-11
FABULOUS
This is a fabulous product. I am fair skinned and always somewhat envious of the people with the beautiful golden tans. I spent the summer in Greece this year and used this wonderful product all summer long. I agree with the tips made, be sure you have time to let the product set, then take a quick shower to rinse off excess to prevent initial rub off on clothing. After that it is not a problem to wear summer whites which I did a lot of. Love the instant color, it is easy to use. Love the brush but I also purchased a mitt which made it easy to use and smooth out. One bottle lasted me the entire summer.
09-02-11
love the brush
Just received my second bottle. I've used a self tanner for many years and loooove this one! The brush is wonderful, and necessary or it will stain your hands. To avoid the problems that some of the reviews stated; When you put it on, make sure you have time to hang out naked for at least 40 min. I leave it on as long as possible before showering it off. (5-6 hrs. is good). Although you see color immediately, it takes time to develop, just like any other self tanner. That's why I time application when I have the day at home. After that length of time it gets very dark, then I shower it off. Otherwise, it comes off on your clothes, and the color doesn't look natural until I wash off the 'excess' product. But it leaves a very nice, natural looking tan and lasts longer than any other I've used. Until you shower off the excess, wear something dark, as the product will rub off onto your clothes. The only thing I would like to add to this product would be to add a smaller brush to use around my toes. It's hard to get the brush there without discoloring my toenails. HINT-HINT Leslie....
08-25-11
POOR BRUSH !!
I previously wrote a review for this product but the more I used it the more I felt I needed to add to my review. Half-way through the bottle the bristles of the brush started to come off. The more I used it the more they came off. Not only did they come off, they were stuck all over my skin - my face, neck, arms- everywhere. If I tried to wipe them off, I was wiping the bronzer off. It got to to the point that they were coming off in chunks. I think next time I will reorder the St. Tropez.
08-21-11
Try Again Leslie
Looks good when you frist put it on, but if you get it wet its gone, Forbid you get caught in a down pour, washes off completely, after bathing ...no tan, washing yor hands its gone, I did like the brush applicator, the second one was larger.... try again Leslie
08-21-11
What took me so long!?!
Scared off by the commitment to use something so costly, I tried a bunch of other drugstore self tanners, going through at least a half dozen in the quest for an acceptable level of tan. What a waste of time and money. I should have been a BE Faux Tan Girl all along! So-oo-oo easy! So-oo-oo good looking, and natural! And day after day my tan is the same! I am hooked!
08-20-11