Barbara Bixby Sterling/18K Pave' Black Sapphire Lotus Ring
In Stock
Sold Out
We're sorry. This item is not available at this time.
Pre Order Possible .
Low Stock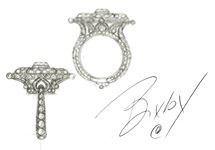 A Note from the Designer
"This beautiful ring is from the Rose Black Collection. It combines rose gold, beautiful black sapphire, and radiant pink garnet. The combination of black and shades of pink is one of my favorite color palettes—it radiates elegance, femininity, and a bit of mystery. Dark colored stones are considered to be grounding stones that help connect us to our physical being, and the energy of black sapphire exudes protection, strength, and fascination. The pink garnet is a gentle healing stone and is said to have the ability to lighten our emotional burdens, and the pink hue has a calming effect. I wore this ring to my son's wedding, and it's one of my favorite and most elegant rings!"
—Barbara Bixby
Description
Black beauty. Crafted from sterling silver, this distinguished ring gives off an aura of mystery with black sapphires which are pave-set in a lotus design. An 18K rose gold tops each lotus petal point and surrounds a centered red garnet, while a beaded and textured design completes the shank and base. From Barbara Bixby.
For more details on this ring's fit, please refer to the Ring Size Guide above.
Sterling silver, 18K rose gold
Total gemstone weights are approximate: sapphire 0.95 carat; garnet 0.10 carat
Black sapphires pave-set in a lotus design; 18K rose gold accents each lotus petal point and surrounds a centered red garnet
Beaded and textured design on shank and base; openwork gallery; oxidized finish
Standard fit; sizes 5, 6, 7, 8, 9, 10
Measures approximately 1-1/8"L X 1/8"W
Made in Thailand
Reviews & Community QA
Barbara Bixby Sterling/18K Pave' Black Sapphire Lotus Ring
46
46
Last call....
I had purchased the garnet version, but returned it, lovely as it was, for the money it was not for me...this ring is another story. I almost did not jump in,...What a difference the stone/gold choices make to my eyes. It has many moods, is stunning, and mysterious. And I totally agree with a previous reviewer who said it is museum quality. Couple her usual quality and fabulous design, with a unique execution and color combination, and you get what this ring is, something special.
07-23-13
Please Dear Barbara...Could you bring back more?
I am in love with this ring and the pink and black collection!!! You are such an amazing and gifted artist, and I thank you for all the joy you give to me, in collecting your very special jewelry!!! Thank you for all the thought and meaning that you put into every one of your designs. I adore your flower collection and the meaning of the Lotus flower, and unfortunatley missed out on the pink rhodolite garnet Lotus ring from this collection. Is there any way you could bring some back to us? Many Thanks and Love to You!!!
07-05-13
Museum Quality!!!
This ring is stunning.... to some people, it may look smaller than the pictures.... but you need to remember that higher quality jewelry is usually always finer in detail!!! These black sapphires are fiery and it is so becoming on my hand... I have been waiting to find a designer Quality ring with sapphires in it...but I also wanted an unusual color sapphire, not just the old blue...so when this went on easy pay, I just couldn't resist!!! This is a precious addition to my collection... and also my /birthstone... in an unusual black color!!! Thanks Barbara and QVC!!!!!!!!
05-07-13
STUNNING
I RECEIVED THIS RING AS A GIFT AND ITS STUNNING.. I LOVE THIS RING.. ITS SPARKLES AND LOOK STRIKING... MY NEW FAV..
04-24-13
GLAD I GRABBED ONE!!
I grabbed this ring in an 8 and on easy pay. Boy I am glad that I did. In person, it is delicate and really very stunning. The rose gold is beautiful and the gemstones sparkle, the sapphires like black diamonds. Love it!
02-18-13
Unique Beauty
I'm really pleased with this ring. It's hard to delight me but this ring has beyond the normal appeal and it never ceases to gather compliments. I haven't found it to snag anything I own but then I tend to wear natural fabrics that have crisp tight weaves and I am very careful with my hands when I am wearing something that's a favorite. You can't abuse or mishandle delicate jewelry, this is not made of steel so some care is necessary. Notwithstanding it takes a little more consideration when wearing and maintenance this piece is worth every penny and more (imo)
01-27-13
Another winner from Barbara
This is one of my favorite rings from Barbara. The ring has a nice weight to it and I just love the girly touches of pink in it. I have many of Barbara pieces and I reach for this ring all the time. Please keep the black sapphire pieces coming.
11-17-12
Beautiful, But It Snags Everything
I love this ring. I think that proportionately it is a little small, and I am very petite, but I could have lived with that. I cannot live however with all the snags and pulls on my clothing, and now that fall is here my pantyhose is in shreds. I have very expensive silks and cashmeres that have been destroyed, so before it causes anymore damage, it's going back. I feel this is very cheaply made for such an expensive ring, so, Barbara, watch your quality control on this one as the prongs are too long in the pave. QVC please don't allow your quality to drop! Times are tough all round, but you can't afford to lose that "QUALITY" from QVC!
09-12-12
DESERVES A 5 STAR PLUS RATING, but...
just recieved my GORGEOUS ring in the mail...it is missing the center stone...i can't even really see HOW it would have been set inside the middle of this ring-no prongs, nothing...IT IS BEYOND ....AND I MEAN...BEYOND BEAUTIFUL, and tho i would love to reorder and own this beauty, i am plenty worried about the setting now... this ring REALLY speaks to me...even more fabulous in person...Good Luck with yours...it really is SOMETHING SPECIAL xo
09-07-12
Thank you, Barbara!
I love this ring! It is simply gorgeous, great quality, very well made. It is my 3rd Barbara Bixby ring, and by far the best. The price is not small change to me, but the easy pay made it possible for me to have this, thank you, QVC! To address the review ahead of me, I would not wear this if I was trying clothes, or simply turn it on your finger, so it doesn't snag on something. It is a piece of ultra-quality fine jewelry, and not something you'd ever find in a "Maul" . LOVE THIS!!!
08-20-12
So amazing!!!!
I just love this ring. I find the black sapphires stunning, and have a great twinkle quality, even when in very low light, in fact that makes it even better. I have a strong rock and roll, tattooed attitude, and this ring is perfect for me. It does catch on a lot of things, due to the gorgeous rose gold at the end of each petals, and also the black sapphires catch when doing the laundry, but all is worth it for this ring, in my opinion. I hope you love it as much as I do.
08-16-12
Ladies, meet my new BFF!
I can't stop looking at this ring or playing with it! It has so many looks in different lights. It is also extremely comfortable. She has a forever home! Sapphires hold a special place in my heart because they're not only my birthstone, but also my mother's and grandmother's, so this ring means a tremendous deal to me. Thank you, Barbara!
08-07-12