Barbara Bixby Sterling/18K Multi-Gemstone Dragonfly Hinged Cuff
In Stock
Sold Out
We're sorry. This item is not available at this time.
Pre Order Possible .
Low Stock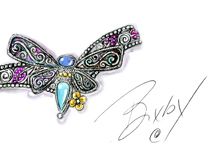 A Note from the Designer
"The dragonflies in my garden fascinate me and remind me of fairies. I find the variety of wing shapes and colors beautiful and inspiring. I wanted this piece to capture that magical and organic feeling. The dragonfly perches asymmetrically on a background of beautifully oxidized sterling silver with a flower and pink garnet leaves growing along it. The dragonfly symbolizes dreams, change, and enlightenment. Its intricately carved abalone wings speak to the beauty of change. I chose a soft, dreamy chalcedony for the dragonfly's body and iolite for its head because the stone represents intuition and psychic ability. This piece is very special to me, and I believe it will become one of my collectors' all-time favorites."
—Barbara Bixby
Description
Sumptuous style. A cornucopia of gems creates this distinctive dragonfly cuff. Feast your eyes on the carved fancy abalone wings, the bead detail, and the 18K yellow gold signature flower. From Barbara Bixby.
Small, Average, or Large.
For more details on this bracelet's fit, please refer to Wrist Assist--the Bracelet Fit Guide above.
Sterling silver, 18K yellow gold
Total garnet weight is approximately 0.25 carat; gemstone weight is not given for cabochon or abalone
Bezel-set, east/west, oval iolite cabochon head and carved fancy abalone wings; pear-shaped seafoam chalcedony tail; 18K yellow gold beaded neck; sweetheart-shaped cuff with pave, round Brazilian garnet leaves; 18K yellow gold signature flower; zigzag and bead detail
Hinged end for easy fit
Snug fit; measures approximately 1-1/4"W
Made in China
Reviews & Community QA
Barbara Bixby Sterling/18K Multi-Gemstone Dragonfly Hinged Cuff
28
28
WHAT A TREASURE 50000000 STARS
LOVE BARBARA THANKS FOR REDUCED PRICE. THIS IS A MATERPIECE BUY IT TODAY
09-14-13
Ummm
I absolutely love and admire Barbara's creativity; however, when I received this bracelet, I was non 'wowed' by the colors. If I were wealthy, I would have kept it anyway because of the originality. For the price, I unfortunately was not swept away. I really wanted to love this. :(
08-25-13
Drabby Dragonfly
Wish it was colorful abalone at over $470 with tax! You can find beautiful abalone for free on the beach, why must they use ugly stuff on expensive jewelry? The carved abalone wings were dull and drab with no life at all! I had also bought the matching enhancer, and it had the same looking abalone.Too bad because they were both nice designs. They both went back right away!
06-06-13
Colors dont come through
I LOVE Barbara's style and real gems. However, The abalone is dull in the wings and the bracelet needs more punch! Color! I love the design and the bracelet, but for the price I am returning it. All it would take is some better abalone for wings! and some bright bling on the bracelet. No problem falling off for me, but just dull. I so wanted to keep it! I have many expensive pieces but this one only rates a 3 because of lack of color. Keep designing.
02-11-13
Bad design
I was so excited to get this beautiful bracelet. I put it on for the first time and before even leaving the house the hinge opened and it fell off several times. I got in the car and looked and it was missing. apparently It had fallen off while I was digging in my purse. Then I went shopping and it probably came off 10 more times. Luckily I didn't lose it. I sent it back because who needs to lose a $400 plus bracelet!
01-11-13
poor quality
Design is lovely but the bracelet does not stay "right side up"- always having to correct it. The abalone was dull and the pave garnet was hardly present. A piece of the abalone was missing. Very over-priced for abalone and little garnet. Quality control is very poor. These flaws should have been caught before sending.
07-27-12
Perfection
This bracelet is perfection jewelry. I rarely write a review but this bracelet deserves a comment of praise. When one considers the process of creating this piece, it is a wonder that we can purchase it at this price. Thank you for bringing this unique and flattering bracelet to QVC. Barbara, you are fantastic!!!
07-17-12
Unique beautiful design!
One of my favorite bracelets. The V shape curving down towards the hand is very attractive looking and the dragonfly is set at an angle which I love. I love all of the stones and the color of each one. I can't stop looking at it when I wear it. The workmanship is excellent and I am very happy with this purchase!
05-10-12
can't see pave
fits like a glove, but can't see garnet pave, and piece is too overpriced for abalone. upgrade this design and i'm in. (kept her grasshopper enhancer though).
03-14-12
Very Unique
This cuff is very unique. But I do have to agree with the other reviewer that it is a bit "dull" looking in color. When I received my cuff there was a flaw in the chalcendney stone so I returned it for another. When I received my replacement the color in the abalone was much brighter and it actually "flickers" in the light, just like a real dragon fly. I guess I lucked out. This is a beautiful piece of jewelry. It is very well made and has a nice weight to it.
03-08-12
Not comfortable
It's a beautiful concept for a bangle, however it's not very practical. The wings kept getting stuck on my clothes and ripped my stockings, as well as the dragonfly kept turning over so I spent all day turning it right side up it got very annoying. Oh well, was so excited to get on onetime price easypay but it just wasn't for me. Certainly way overpriced - if I'm going to pay that much I expect the bangle to sit nice and comfortable so that I can use it all the time.
02-27-12
SPECIAL!
I luv this cuff. It is made so well and the off to the side dragonfly is such a nice touch. I wear an eight inch and the large fits me just fine. Given the weight, unique design, stones, gold, and the cost of silver...this is a wonderful buy. Luv this little dragonfly sitting off to the side on my wrist. Have received many compliments. Thank you Barbara
02-24-12