Barbara Bixby Sterling/18K Gemstone Om Small Cuff Bracelet
In Stock
Sold Out
We're sorry. This item is not available at this time.
Pre Order Possible .
Low Stock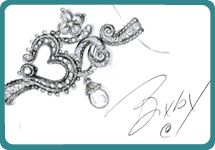 A Note from the Designer
"My first limited-edition piece for my couture line was an Om, the symbol for the cosmic vibration. The bottom curve of the Om represents the material world (waking state), and the top curve, our deep sleep state. The point where they converge signifies our dreams. I have pavéd this part of the Om with London blue topaz because of its harmonizing energy for the body, mind, and spirit. Where there's usually a point representing absolute consciousness, I've used my signature flower in pink garnet. The stylized lotus represents our quest for enlightenment, and garnet helps us radiate and receive love. I added a black pearl to this design because I love the way it dangles slightly on the hand."
—Barbara Bixby
Description
Divine design. This sterling silver cuff looks luminous with round London blue topaz gemstones, bead-set in a black rhodium-plated Om design. A round, bezel-set Brazilian garnet floral cluster; round, bezel-set white topaz gemstone; and a semi-round cultured freshwater pearl drop decorate the front. While zigzag shapes, a bead, and 18K yellow gold details complete the pretty piece. From Barbara Bixby.
For more details on this bracelet's fit, please refer to Wrist Assist--the Bracelet Fit Guide above.
Sterling silver, 18K yellow gold
Total gemstone weight is approximately 1.50 carats
Cultured freshwater pearl measures approximately 9.0mm
Round London blue topaz gemstones, bead-set in a black rhodium-plated Om design; round bezel-set Brazilian garnet floral cluster; round bezel-set white topaz; semi-round cultured freshwater pearl drop
Zigzag, bead, and 18K yellow gold details; scrolled ends; oxidized finish
Stainless steel hinge
Small size, snug fit; measures approximately 1-1/4"W
Made in China
Reviews & Community QA
Barbara Bixby Sterling/18K Gemstone Om Small Cuff Bracelet
13
13
Beautiful piece!
I really love this cuff bracelet, the small size fits my wrist perfectly and is really unique.. The only complaint I have and seem to always have with all Barbara Bixby pieces is the oxidation. I understand that some oxidation is necessary to enhance the details on her pieces but "less is more"!!!... Overdoing the oxidation not only takes away from the beauty of the piece but it also makes it look cheap. Barbara B. really needs to start toning down the oxidation on her pieces!! It is a very common complaint among her customers and I think is about time to take it into consideration and do something about it... Great quality and outstanding workmanship are always present on each one of her pieces though!! Please work on the oxidation problem, that's all you need to take your pieces from great to perfect!!!
05-07-13
FANTASTIC!
This cuff is so pretty, truly a one of a kind piece! I am so glad I finally got this to add to the many other pieces I own from Barbara. I now have the matching enhancer on my wish list. I too hope she designs a ring to match.
04-02-13
WOW!!
This cuff is just breathtaking in person!!! It is a true piece of art! It is so beautiful that after I saw it in person I went ahead and ordered the enhancer. If you have been thinking about getting this cuff, get it before it is gone. You will love it!!
02-28-13
gorgeous!
i never thought i'd be able to own this. it's been on my wish list since i first saw it. i love it ~ will treasure it. fits like a glove.
02-11-13
Perfect to mark a milestone birthday
I chose this to mark a milestone birthday and it has become my signature piece! It garners compliments from everyone who sees it. The Om is wide and tall and the sinuous lines of silver wrap around like a custom made piece. The gemstone presence is outstanding--the blue is medium blue, the pink is bright fuchsia. The dangling pearl adds movement. It's sexy and not for the faint of heart--it's like a bejeweled tattoo! I have a small wrist but I wear it a little higher, above the wrist bone where it fits snugly and comfortably. I wouldn't wear it to exercise, clean or do manual labor, but it's fine for an office job. Truly a work of art by Barbara Bixby!!!
12-27-12
was disappointed
I own the enhancer and love it so decided to splurge on the cuff. Was very disappointed with it. I have a small wrist and the small was huge on me. Also, the details seemed to get lost on the bracelet, perhaps because they are spaced so far apart. For the price, this had to wow and it def did not so I returned it.
08-23-12
Great Purchase
This cuff is a beauty!Somewhat pricey but I'm worth it!!! Thanks Ms. Bixby
08-09-12
Well worth the wait
I ordered this on waitlist after I received the oh-so-gorgeous enhancer. I love it, even though I wish it would fit a little more snuggly (the hazards of tiny wrists). It truly is a unique piece and I love the spiritual component. Already have gotten positive comments.
06-28-12
Wow
This cuff bracelet is a WOW. Because we buy online or from an on-air presentation I sometimes don't really know how something will look until it arrives, so because of the investment pricing of this piece I was hoping I wouldn't love it and would have to send it back. Well, not the case. I ordered the small and it fits perfectly and comfortably. The Om design is a perfect size to the overall design, along with the lotus flower, swirling silver cuff, pearl and gemstones. I love it! This cuff is design perfection. A Wow!
06-02-12
Breathtaking!
This is the most beautiful and meaningful piece of jewelry I have ever gotten from QVC and I have purchased quite a few!!! :) Barbara is a true artist and I feel very proud to wear her creations. Not only is the design beautiful but the workmanship is magnificent. This is a very sturdy piece of jewelry. I agree with the previous reviewer, great for a dressy occasion or with a simple pair of jeans or shorts. I have received compliments everytime I have worn it! Many of the compliments are from men! If this comes back in stock don't hesitate...run to the phone and buy it!
02-20-12
MAGNIFICENT BRACELET
BARBARA HAS DONE IT AGAIN!!!COMBINED PERFECT DESIGN ELEMENTS WITH BEAUTIFUL GEMSTONES.IT IS EXOTIC AND TRADITIONAL AT THE SAME TIME.LOOKS LIKE A MUSEUM PIECE,LIKE I BOUGHT PART OF THE CROWN JEWELS FOR MYSELF.I LOVE,LOVE,LOVE IT.ELEGANT ENOUGH TO WEAR WITH THE FANCIEST OUTFIT,YET SIMPLE ENOUGH TO WEAR WITH JEANS,I HAVE A 7 INCH WRIST AND THE SMALL FITS ME PERFECTLY.THANK YOU,BARBARA FOR SHARING YOUR MAGNIFICENT BRACELET WITH QVC AND ME!
02-10-12
SO DARK
I had this bracelet on waitlist and I really was glad to see it had arrived today....until I opened the package. This is so incredibly dark with all the oxidation that I feel it took away from what could have been beautifully unique. I have a cross enhancer that I thought it would go well with but it just disappointed. I don't mind some oxidation but when it's over done I don't like the look. If you like a very dark piece then you will love this. It is a nice unique design but the that's it. I used up an easy pay on request offer on this bracelet and now I am sorry I used it.
01-19-12