Barbara Bixby Sterling/18K Gemstone Om Average Cuff Bracelet
In Stock
Sold Out
We're sorry. This item is not available at this time.
Pre Order Possible .
Low Stock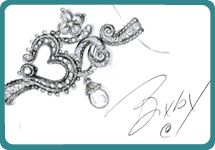 A Note from the Designer
"My first limited-edition piece for my couture line was an Om, the symbol for the cosmic vibration. The bottom curve of the Om represents the material world (waking state), and the top curve, our deep sleep state. The point where they converge signifies our dreams. I have pavéd this part of the Om with London blue topaz because of its harmonizing energy for the body, mind, and spirit. Where there's usually a point representing absolute consciousness, I've used my signature flower in pink garnet. The stylized lotus represents our quest for enlightenment, and garnet helps us radiate and receive love. I added a black pearl to this design because I love the way it dangles slightly on the hand."
—Barbara Bixby
Description
Divine design. This sterling silver cuff looks luminous with round London blue topaz gemstones, bead-set in a black rhodium-plated Om design. A round, bezel-set Brazilian garnet floral cluster; round, bezel-set white topaz gemstone; and a semi-round cultured freshwater pearl drop decorate the front. While zigzag shapes, a bead, and 18K yellow gold details complete the pretty piece. From Barbara Bixby.
For more details on this bracelet's fit, please refer to Wrist Assist--the Bracelet Fit Guide above.
Sterling silver, 18K yellow gold
Total gemstone weight is approximately 1.50 carats
Cultured freshwater pearl measures approximately 9.0mm
Round London blue topaz gemstones, bead-set in a black rhodium-plated Om design; round bezel-set Brazilian garnet floral cluster; round bezel-set white topaz; semi-round cultured freshwater pearl drop
Zigzag, bead, and 18K yellow gold details; scrolled ends; oxidized finish
Stainless steel hinge
Average size, snug fit; measures approximately 1-1/4"W
Made in China
Reviews & Community QA
Barbara Bixby Sterling/18K Gemstone Om Average Cuff Bracelet
12
12
Disappointing
I truly wanted to love this bracelet but it was not what I hoped it would be...it is very dark and the stones and did not show up well. I sadly had to return it.
05-30-13
Another Home Run for Barbara Bixby
Barbara Bixby creates works of art that you can wear and this bracelet is no exception. I have been thinking about this bracelet for a long time and finally ordered it. When I opened the box, it took my breath away. It was so beautiful, creative and unique. I also like that it has that hinge opening to put it on easily. I have many pieces from her collection and love them all. I have already had many compliments on this bracelet. If you order this you will not be disappointed. I highly recommend this beautiful bracelet. I want to thank QVC and Barbara Bixby for offering such beautiful jewelry to QVC viewers.
02-08-13
OM-My-Gosh this is gorgeous!
Wait until you see this in person! You won't believe how beautiful it is. It's comfortable to wear, too. The beautiful Om symbol stays on visible all the time, it doesn't roll around your arm. I appreciate the meaning behind the symbol used in this bracelet, and I love the embellishments Barbara used to stylize it. When I wear an Om symbol, I've found that people are drawn to it and strike up a conversation with me. Wear yours in peace and good health.
08-11-12
I WEAR IT HIGH
If like me you got the AVERAGE size and really needed a SMALL and LOVED IT SO MUCH you didn't want to return it and when you tried wearing it the pearl kept getting tucked under the OM as it slid around your arm and wrist, then TRY WEARING IT HIGH UP ON THE ARM!! I NOW REALLY REALLY REALLY LOVE MINE THAT MUCH MORE!! It looks like a tattoo. It does not move once you select a fleshy part of your arm for it to grab onto and it does not hurt. The pearl never gets caught this way. I wear another tight fitting to my wrist bracelet below this. It is a STUNNING look. Almost sorry I'm sharing my idea but if I start a trend and if it helps sales hey why not. I'm here to help as we all should be.... OM... ;-D
07-06-12
BREATHTAKING, UNIQUE BEAUTY, SPECIAL PIECE OF JEWE
LOVE THIS BRACELET ITS BEAUTIFUL, PICTURE DOES NOT MAKE IT JUSTICE. LOVE THE CONTRAST IN THE METALS AND THE GEMSTONES. LOVE THE PEARL. THIS PIECE IS ONE OF A KIND ALONG WITH THE MATCHING PENDANT. BOUGHT THEM BOTH AND THEY ARE ABSOLUTELY STUNNING.
07-04-12
Barbara Bixby sterling/18k gemstone cuff braclet
OMG... WOW... I love this braclet, it's an amazing gorgeous crafted piece of jewelry. I will continue to buy more of her pieces as i can afford too. I am now a true fan & hope she will continue these marvelous pieces. I hope Barbara can make a cross pendant of some kind, that i would purchase In a heart beat. You go Barbara, i love, love this braclet. Lil123
06-27-12
beautiful!!
have never seen anything like this before totally eclectic i am an indian means spiritually to me too love the stone work awesome
02-14-12
Her Muse Is A Mystic
I am undeniably, irreducibly, unequivocally head-over-heels in love with this bracelet. What more needs to be said? It is perfection! Never more lovely did an Om I see than the one that Barbara made for me. Her aesthetic is magic, her taste is superb, her designs are a joy, and her muse is a mystic.
02-09-12
Gemstone Tattoo
This has to be one of the most beautiful creative bracelets Barbara has designed. I have many many pieces, both from her Couture Line and QVC. My favorite Cuffs are the Topaz Cross, London Blue Topaz Flower Dance, and the Scarab Cuff ...Now this OM!! It's right UP there at the very top!! Not only is it beautiful, but it also has a very deep personal meaning as Barbara mentioned for herself and many, myself included. The stones are truly magnificent, some of the finest richly saturated, sparkly gemstones I have seen in the Bixby Q line. I love the way it draped down on the wrist, so elegant and very feminine. This Artistic Beauty is like a "Gemstone Tattoo"
10-19-11
Beautiful OM Cuff
This is a truly beautiful design. The stones are very vibrant. I am personally not fond of black pearls and that is one of the things that detract from the look for me. I thought that they said that the cuff would be snug, but I purchased the average and it has plenty of room. It doesn't turn over, but moves around a lot. I think it you don't want it moving around then I would size down. My wrist size if about 6 1/4 inches around. LOVE the motif, now if Barbara would make an ankh then I would be really happy!!
10-13-11
Stunning Work of Art!
I just received this bracelet and quite frankly, I am still breathless. I am fortunate to own several Barbara Bixby pieces and consider them all to be jeweled art. However, this is by far the most beautiful piece I have purchased-and that is saying a lot. It is expensive but if you love Barbara's jewelry I would highly recommend -( use easy pays if you have them.) I know it will leave you breathless also!
10-12-11
An artistic wonderland for the wrist!
I am a rare bird that detests blue topaz and avoid it, with the occasional exception. Exception noted: I *almost* passed on this incredible bracelet, but took a chance because of my love of Om. I am over the moon about this piece! Yes, it is expensive (glad I got it at the intro price w/ easy-pay), but find a way to make this happen if you can. The blue topaz is enriched because it is set in an (oxidized?) black background, an effect that really works with the gorgeous pinky garnet and the iridescent black pearl. A truly pleasant surprise (the bracelet sold out before a presentation), is that the blue topaz Om 'fingers' hold a white topaz wrapped in gold! There is so much detail and complexity in this piece, it is amazing how it all comes together to capture such a glorious spiritual expression. This is an example of how Bixby 'channels' her creative impulse to produce wearable good intentions!
10-12-11