Barbara Bixby Sterling/18K Carved Mother-of-Pearl Buddha Earrings
In Stock
Sold Out
We're sorry. This item is not available at this time.
Pre Order Possible .
Low Stock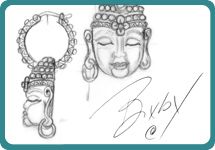 "I love the serenity that Buddha invokes. We just installed a beautiful (and enormous!) Buddha fountain in our back garden. With closed eyes and a serene smile, he immediately enhanced the entire mood of our property. Mother-of-pearl represents purity and truth, and it's a wonderful medium to carve. I was happy to hear customers who own the pendant use words like joyful and peaceful. The Buddha's elongated earlobes represent his ability to 'hear all.' I placed a movable 18K gold earring in his earlobe and the Sanskrit symbol for the sound of creation, Om, on each side of the ring. The lotus represents enlightenment. I chose London blue topaz for its energies of balance and harmony."
—Barbara Bixby
Description
A beautiful source of spirituality. Carved of white mother-of-pearl, these Buddha head earrings are set in a beaded sterling silver headdress and ears, complete with an 18K yellow gold earring accent and forehead flower. The carved Buddha face dangles from a beaded and zigzag detail hoop for a lustrous look. From Barbara Bixby.
Sterling silver, 18K yellow gold
Gemstone weight is not given for mother-of-pearl
Carved white mother-of-pearl Buddha head; beaded sterling silver headdress and ears; 18K yellow gold earring accent and forehead flower; beaded and zigzag detail hoop
Oxidized finish
Left and right design
Snap-bar closure, for pierced ears only
Approximate measurement: Including charm, earrings 1-1/4"L x 1/16"W; Charm 7/8"L x 5/8"W
Made in China
Reviews & Community QA
Barbara Bixby Sterling/18K Carved Mother-of-Pearl Buddha Earrings
12
12
Unique And Beautiful Design
These earrings are so comfortable I forget that I'm wearing them. I thought at first that they may be too heavy, but they are just right. The mother-of-pearl is beautifully carved and catches the light. They are not lost in my shoulder length blond hair. The also haven't tangled in my hair.
09-01-12
Charms are removeable !!!!
Do not understand the negative reviews. These earrings are very detailed and the charms can be be reasily moved. Simply slip off the back of the hoop. Can be easily put back the same way. No design flaw here ladies. Great earrings and lots of options to wear.
08-27-12
Sorry, but going back.
I purchased these earrings with great anticipation because I love the Buddha motif, as well as the artistry of Barbara Bixby. They are beautifully done; however, one of the charms "sticks" within the hoop and cannot be moved, causing the left earring to hang from the ear lobe incorrectly. In addition, the charm should be removable so that the earrings can be worn alone with just the hoop. Given the problem described above, this is not possible. At this price, these earrings should have been perfect, with no defects. I returned them the day after they arrived, and will not ask for a replacement.
08-19-12
Love Love these Earrings
I don't know what the other reviewers were talking about the earrings being hard to put on. They went on in a snap. They are so beautiful and I just love the Buddha. I have a number of Buddhas in my home. The mother of pearl just glows.
02-14-12
Gorgeous but too heavy for earlobes
Have received many compliments however cannot withstand the weight. Very very pretty though.
02-13-12
Ohmmm....Love!
My new favorite earrings! I almost didn't order these because of some reviews about the earrings being hard to put on or take off. I honestly have no clue why anyone would say that because they go on in a snap, are comfortable all day, and easy to remove. Most importantly, they look fabulous! I have owned the matching pendant for over a year and I adore it. I'll never wear the pendant and earrings at the same time, but it's nice to have options on what I feel like wearing. If you love Barbara Bixby, you'll love these. They are a wonderful addition to any collection.
02-09-12
~PEACEFUL, FUN AND FLIRTY!~
I've had the Buddha Ring, and worn it daily for 2 weeks. I *LOVE* it! I debated over the earrings, due to cost and the fact I don't usually care to match pieces. The more my Buddha ring stared and glowed at me, the weaker my resistance. They arrived this morning and I've not stopped wearing or looking at these gems. Small, but not too small. I'm tall, and my salt 'n pepper hair has grown to my shoulders. It's still browner than I'd thought-but I can easily see these beauties; hair up or down. The kind, gentle visage of the ring is replicated on each earring. The blue topaz lotus flower is now lovely gold, as is the moving gold earring. The traditional head wrap is perfectly oxidized-but not *too* much.I cannot imagine the small,steady hands that made these masterpieces. Now I understand the cost. If it matters to you,everyone notices and remarks on their beauty and says "How beautiful and unusual!" Secretly we all like a nice compliment. Like the carved MOP crescent moon hoops they glow near your face, adding light. The back is also as beautiful in its silver scrolling. The hoops also have that Bixby trademark bubble/zig zag carving. No, you cannot remove the hoop as one could with the garnet dangles. (J-155056). To do so one would break the catch. The catch sadly to say is their only flaw. The thin wires and stand-up prongs will eventually weaken and have to be replaced, I'm just sure of that. Too bad it wasn't a snap bar for the money. I should take a star away for that flaw-but the earrings are just *too* beautiful-but readers should know in advance IMO. Someone with some imagination and daring could I imagine, also fasten these drops into two pendants if they knew how. Were they worth the money and all that contemplation-ABSOLUTELY!! They are fun,flirty and even professional. Wear them anywhere and you'll be the center of attention. It's not often that an earring can do *all* that. Does MOP qualify as a birthstone for this June baby? Barbara you are the master of detail. BEAUTIFUL-AGAIN!! NAMASTE!
10-03-11
Really fun design.
These earrings are adorable. I can ditto everything the previous reviewers said, BUT mine were almost impossible to get into my ears. The curved wire that goes through the ear is VERY short and crimped at the end. I thought I would have to send them back, but finally got them on--I'm just not sure I'll ever be able to again. Maybe I have thick ear lobes? I'm going to keep them, but really wish for this price they would have been easier to manage.
09-30-11
A Disappointment
I ordered the ring & earrings. The earrings are difficult to put in & take off & charm is secured w/a flimsy clasp. At this price point, I really expected better quality. These are my first Barbara Bixby purchases. I will think twice before ordering from this line.
09-10-11
WONDERFUL EARRINGS!!!
Got these earrings and the matching ring today and all I can say is WOW!! They are the perfect earrings for the set. I already have the enhancer and all are carved perfectly. The workmenship is great on all of them and the MOP just glows. LOVE LOVE LOVE!! Now we just need a charm for our bracelets please.
09-09-11
GORGEOUS!
THESE ARE SO BEAUTIFUL ! I LOVE THE DETAILS AND THE LOVELY PEACEFUL FACE OF THE BUDDHA! HE HAS AN OM SIGN ON ONE SIDE. OF HIS HEAD & A DANGLING 18K GOLD EARRING( IT MOVES!) ON THE THE OTHER SIDE OF HIS SERENE FACE. I ALSO HAVE THE MOP BUDDHA PENDANT THAT I ALSO LOVE! THE EARRINGS ARE NOT HEAVY-VERY COMFORTABLE.REALLY LIKE THE HOOP DESIGN. I'M A HUGE BARBARA BIXBY JEWELRY FAN. i JUST ADORE HER JEWELRY AND GET MANY COMPLIMENTS WHEN i WEAR HER ITEMS. THESE ARE DEFINITELY ONE OF MY BB FAVORITES!
09-09-11
Sweet, Useful, and Pretty
The packaging was ridiculous... one earring was not wrapped and nothing was placed in the satin pouch, so the earring immediately fell out and hit the floor. Worried that it was broken, I picked it up, and found the earring had not been secured onto the hoop - and then discovered why: it wouldn't GO onto the hoop. So 20 minutes of struggling later, I jammed it onto the hoop. Put it in my ear, and attempted to snap it in place, only to find it wouldn't snap. Took it off and looked at it: the prongs were totally closed, not allowing the ear wire to snap closed. 20 minutes with a tiny screwdriver trying to pry the prongs apart... I finally got the thing to close. By now, I am thinking I should probably return these, but you know there is a point of no return and I might have just hit it. I needed to see them on me first. I put them on, finally, and fell in love. I have not taken them off since and it's been 5 days. I love these earrings! I am in my 50's have long dark hair and work in a corporate setting. The earrings dangle an acceptable length but give a slightly artsy effect, and they make a tiny sound as I walk. Not bothersome, not heavy, not pulling my earlobes (which are pretty well stretched). They glow in the fluorescent light, but just become gorgeous little beams of light in sunlight, especially against the dark hair. They are just adorable and at the same time, perfect for just about any time, any occasion. I think they have just become my go-to earrings. I am in Bixby heaven.
09-09-11