Barbara Bixby Sterling/18K Carved Gemstone Rose Cross Enhancer
Most Wished For
In Stock
Sold Out
We're sorry. This item is not available at this time.
Pre Order Possible .
Low Stock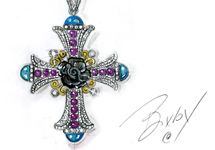 A Note from the Designer
"My husband co-wrote a song called 'Roses Never Die,' which is one of my all-time favorites. The lyrics inspired a collection based on the immortality of the soul, and I've interpreted this idea in several ways in my collection of the same name. The rose, along with the lily, is considered a spiritual symbolic flower representing divine perfection and our quest for enlightenment. I used carved, three-dimensional gemstone roses as the center for these crosses because of their symbolism, and I used two stone combinations. Both speak to the beauty of our hearts. The stones on the spokes speak to our paths towards the divine, and the stones on the ends represent our connection to God and mankind."
—Barbara Bixby
Description
Beauty and blessings. Subtle sterling silver serves as the framework for this impeccably detailed enhancer. A carved flower gemstone is surrounded by prong-set gemstones along each of the arms. Yellow gold accents and gemstone cabochon end pieces complete the design. From Barbara Bixby.
White Mother-of-Pearl/Amethyst/Tanzanite or Onyx/Greenish-Blue Turquoise/Brazilian Garnet.
Sterling silver, 18K gold
Total gemstone weights are approximate: Mother-of-Pearl/Amethyst/Tanzanite 0.85 carat; Onyx/Greenish-Blue Turquoise/Brazilian Garnet 1.00 carat
Prong-set, round gemstones on arms and bezel-set, oval cabochons on ends; carved flower gemstone in center; milgrain bezel-set, round white topaz in satin-finish 18K gold; zigzag and bead detail; oxidized finish
White Mother-of-Pearl/Amethyst/Tanzanite: 18K yellow gold
Onyx/Greenish-Blue Turquoise/Brazilian Garnet: 18K rose gold
Snap hinge bail with safety catch and 18K gold signature flower
Measures approximately 2-1/4"L x 1-3/8"W
Made in China
Reviews & Community QA
J266293 - Barbara Bixby Sterling/18K Carved Gemstone RoseCross Enhancer
12
12
Beyond Beautiful...
I already own a handful of crosses including Ms. Bixby's masterpiece Amazing Grace cross but I was drawn to the color combination of the tanzanite and amethyst as I am a purple girl. I was resolved to return it if it didn't wow me. Well, I am completely wowed! It's a bit larger than I anticipated and I'm happy about that. It really shows off the exquisite design...the violet blue tanzanites, the perfectly matched amethyst cabachons and the glowing mother-of-pearl rose. The delicate 18K scroll accents just take this piece to a whole new level. I own some of Ms. Bixby's couture pieces and this could easily be a couture design. It is really incredible and I have to force myself not to wear it every day. Stunning!
09-30-12
lovely combination of stones !
This cross in tanzanite is just beautiful & glowing-different from Barbara's other crosses because of the dimensional white mop flower & combo of gems-sparkley & lovely and a good size - I expect the onyx & garnet one is also beautiful -glad to have gotten it when it appeared again !
07-08-12
Intricate Beauty
I purchased the Black Rose with Turquoise and just love the combination. So many designs coming together in a beautiful pendant. I also commend the craftmanship. It is solid and well put together. The symetry is perfect. If interested, I highly recommend purchasing.
03-28-12
LOVE IT
JUST RECEIVED THIS CROSS IN TANZANITE AND I LOVE IT!!! ITS NOT OVER OXIDIZED AND STONES ARE BEAUTIFUL.. GOOD AMOUNT OF GOLD.. ITS NO TO BIG BUT ITS NOT SMALL ETHER.. I ALSO HAVE BARBARAS TANZANITE RING AND THEY BEAUTIFUL TOGETHER !!! JUST LOVE IT!!!
03-16-12
Beautiful
Beautifully detailed cross. Love the white and yellow gold combination. I wasn't so sure I'd like the mother of pearl rose, but as Barbara mentioned, it has so much more dimension than what we are accustomed to seeing--someone even commented on how dimensional it looked when she was admiring the pendant. I also wasn't sure about the gemstone colors--I am not a big purple person. However, they are softer and seem to take on varying hues depending what you wear with them. The first couple of days I wore this I got so many compliments at work. I bought the 16" rope chain that Barbara makes to pair with it. Since I am a smaller person and the cross is quite substantial in size (and effect), its length is just perfect with this and it looks striking. Very high quality. Incidentally, the reviews state that some people were dissatisfied with the higher oxidation on the rope chain, but that seems silly to me--a silver cleaning cloth allows you to easily remove the degree you choose with no problem--it's a great match and the clasp on the chain only adds more beauty when worn in view along your front neckline. Lovely!
03-14-12
Two Winners
I could not choose which one to order so I got both. I kept both. Love the sweetness of the tanzanite and rose quartz one. The tanzanite goes so well with Bixby's tanzanite paisley ring. The turquoise, onyx one is just outstanding on Bixby's turquoise toggle necklace. The former I will wear in the summer and the later in the winter. Both are so perfect.
03-02-12
Most Beautiful Cross!!!!!!!!!!!!!!!!!!!!!!!!!!!!!!
I was on the fence about buying this cross and when it came I was absolutely amazed by the beauty of the tanzanite stones. They have much better color then I expected and the mother of pearl rose is just perfect. Mine was not overly oxidezed and the stones are so perfect.
02-19-12
EXQUISITE CROSS!
This piece of art is absolutely gorgeous. As always, Barbara delights the senses with her works of art. This cross "ROCKS" on all levels. Thanks Barbara.
02-18-12
Too much oxidation
Had to return this one due to clasp that wouldn't close (again) and too much oxidation. It totally overtook the tanzanite stones (which were really washed out in color also). Another disapointment !
02-17-12
Understated elegance
This enhancer glows from the beautiful carved mother of pearl rose to the beautiful, well matched tanzanite. It is a perfect match to Barbara's tanzanite ring that I purchased in December, item # J159809. As always BB has exceeded my expectations, her designs have ruined me for the other designers on QVC. My only wish is to be able to afford her couture line jewelry also~for now have to simply window shop the couture line.
02-13-12
Glitters in the Sunlight
I opened my package while sitting outside and it was a wow!!! This is a beautiful cross. I am not one to buy crosses, but the mother of pearl rose, tanzanite, and amethyst combination was a must for my mother's February Birthday. I am so pleased with the beauty and quality of this. Cannot wait to give this gift :)
02-10-12
Way too much oxidation
I ordered the tanzanite version of this cross and couldn't wait for it to arrive - my name includes "rose" so I was sure this was going to be a signature piece. Now that it's here however I am really struggling to like it. The one I got is so oxidized that it just looks like a black cross with a white flower - the tanzanite stones are totally lost, as are the designs carved in the silver sides of the cross. Depending on what other reviewers say, I may try trading this for another one in hopes of getting a brighter one, or I may just return it outright.
02-09-12